Fifteen years back when I was getting married and shifted to Gurgaon, I was warned by many- "don't go to Gurgaon, you won't be able to settle ever!" After fifteen years in Gurgaon, now I can tell my friends there, that I don't miss Kolkata much! Slowly and steadily Gurgaon has become "Amar Bhalobashar shohor"- The City of My Love! It took me some time to connect with other Bengalis here, maybe I was more busy exploring this city… the flavours and culture of its own. But when as a mom I realised that my kids need to be connected more to their roots, they need to know and understand the rich cultural heritage we have, I started putting in that extra effort… I still remember I told my boy's preschool teacher " Sorry I can't stop speaking in Bengali at home, because English n Hindi my kids will learn eventually at school, with friends , Bengali is the language I need to teach them at home!" That's where my journey began… and it sure was not limited to language… Being Bengali is all about enjoying the vast literary treasure we have received from the past generations, enjoying the classic movies that have been or are still being made… the one of a kind gastronomical exposure… and cultural exposure- songs and dance etc.. this search began years ago.. and I could soon connect with many like-minded Bengalis… Social media helped a lot! So did my work. Being an edupreneur it was easier to learn new values and culture and share mine with young children… It was easier to make friends and share and learn.. As a mother my journey came to a full circle this year when my seventh grader's teacher applauded him for his perfect Bengali pronunciation and performance for a CBSE showcasing.
Being a Bengali in Gurgaon is pretty amazing… We get practically anything and everything that our heart would crave for- except those heavenly Phuchkas! We Bengalis are recognised by Mishti- Bengali sweets and Durga Puja and of course Fish! And you get all of them in plenty here in Gurgaon! Almost every other sweet shop has a Bengali sweet section- few not as authentic but some are pretty good!  When it comes to the gastronomical experience- Gurgaon has quite a few Bengali restaurants including Oh Calcutta and Bijoli Grill so you don't really need to go to Delhi to savour authentic Bengali cuisine. There are some brilliant home chefs who can cater to your special demands of authentic Bengali food if you feel lazy or want to treat your guests to some special delicacies… imagine we get Pithe puli here in Gurgaon, home delivered by such home chefs during Sankrant! When it comes to Bengali food how can we miss out Bengali groceries! Yes, we Bengalis are very particular about our authentic groceries… And you get it all here! From Gobindo bhog rice to sona moong daal.. jharna ghee to panch foran! Bengali bodi (vadi) to achar n even Mukhorochak chanachur- (a bengali mixture or snack that is a favourite of many Bengalis) you get them all and many more – here in Gurgaon itself! We don't need to travel all the way to Chittaranjan Park for the fresh fishes every Bengali craves for! Delite food and Puja store these two shops in Sushant Lok Vyapar Kendra practically takes care of every such requirements including the Puja ritual related requirements- yes that Benimadhob Panjika that no Bengali can do without- that too!
We Bengalis cannot live without a cultural environment- Reading.. writing… Art… music… Dance and drama- these are like oxygen to our soul! While for books one needs to depend on online portals, Music- as in Rabindra Sangeet and Dance forms like Rabindrik or ballet (the Bengali style pioneered by Ananda Shankar ) are taught by some talented Bengali artists.. During Durga Pujas we get to see some amazing performances by these artists and their students… Bengalis in Gurgaon even have couple of music bands here!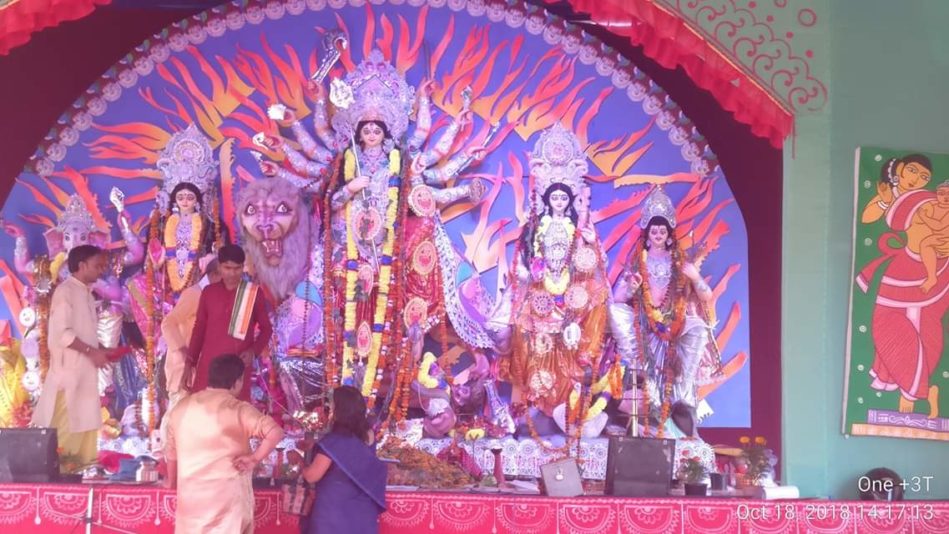 If you are talking about Bengalis, it's hard to not talk about Durga Puja! It is said that if few Bengalis are staying close by, a Durga Puja or some cultural baithak will happen there for sure! Quite essentially, Bengalis cannot exist without Durga Puja! And yes, Gurgaon having a good number of Bengali population hosts quite a few Durga Pujas- DLF Phase 5, Sushant Lok Durga Puja Committee, Purbapalli Durgabari in Sector 15, Bangiya Parishad in Sector 56,  Saradiya Durgotsav Samiti , Sahashrabdi Durga Puja or Dakshin Gurgaon south city 2 Durga puja to name a few.. During Durga puja- these puja mandaps become the cultural playground for all Gurgaon based Bengalis – both Bengalis by birth and Bengalis at heart are to be found in and around these pujas- gathering for pushpanjali or savouring Khichuri Bhog… dancing Dhunuchi naach… participating in various cultural activities and performances..or engaging into sindur Khela.. The organisers even invite celebrated Bengali singers, dancers and performers during Durga Puja… I have heard Manna Dey singing live here… I have heard Soumitra Chatypadhyay recite here in Gurgaon… in fact I have attended many such cultural events in these fifteen years!
You may also like to read
[crp limit="4″ heading="0″]
But there are few things that I still miss- waking up to a Dhaker awaj (drum roll during Durga puja) on a Durga Puja day, hot rasgulla from the neighbourhood sweet shop or that perfect Mishti Doi… Or that spicy phuchka that every Bengali girl craves for! Gariahat market for the Bengali saree shopping! We Bengalis are big time movie buffs and I miss those wonderful Bengali movies which I need to wait to be available online or the film festivals at Nandan… Boimela- the very famous Kolkata Book Fair- where we used to go time and again in winters to buy… read… see… smell n even eat books! Barring these few there would be hardly anything that I miss being a Bengali in Gurgaon!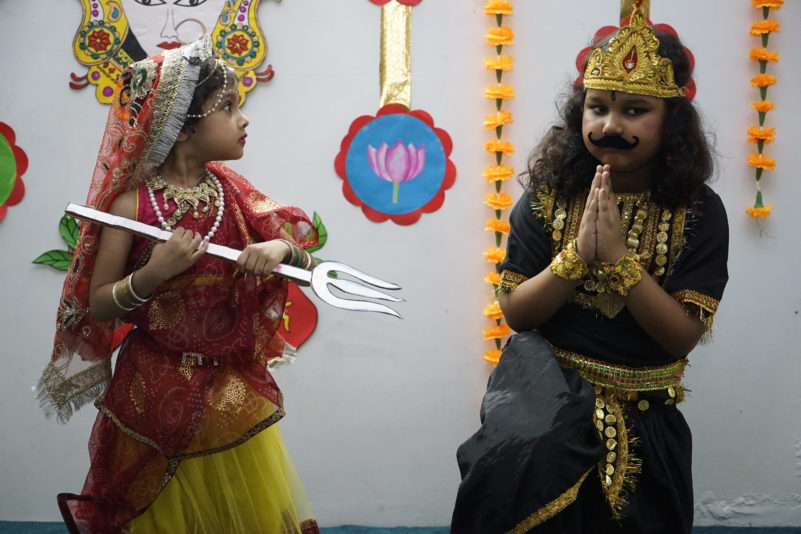 Gurgaon today has evolved into a melting pot of different cultures – it is as cosmopolitan and as culturally progressive as ever! This beautiful mix of different cultures and traditions helps us retain and celebrate our own culture more meaningfully! Our children are exposed to a diversity of cultural traditions from different parts of the country n abroad to appreciate each and their own too, to become global citizen! Here we celebrate Durga Puja…Diwali… Lohri… Christmas or Eid with equal enthusiasm! Today I am happy to be in a city that helps each to stay rooted into their individual tradition as well as spread wings of diversified knowledge and culture! Dhanyobad Gurgaon!