When would the abuse end?
I have recently read the powerful book "Boys Don't Cry," written by the author Meghna Pant. The book is so powerful that it has enraged me, made me cry, made me think and made me more of a feminist, more of a gender activist and a crusader for finding one's voice. The book states that it's almost a true story, and if I assume the story to be 60% true and real, then it shakes me to my core,and it would have the same effect on you, or maybe more. The book has anecdotes that just uproot your faith.
Also, as the author shows us through this story of Maneka that verbal and mental abuse can break someone to shreds and have the maximum impact. The examples of gaslighting and other abuses could help women understand what one is going through. The humiliation of someone's existence and making someone believe that she isn't good enough as a wife, not good enough as a mother, not good enough as a human is so painful.
How could humanity stoop to its lowest due to patriarchal conditioning? Also, I believe that due to the fear and the social stigma attached to separated women around the years 2005-2010 in India, an educated woman chose to bear all that brutality and indifference. It's indigestible, but it's present in our society, the fear of being ostracized. That fear which could stretch the abuse to unthinkable lengths.
But I am positive that times have changed now and women are not that scared of speaking out due to societal pressure.
I would recommend this book to every married woman, especially Indian women. The domestic abuse of a married woman, be it a woman working outside or at home, is so inherent in our Indian society that being called by labels like Moti, Sukri, Kharchilee, Bewakoof, Stupid, Slut, Nikammi, Lazy, Batooni, Tez etc. is very common in many households. And women aren't minding it or voicing it. I wonder why? The ugliest part is that most abuse is generated by women only, but there are exceptions.
I am not asking all women to become rebels, but what are we teaching our daughters? To stay mum? To stay powerless? Exceptions are there and households are changing. There are situations where feminism has taken another meaning and there might be cases where men are getting abused. I am not denying those borderlines. But if we look at the percentage in India, I think our society needs to grow up, be humane and more accommodating to women's voices and choices. I am already an admirer of Meghna Pant's writing, and I feel honoured that she agreed to be a part of my endeavor, ShetheShakti, and endorse the movement too. Wishing you more power, Meghna, the true warrior of life and love, the acknowledgment section in your book in which you thank both men. You will understand when you read the book.
Also, to each woman out there, learn to recognize mental, emotional, and physical abuse and take steps to challenge it. Work on building your self-esteem and self-love so that nobody can belittle you. This message is not to provoke you but to build you up, strong enough so that you can build yourself even while being silent yet strong. I loved that the heroine gathers her power through pain at the end. Although, I just wonder when this need to become a pain warrior will end for us women. Realize your Shakti, dear woman, and say no to any form of abuse.
Here you can create the content that will be used within the module.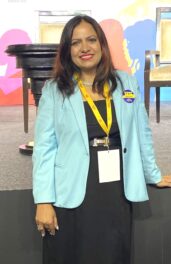 This review is by 
Author, Founder & CHO – creativeHappiness & SheTheShakti Inc.
REX Karamveer Chakra Awardee,
Womennovator "100 Women Faces" – COWE Awardee