Ramayana a tale told by grandparents and parents for us Hindus to worship lord Ram and Sita was just a given and its main theme to someone young was righteousness and duty. When one grew up and feminism took its roots through education and working, Sita became a character that was often discussed amongst us. Naturally when you are growing up and have all the ideals you feel that Sita was a weak character woman who did everything her husband asked of her.So, when Chitra Bannerjee Divakurni wrote Sita's story I personally was very excited as she is one of my most favorite authors.
Chitra Bannerjee's bio is as impressive as it can get. She is an award-winning and bestselling author, poet, activist and teacher of writing. Her work has been published in over 50 magazines, including the Atlantic Monthly and The New Yorker, and her writing has been included in over 50 anthologies, including The Best American Short Stories, the O.Henry Prize Stories and the Pushcart Prize Anthology. Her books have been translated into 29 languages, including Dutch, Hebrew, Bengali, Russian and Japanese, and many of them have been used for campus-wide and city-wide reads. Several of her works have been made into films and plays. She lives in Houston with her husband Murthy and has two sons, Anand and Abhay.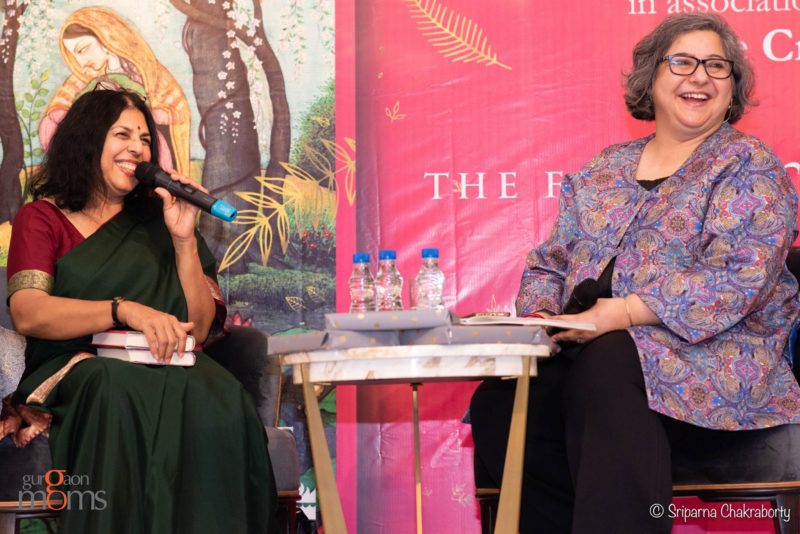 The Forest of Enchantments lived up to the hype and the expectations. I thoroughly enjoyed reading the book. The simplicity of her language has always enthralled me. She has made Ramayana a religious tale to such a relatable love story. Tragic for sure but relatable. She had these pure gems like "This was my first lesson on the nature of love that in a moment it could fulfil the cravings of a lifetime, like a light that someone might shine into a cavern that has been dark for a million years." "Motherhood taught me something new about love. It was the one relationship where you gave everything you had and then wished you had more to give". While Sita is the primary character, I loved the way Chitra dealt with the other women characters of Ramayana, Urmila, Kaikeyi, even Manthra and brought out their role in this epic. I really enjoyed the shades of grey of all of the women characters. She spoke about how the blessing "May you be like Sita" was not always welcomed.
To launch this book, an event was held by Gurgaon Moms Book club along with Harper Collins on 20th of January at the Crest club. The conversation was hosted by Kaveree Bazmai. It was a packed house and there were some Gurgaon dads also there. Chitra was accompanied by her husband who was so proud in being in the background and let his wife shine. Kaveree as usual was fabulous and hosted a delightful event. Each and every attendee wanted to get a copy signed. Some even got 4 to 5 for their friends. As a result I had to wait to interact with Chitra. I had no trouble in doing so even though I knew that it'll be few minutes
Below is the snippet of the conversation that I had with her.
Seema :What inspires you to write in the first person?
Chitra Banerjee Divakaruni : It helps me to get inside the character, creates a closeness and an intimacy which I believe readers can also have with the characters.
Seema : Do you face the burden of authenticity while portraying characters like Sita or Draupadi?
Chitra : Yes , I do, even after the mammoth research that I have done .I want to make sure that my characters are authentic , complex and also express something new that people haven't seen before
Seema : Which of the two shapes your writing ? Spirituality or religion?
Chitra Banerjee Divakaruni (CBD): My inspiration comes from spirituality. Both Mahabharata and Ramayana are spiritual texts. They look at the journey of the soul through the eyes of the world and how we are to deal with the challenges. And especially from the point of view of the woman. A woman's spirituality.
Seema : Who are your favorite authors?
Chitra : Many. I grew up reading the writings of Rabindranath Tagore and Mahasweta Devi, a feminist Bengali writer.
Seema : How do you deal with rejections or disappointments ?
Chitra : Go with the flow and say that this is part of life. Acceptance is the key. I believe that everything is sent to us as an opportunity for growth. Celebrations of the big moments are always with the family as they have been always been so supportive.
Seema : Who inspired you to become a teacher ?
Chitra : My mother as she was too was a teacher and also my love for teaching
Seema : Which Bollywood heroines would choose for the iconic characters of Draupadi and Sita?
Chitra : Deepika Padukone as Draupadi and Vidya Balan as Sita
Seema : What be your next book about?
Chitra : It is a historical set during colonial days again with a strong woman at the centre
Seema : When is it releasing ?
Chitra : I am still doing my research so it would take time .I will see how soon I can get it done
It was one of the most delightful events and meeting Chitra was just divine. That too on my birthday, it was one of the best gifts I could get. "May you be like Sita" will be a blessing I can give to all the young girls in my life as Chitra very effectively has brought out the strength, courage, righteousness and other amazing qualities of one of the most misunderstood women in mythology….
Photo Credits : Sirparna Photography