It's time for my monthly update on COVID, so here goes. Addressing common questions based on science, research, and common sense.
Q: What's the status of the vaccine?
A: There are many labs working on this across the world with the top 8 to 10 in lead. Phase 3 trials on humans are happening as we speak. At least 3 or 4 may get approvals this year or early next year. Many countries including India have preordered. The efficacy of the best vaccines in this scenario will be 60to 75%. But the time of manufacturing and distribution across 1.4 billion of us will take time … optimistic mid next year / realistic end next year ( just a sensible guess)
Q: Is the worst behind us and how long will the pandemic last?
A: We don't know. Different countries will have different timelines depending on the preventive measures the public takes. Mid next year will be able to give a fair idea on these questions as our treatment protocols will mature and the status of the vaccine will be clear.
Q: When can a person return safely to work or be with family after being COVID positive?
A: COVID patient is noncontagious after 12 to 14 days of first symptoms. Some people may be positive on RTPCR even after this duration but that is mostly due to the debris/ protein wall of the dead virus. That is why an exit test is now not mandatory to end the isolation period.
Q: Can a person get reinfected?
A: The chances of reinfection as of now are rare. We will get to know more as time goes by. We still do not know how long the antibodies last post-infection ( also there is T cell immunity working which we don't measure as it's a complex process). This question is best left to us clinicians and researchers to debate in our academic sessions. The general public should not be concerned with this and carry on with standard precautions even after recovering from COVID.
Q: Will we achieve herd immunity before the vaccine?
A: No, for this, at least 60 to 65% of people need to be infected. This is a humongous number given our population. We don't have enough serosurvey data but at best we must be around 10% infected as of now.
Q: Is it true that Indians have a less fatality rate by COVID?
A: Yes that's true as per serosurvey. If you do not have comorbidities, your chances of being asymptomatic or mild COVID illness with a high survival rate are very very high. In India, there are many many more deaths with tuberculosis and cancer every day than COVID. But that doesn't mean we become complacent… precautions are must. Even if we have a low mortality rate, the sheer number of deaths would be largely due to our large population and we definitely do not have a healthcare infrastructure to handle that.
Q. Should children be allowed to go to school?
A: In India, only 11% of kids have access to digital platforms. Going forward they will need to go to school with all due precautions. Children's resilience is much better than adults and there have been very very few cases of hospitalization with COVID and even lesser deaths. Ultimately it's a government policy decision based on many local pandemic factors of an area. For eg. perhaps Kerala can open school earlier as compared to Maharashtra or Delhi NCR.
Q. Should I wear a mask while walking/ jogging/cycling?
A: If you are in an open space and not with many people around, you don't need to wear a mask
Q: Is flying safe?
A: I have taken four flights after the lockdown lifted and with due precautions, it is not considered high risk. Planes have HEPA filtration for air. Mainly one has to safeguard the route of entry of the virus which means the nose, mouth, and to some extent eyes. Keep your mask and some glasses on throughout the journey till you reach home and shower. Do not take off your mask to eat in domestic short flights but if it's international you may take a quick bite ( request your next seat passenger to not have food at the same time so that both of you are not without a mask at the same time )
Q: Is going to the gym safe?
A: This may hurt a few people and business owners, but it comes under risk area due to closed space and sharing of equipment. Also, masks and social distancing become a challenge during workouts in the gym.
Q: Should I keep having immune boosters like kadha, haldi etc.?
A: There is nothing like immunity boosters. It's a well-wisher generated hype. We are all born with certain innate immunity and then depending on our lifestyle we gradually develop various levels of immunity over years. You can have kadha or haldi … no harm but don't overdo it. People have reported liver problems due to excessive indulgence in these. Adequate sleep, daily exercise, balanced meals, and a stress-free life are the best immunity mantras.
Q. Are people still taking hydroxychloroquine as prevention for COVID … what does the research say?
A: So we now have many studies from various countries including India ( Max hospitals too has done a large sample study on this) and it's proven that HCQS has no role.
Q. Where do we stand with various treatment options like Remdesivir, favipiravir, blood thinners, dexamethasone, plasma transplant etc?
A. Leave this for the doctors to discuss amongst themselves. Most people will become ok with symptomatic treatment at home. Do not self medicate in case of symptoms and seek medical attention. TRUST YOUR DOCTOR.
Q. So how do we move forward?
A. We have to stay away from both panic and denial. MASK up always when stepping out ( this is the biggest game-changer in controlling the pandemic), keep social distance even at work, and with friends while socializing, and sanitize/wash hands frequently. Stay optimistic, spread positive energy….. Do not watch the news every day and have digital sunset time 
PS: This info is to the best of my knowledge only and may change over a period of time as we keep learning about this pandemic.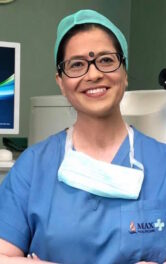 This has been by authored by 
Director- Ophthalmology
Max Hospitals & Viaan Eye Centre