In view of the rising number of COVID-19 cases, the Gurugram administration passed an order to reserve beds in both private and government hospitals. The order was passed on Tuesday after Gurugram recorded over 1,100 cases within a single day. As per the order, 40 and 70 % beds will be reserved for general and ICU patients—As per TOI 
We have consolidated a list of Hospitals & Home Care Packages in Gurgaon & Delhi for COVID -19 patients.
_____________________________________________________________________________________
Gurgaon District Important Helpline Numbers 
Chief Medical Officer Helpline: 0124-2322412
District Covid Helpline: 1950
Rotary Blood Bank: 7011710570

DEDICATED COVID HEALTH CARE CENTRE -GURGAON 
Ahuja Residency Vista Signature Plot No B-109 & 110, Near Unitech Signature Towers, South City I, Sector 41, Gurugram, Haryana 122001 0124 483 3418
Dedicated covid healthcare center DCHC created at Vista hotel by Max Gurgaon 
Paid Isolation Facilities in Gurgaon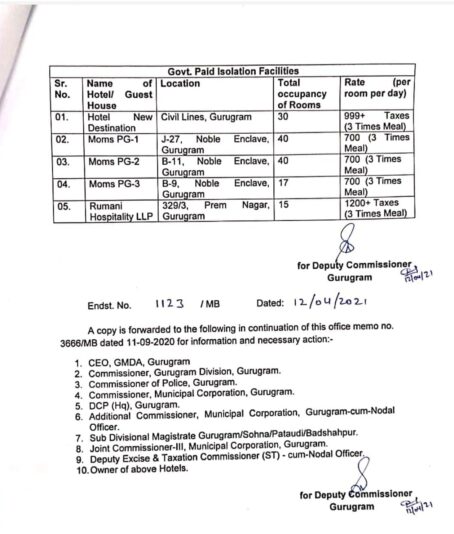 _____________________________________________________________________________________
HOME CARE PACKAGES 
HDU Healthcare Covid 19 Home Isolation And Quarantine Package 
Click here for the details 
Emergency Helpline: 9560089955
Website :https://hduhealthcare.com/
Covid Solutions Facility within Gurgaon Homes
Has anyone in your family tested positive? Is it getting difficult to manage household chores,
cook, clean – all this with your chin up!
In these trying times, you can reach out to Ahuja Residences & LIME Services 
They have introduced a One-Stop-Shop Covid Solutions Facility within Gurgaon Homes. Providing Professional Disinfection Services, Self – Isolation Rooms, Segregation of Waste Management, Laundry & Cleaning Help, and Delivering Simple Homestyle Meals right at your Doorstep!
39 years of TRUST in the business of providing safe and hospitable experiences i
To know more, and book any of their services Call +91-8899770770.
Disclaimer: Kindly note that some of the details have been crowd-sourced from our community and a few from outside the community.
Oxygen Suppliers
Refilling Oxygen:
Address: Plot No. 324, Sector No. 7, Phase No. 2, IMT Manesar, Gurgaon, Haryana.
Contact: 7703940131, 9873830302
Kalinga Gas
Hero Honda Chowk, Gurgaon: 9050659062
| | |
| --- | --- |
| Oxygen Cylinders in Delhi |   |
| Ram Gas Agency | 9650200705/ 7947430845 9650753567 |
| Mr Salil | 9873932513 |
|   | 8700831938 |
| Rakesh | 9057507489 |
| Rubal | 9810122283/ 9211380700/ 9953212482 |
| | |
| --- | --- |
| Vinayak Oxygen | 9868827510 |
| Agarwal gas | 9910138604 |
| Old Delhi Vendor | 9873409906 |