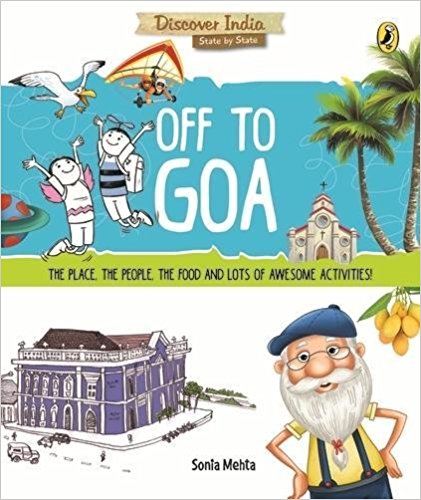 'Discover India' is a 29 book series and each book takes us on a grand tour to one Indian state. The book has captivating illustrations to keep the young readers interested. The characters in the book help the kids get curious and hungry to read & learn more.
Each book covers the basics like the culture, the local language, food and gets into the details of the tourist sites. Sonia Mehta holds the kids interest by filling it with well-placed interactive content and fun-facts. [Some sample activity sheets are available for download here]. There are also short stories. The intelligent use of characters to narrate the story and the colorful illustrations brings the book alive to the young reader.
While there are enough tour guide books for kids on international travel destinations, I am very glad, that this series will help our kids learn more about our country, appreciate the diversity and enjoy and connect better with the culture – just in time when we are celebrating our 70 years of Independence!
Priced at Rs 199, this is a great addition to the kid's library and a must buy if you are traveling to any of these states.
Some pages from the book:
Some other books in this series
[purchase_link id="0″ style="" color="" text="Download 'Discover India" Activity Sheet'"]