With the festivities in full swing we share some recipes of delicious traditional Indian sweets by our very own members, some of them are fabulous home-chefs too. 
Sarkkarai Pongal ( Sweet Pongal)
Made with Love by
Subhashini Ramasubramanian – Director Brand Associations for GurgaonMoms / Core Committee member. She is very passionate about cooking. She loves to cook for her family and friends !! . Feels fortunate to have had the opportunity to learn some traditional   recipes from her grandmothers from both the sides of the family.
Sarkkarai Pongal ( sweet Pongal)   which is made using simple ingredients like Rice, lentils, jaggery and ghee is a traditional sweet dish made in south indian households and temples for special occasions and festivals and offered to Gods. This is also the main dish in harvest festival – PONGAL and newly harvested rice, dal are used to make this on that day. The lines "Gudanna preetha manasa"     in Lalitha sahasranamam  – (the scared text on Goddess Lalitha – Shakti/Durga) means that the Goddess has a liking for this dish ! Hence Sarkkarai Pongal is an important sweet dish during Navratri puja in our south indian households. Sharing the recipe and the picture of sarkkarai Pongal that I had made during Navratri puja at home.
Ingredients –
Rice – 1 cup (Any south Indian Raw rice variety.)
Lentils ( split yellow moong dal)   – ½ cup
Jaggery (grated)   – 1.5 cups or more depending upon the sweetness , check the sweetness of the jaggery and depending upon your liking increase or decrease the quantity. Our family loves it very sweet !!
Milk – 1 cup ( we use only toned milk)
Ghee – 50 ml (melted)
Cardamom/ Elaichi powder – 1 pinch
Cashew and Kismis –   10 to 15 ( Roasted in ghee )
Method –
Step 1   – (Note – The rice dal mixture can be cooked in a pressure cooker or in heavy bottomed vessel. Sharing both the methods here.)
In a pressure cooker   – For 1 cup of rice + ½ cup of dal add 1 cup of milk and 4 cups of water mix well and pressure cook in a cooker ( to about 7 to 8 whistles) . Switch off the stove and wait till the cooker cools down and there is no pressure inside the cooker.   Now open the cooker and check the consistency of   the rice and dal mixture . It has to be very very soft and mushy . Mash it well using a big ladle and keep it aside.
In a heavy bottomed vessel – You can also use   heavy bottomed vessels , we sometimes use heavy bottomed   bronze vessel . Add milk/water mixture first. Allow it to boil , when milk starts to boil and is about to over flow add rice and dal and cook it till rice and dal is   very soft and mushy .If needed add more water/milk mixture .  This method will take more time than a pressure cooker.
For both the methods you can dry roast rice/dal slightly before cooking them. This is optional and I do not do it.
Step 2 –
In a heavy bottomed vessel / kadai add 2 tablespoon of ghee and add the cooked rice/dal mixture . Incase you have cooked the rice /dal mixture in a heavy bottomed vessel you can continue in the same vessel and add ghee .. Keep the flame low and add the grated jaggery . In few minutes the jaggery will start to melt . Keep mixing this Mixture ( it will be a bit runny) and do not allow it to stick to the bottom. If needed add more ghee at this stage.
Step 3 – The mixture will start to boil and starts to thicken a bit   , you can notice small bubbles . Keep the flame low . Add ghee again if needed ( incase the mixture sticks to the bottom of the vessel) and keep mixing   , till the jaggery and ghee gives a nice aroma .Do not allow it to become too thick , else it would become sticky .
Step 4 – Once the aroma of jaggery and ghee fills the air and the mixture is soft and mushy switch off the flame , transfer it to a serving   dish( as the kadai/heavy bottomed vessel will still be hot and may make the mixture very thick and sticky) . Now add elaichi and ghee roasted cashew and kismis and the remaining ghee. As it cools down it will thicken a bit .
Sarkkarai Pongal is ready for serving !!
For serving – To be served little warm ! If you like, you can top it with a teaspoon of melted ghee and few roasted cashew and kismis !!
MakhanBada/BaluShahi
Made with Love by
Abhilasha Jain– An award-winning home chef offering the most sumptuous and authentic Rajasthani vegetarian food that pleases every taste bud. Marwadi Khana is not just her brainchild but her dream, it's not just a job for her but an obsession!
Makhan Bada is a traditional festive sweet from Rajasthan. It is made by making maida dough balls which are deep fried in ghee and simmered in sugar chasni. They are beautiful golden brown in color having a flaky texture. Makhan Bada is crispy from the outside and soft from the inside.
Balu or Balo refers to sand or something that has a texture that resembles sand. Since balushahi has a flaky texture that just crumbles and melt-in-your-mouth, it's therefore referred to as balu. Its outer layer shines like a sand, hence it's referred to as balu. 'Shahi' means royal
Combined together it means 'A Shahi dish that resembles the texture of sand.'
Frying in ghee adds a nutty taste and flavor to these makhanbadas
The only difference I could feel and know about Makhanbada and Balushahi is that Balushahi is a bit hard then makhanbada,otherwise they are same according to my knowledge.
Ingredients –
1/2 cup Maida
1/6 cup Ghee , for aata
Ghee , to deep fry (as required)
Baking powder , a pinch
1 tablespoon Curd
2 tablespoons Pistachios , chopped
1/4 teaspoons Cardamom Powder (Elaichi)
1 cup Sugar
1/2 cup Water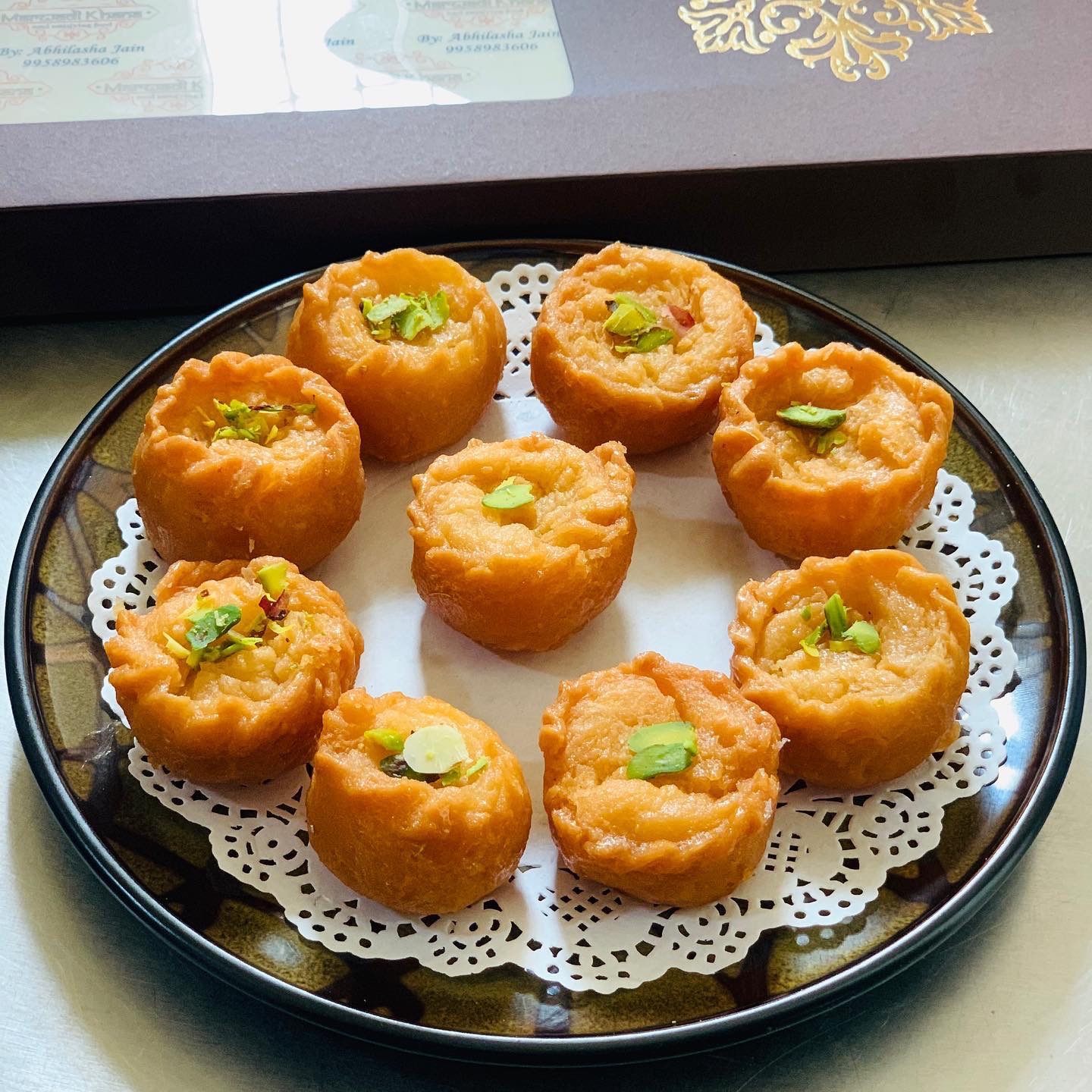 Method 
  In a bowl, add maida, ghee, baking powder and mix it with your hands. Now add dahi and make a dough like poori dough. Don't add water and leave it for 10-15 minutes.
Heat pan, add sugar, green cardamom powder and water and make one thread chasni
Now divide the dough in small equal portions (i.e. size of small lemon). Round them, press each ball from the center with the help of finger.
Heat ghee in a kadhai and deep fry the ball until golden brown and crisp. Drain on an absorbent paper.
Soak badas in sugar syrup for 30 minutes. Take them out in a serving plate. Garnish with the chopped pistachios.
Besan Laddoos
Made with Love by
Deepali Bakshi– Is a home -chef and the owner of Deepali's Kitchen
Every recipe that she cooks has a lot love, affection, care, thought as the main ingredients the spices and the material goes in later.
Mouth watering, home made delicious Besan ladoos .Enjoy them with a cup of tea or give it to kids with a glass of milk or just gulo one to subside that sugar craving.
Ingredients –
250gms /1 cup Ghee
2 cups Besan (mota/thick)
1/4 teaspoon Cardamom powder
Sugar
Nuts/raisins
1/4 teaspoons Cardamom Powder (Elaichi)
Method
Add the ghee to a kadhai and let it melt on low heat
Once the ghee melts, add the besan to the pan. Traditionally Motta Besan is used to make besan ladoos however you can use whatever is readily available. Heat should be low at all times.
Mix the besan and the ghee together, at first it will form a clump. Don't worry and keep stirring, it will start to loosen up a bit. This is how it looks like 8 to 10 minutes after adding besan.
After around 25minutes on low flame the besan will give a nice aroma and will turn goldenish.
Remove pan from heat. If you want transfer the besan to another container so that it doesn't cook further and doesn't burn.
Add cardamom powder and mix and now let the besan cool down for at least 15 minutes. Do not add sugar to hot besan else the sugar will melt and then you won't be able to bind the ladoos
After 15 minutes, the besan would cool down and be easy to touch.
Add in the sugar and nuts/raisins (if using). I use Desi Khand as it's healthier than normal sugar and gives a nice crunch to the ladoos.
Mix everything together until the sugar and nuts are well combined.
Now, pinch a small bowl from the dough.
Press and roll between your palm to form a round shape.
Repeat with the remaining dough.
Self life is 6 months in an airtight container.
.
Instant Jalebi
Made with Love by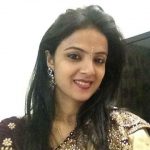 Sunita Jaiswal–Is a  mother of two beautiful kids. Her passion for food has indulged her into running cookery classes Sunita's Cookery  for a couple of years now. Her students are very happy with her recipes.
She shares the recipe if delicious instant jalebis
Ingredients –
?125 gms Maida
30 gms Udal dal flour/Besan
20 gms Ghee
½ tsp Citric Acid
1 ½ tsp ENO
¾ cup Water
A pinch of Yellow Food Colour
400 gms -Sugar
Elaichi Powder
Saffon/Kesar threads
Method 
Mix all the dry ingredients except ENO and water your Jalebi mix is ready. Store in fridge.
Syrup:  Add 1 ½ cup water to 400 gms sugar
Boil until turn slightly sticky one thread
Add elachi powder and  kesar thread for flavour and  colour (optional)
Keep it warm.
How to make the Jalebi:
Take Jalebi mix packet add water -100-125ml to make thick but pourable consistency batter
Rest for 5 mins than add ENO powder and mix always mix in one direction and don't over mix.
Pour the batter in a ketchup bottle or piping bag.
Heat oil in a pan once the oil is hot make little swirls in the oil to give a jalebi shape.
Fry on both the sides till jalebis get light golden in colour.
Soak in warm syrup from both the sides.
Remove it to a plate and serve.
Oats Dry Fruit Ladoos
Made with Love by
Amita Garg– Chef by profession and foodie by heart, Amita became passionate about food when she got married to her foodie husband who is also a wonderful cook.She started her journey four years ago with Amita's Kitchen.
She shares the recipe of Oats Dry Fruit Ladoos
Ingredients –
Khajoor (Dates)
½kg Almonds
150gm Cashews
150gm Pistachios
50gm Magaj 25gm
Oats 100gm
Fig 50gm
Walnuts 100gm
Ghee 5 tablespoons
Method 
Finely chop all the Dry fruits (Almonds, Cashews, Pistachios, figs and walnuts).
Deseed the Dates and chop them.
Make a fine past of the dates in a mixer.
Take a non stick pan and saute all the dry fruits in 2 tablespoons ghee until they are golden brown.
In another pan, add 3 tablespoons and saute the Dates paste
Add all the dry fruits to the dates and mix well.
Shape the ladoos when the mixture is still hot.