Times have been really different this year for all of us. Being adults, we are able to understand the situation but think about our cute kids who are under house arrest due to COVID and even not able to understand why! The scale of celebrations might have changed this year, but we can make sure that the vibes and spirits remain the same in order to make us accept the new – normal. Decking up and enjoying the festivals & weddings always have a direct connection with how you feel. We should try to cheer them up by dressing them in aww-inducing outfits in the upcoming festive season.
It's all about making them happy!
We at Pankhuri by Priyanka, really look after the fact that the kids should love what they wear, and together with it, the outfit shall be super comfortable to them. When it comes to Indian festivities & weddings, the overdose of cuteness happens by dressing our kids in traditional attires that too in bright and pastel colours. Take cues from the cute little Taimur Ali Khan is taking away the hearts with every outfit he wears or Aaradhya Bachchan flaunting her beautiful ethnic kurtas or western frilly gowns. The best part today is that you don't need to step out of home and take the risk. You can shop at the ease of your place even when it is about customizing an outfit with your own designs and expectations 
Image Source: Pinterest
A few tips that you can follow for dressing up your kids that add style & comfort and also doesn't dig a big hole in your pockets
Play with colours: Bright is beautiful. Don't hesitate to dress up in some bright colours or cool prints in some breathable fabrics.
Comfort is the key – when it comes to enjoying the weddings & festivals by the kids, it's about running, playing pranks, and different games. Thus, it is very important that they are comfortable in what they wear and is not itching or troubling them.
Team up accessories – the look of an outfit triples when it is clubbed with matching accessories. For girls, there are numerous options like hair clips, bands, bangles, etc while for boys, you can go with some nice broch, watches, and even matching shoes.
Listen to them – Give your child an opportunity to decide what he/she wants to wear to develop the sense of decision making and festive fashion. They might make mistakes but will definitely learn from them.
Outfit ideas for kids that are both comfortable & stylish 
FASHION TRENDS FOR GIRLS 
Palazzo set– Being the favorite of current fashion the palazzos are one of the most versatile outfits as it can be clubbed with a straight kurta, Anarkali, or even a crop top. It is a must-have in your daughter's wardrobe.
Click on the slider arrow for designs
Dhoti Set –Dhoti pants especially in a flowy fabric like lycra or modal cotton are loved. It gives the comfort of moving around freely. These can be clubbed with kurtas, peplums, or even crop tops.
Click on the slider arrow for designs
Lehengas – Nothing can ever go wrong with a lehenga. When teamed with a  long kurta, or a choli with a dupatta, it will surely make your princess look cutest, be it a 3-month-old or a 10-year-old.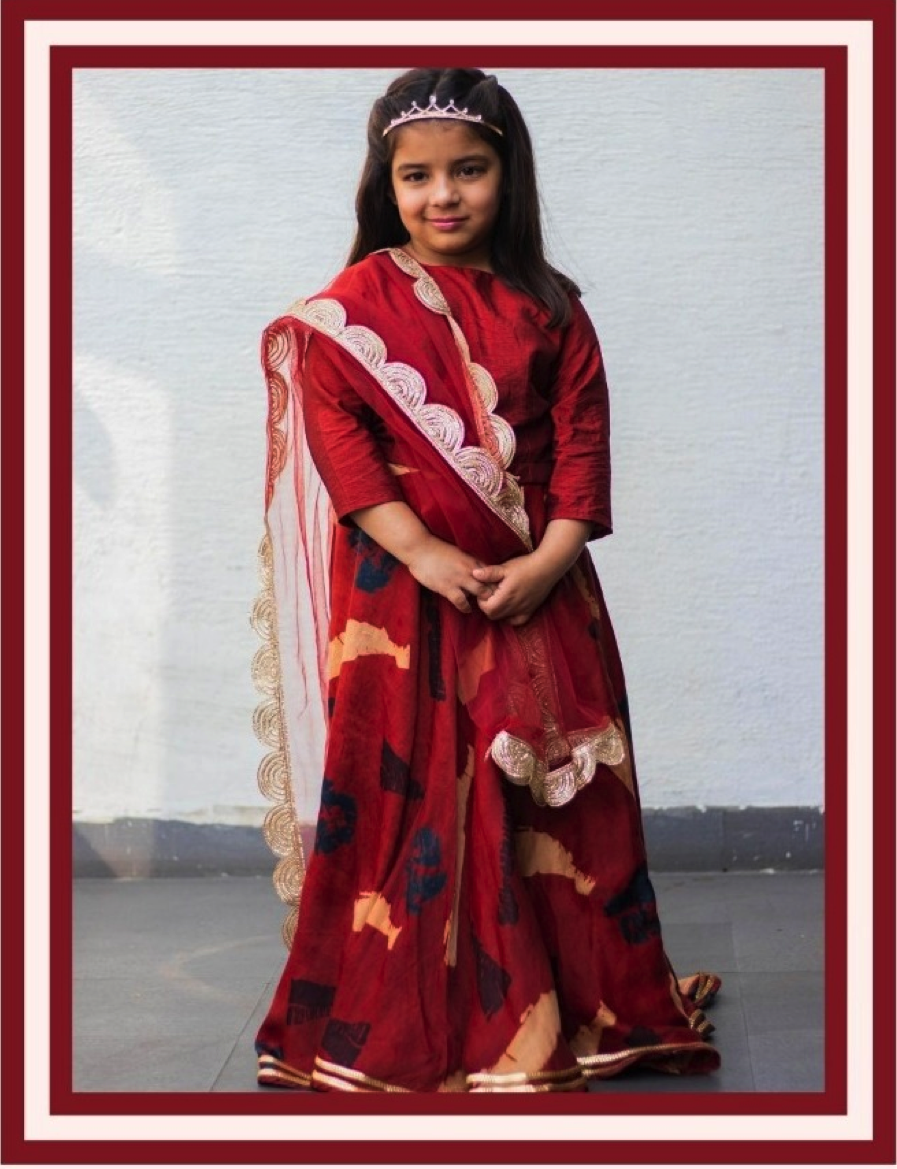 Favourite characters ( Peppa suit, Elsa frock) – Love for the cartoons and the characters make our kids happiest especially when they wear themselves. Our special collection of favourites like Peppa pig, Elsa from the movie Frozen, Cars, Dinosaurs, Pandas and many more give the vast choice to the kids.
Click on the slider arrow for designs
Salwar Suits & Anarkalis – Elegance with simplicity is what is loved by most of us. Available in soft cotton with little detailing make them outstand the rest. Made in pastels as well as neon colors gives you the choice to dress your kids the best.
Click on the slider arrow for designs
Westerns – the kids who are not a fan of ethnics even get the choice to have bright quirky print tops that can be teamed up with jeggings or leggings to give a festive look. We make sure that the fabrics are soft and styles are little formals to make them look their best.
Click on the slider arrow for designs
FASHION TRENDS FOR  BOYS
They don't have those many choices as girls, but we make sure to provide enough options that your son will love with you being happy about the comfort. Kurtas – the most comfortable and ethnic looking kurtas in quirky prints pastel colors is what we suggest for your boys.
Click on the slider arrow for designs
Shirts – You may opt for smart shirts in Ikkats and cottons which can be clubbed with denims or trousers to make your boys festive or wedding-ready. These work really well for kids who don't like to dress in ethnic wear.
Click on the slider arrow for designs
Nehru Jackets – Make everything look formal and festive-ready with Nehru jackets. Made in cotton as well as in silk and brocade, we make sure to give options to club with kurtas and shirts to make them instant festive-wear. Our collection includes neutral shades that can be mix n matched with anything in the wardrobe.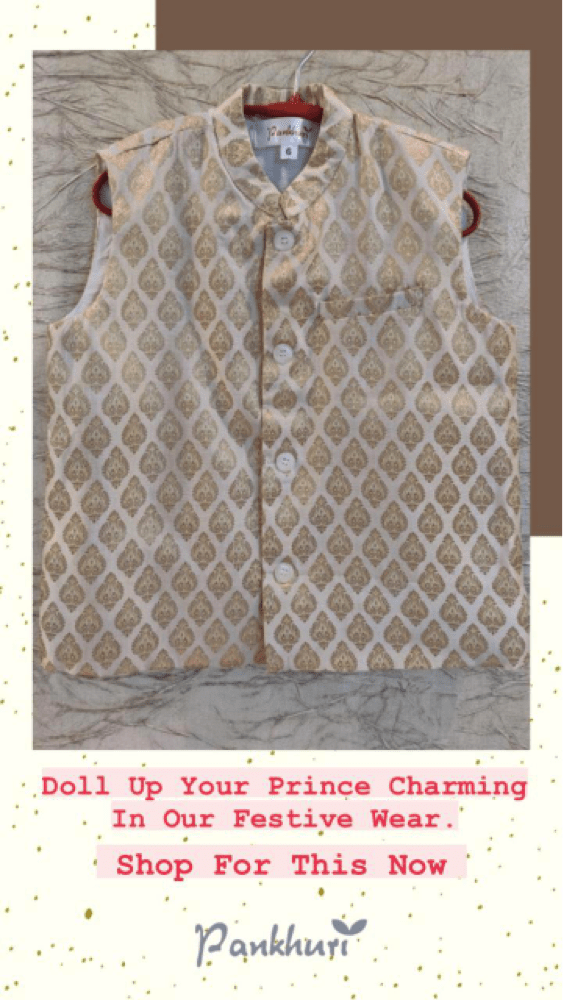 Make sure your kids love what they dress up in to make the weddings & festivals happier than ever this year as we all need to be happy and positive to make this pandemic get over as soon as possible.
This article is by Priyanka Singhal Jain of Pankhuri Creations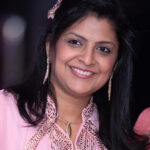 Pankhuri by Priyanka is a brand label for kids where we customize as well as have ready collection for boys as well as girls from new-born to 15 years. They also custom stitch for women and men. They do a lot of twinning sets on orders. Their studio is in DLF ph-1, Gurgaon and we are open for meets by appointment. They will be happy to bring  a smile to your kid's face this festive & wedding season  They are reachable at 9354534850 Social Media  Handles : www.facebook.com/pankhuribypriyanka https://instagram.com/pankhuri_by_priyanka?igshid=qh8iii92c482