I can already feel the wonderful chill in the air. Winters have always been my favourite time of the year. The warm snuggly clothes we get to wear, the yummy food that we get to eat. But not forgetting winter also brings along seasonal flu and allergies as well. And especially amidst the ongoing pandemic, it's become even more of a big concern for all of us.
Gone are the times when a walk outside was normal, a child could go to the park or one would casually meet up with friends over brunch or kids would be able to attend school. Since the past few months, we can't even think of stepping outside our homes and so everything is done from within our homes. Kids classes, our own personal work and even getting groceries delivered at our doorstep.
This makes one thing clear that we spend most of our time inside the house.
Staying indoors has truly made us realize how we took everything for granted. For that matter, even fresh air. Just like every year, this year too the pollution around last month was at its maximum level. With the ongoing pandemic situation and the smog and dust, keeping ourselves locked along with our little ones indoors was the only option I could think of.
But just like a lot of people, I too thought that just because I'm indoors, I'm safe from all the pollution dust, and allergens. I was highly mistaken. Indoors are equally polluted as outdoors. There are fumes from fragrances that we use, cooking we do and so much more than linger around and that's exactly what we breathe in. It's nothing less than a health hazard to all of us.
A few months back we really wanted to invest in something for ourselves and our better and healthy future. We went through a lot of options and recommendations from our friends and finally, we decided to get the Dyson hot + cool Air purifier and heater. Safe to say it was the best decision ever.
On having used the same for quite a few months now, I realized how life changing it has been. Dyson uses special HEPA air filters, unlike other purifiers that get all the impurities in the first pass itself. I was shocked to see the air quality in my room. But post using it for a few days I could myself see the difference that we had in the air quality.
Not only this, but it is also the only purifier to have a hot and cold feature together. With approaching winters, it's going to be such a relief for us to be able to use the heating and purifying feature together. Ever since the weather has dropped down even more since last week, our Dyson purifier came very handy as the heating worked just perfectly.
Also, making it even more convenient I was the happiest to know that we could connect the system with our phones, and even if we are away from home, we could control the air quality sitting miles away.
Before investing in the same I was unsure if it would be safe around children because kids want to explore everything. I was so glad to see the bladeless feature which made it super safe to be used at home with kids and pets around. Not only this but it does not get heated on the outside at all. This was one of the key features that made us buy this particular model.
Dyson is inbuilt with a special oscillator feature that purifies the room all throughout even if it is kept in a specific corner of the room. I actually regret not having invested in it much earlier. But now having used the same for quite some time I recommend the same to all my friends and family. After all, nothing is more important than our own health.
This article is by Taranpreet Trehan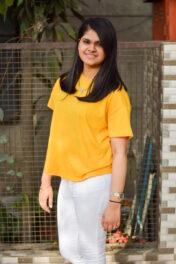 A mom by choice and a blogger by accident. What initially started as a way to vent out her feelings slowly and gradually turned into full-time blogging.  Life has been a roller coaster-like seriously the fastest and tallest that you can imagine. But she's loving every part of it.
Her blog Mommy & Baby Bug talks about her experiences as a mommy. All of us have had different stages in pregnancy and as a parent. Nothing is correct or incorrect when it comes to parenting. She has documented every major stage and what it felt like being in that moment in her blog.
She also collaborates at times with brands for reviews on their products and always makes sure to introduce all the things that she personally loves and uses.