"Forget your marathon this year," I heard my husband's voice as I struggled to move out of bed.
I recollected the practice run we did the day before at Leisure Valley Park, Gurgaon, followed by breakfast at the Roots Cafe. It was the last week of October 2017 and we were gearing up for the upcoming Airtel Delhi Half Marathon (ADHM) on November 19. I was so thrilled that ADHM was on my birthday and eagerly looked forward to the run and the celebration thereafter. I had overheard that my husband was planning a surprise birthday brunch post ADHM with my girlfriends and our runner friends.
I just couldn't move. Defeated, I connected with my doctor and somehow managed to reach her clinic for a check-up.
"Your back is in bad shape. Complete bed rest with physiotherapy is the only answer now. No physical activity permitted."
There went all my plans for the run.
It seemed unlikely that I would get back to running – ever. Instead, I would be corseted with a support belt for as far into the future as I could see.
Strong painkillers and Physiotherapy sessions!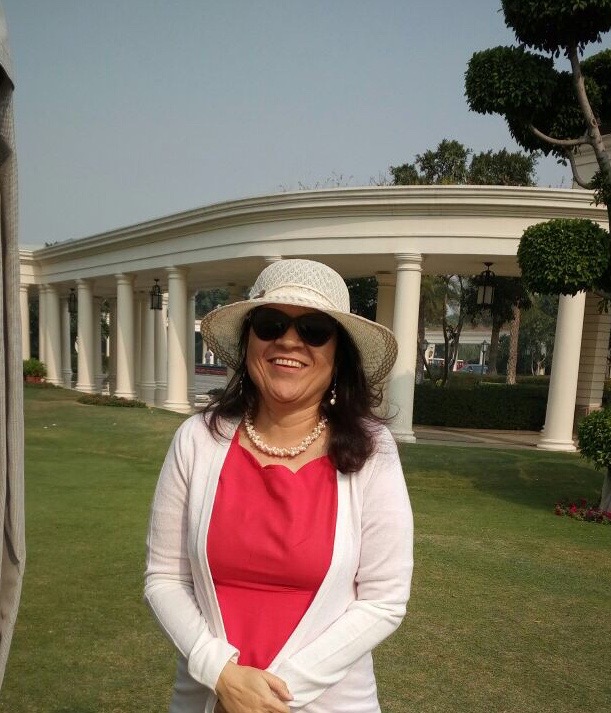 With a heavy heart, I surrendered to God's plans and celebrated my birthday brunch with my waist belt on, trying my best to celebrate my friends ADHM experiences. I was hurting in their stories and in my body.
Several weeks passed, and my body, not used to any medication, seemed so inactive, making the mind duller by the day. Not one to give up easily, I resorted to homeopathy along with its tremendous food restrictions. Gradually, my movement smoothened and I saw a ray of hope.
The universe transpired to my desire and I had my old fitness and movement trainer back in my life.
When I expressed my urge to get back to marathons, he promised me, "We will make it happen, Ma'am."
Aman's reassuring words enthused me after every session and fuelled my fire. He focussed on the gradual strengthening of my back and core muscles, and I started slow jogging.
Fast forward to November 29, 2018: with Aman alongside, I ran my first 10k without a belted back. I remember sharing my joy on Facebook and resurfaced a post from exactly three years before on November 29, 2015, when I had run my first ADHM. The powers of the Universe continue to amaze me at every juncture.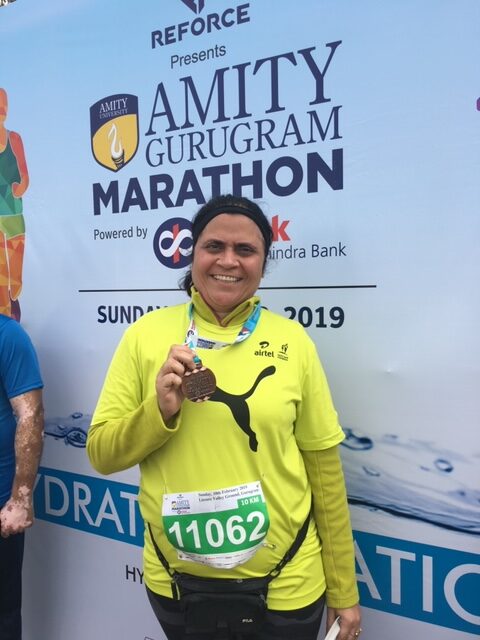 There was no looking back. February 10, 2019: I participated in the Amity marathon Gurgaon finishing a 10k. My 15-year-old daughter Shivi joined me for support and ran along finishing her first ever 10k. We continued our running journey together with the Tuffman Gurgaon 10k in April 2019.
With the summer approaching, I had to halt. My mind refused. Shivi and I registered for the Tuffman Shimla U Mashobra 10k Run for June 8, 2019. To give her the experience of traveling by an inter-state bus, I booked an overnight bus journey from Delhi to Shimla.
May 30, 2019: I woke up with excruciating back pain again to the same voice, "Forget your Mashobra trip, I cannot let you travel".
Back I was to my physiotherapist. Another angel appeared to my rescue: my business partner Yashi Shukla took me to a Korean therapy centre. I went limping and came back, spine elongated. My confidence boosted. I continued my training and intensive therapy, and finally got a green signal for the travel and run from my doctor.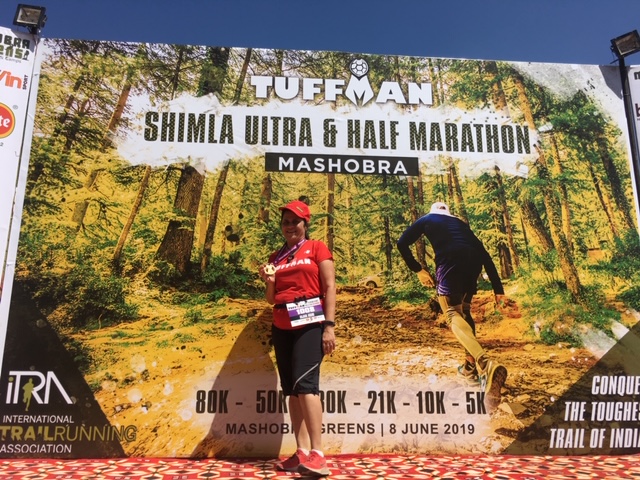 At Mashobra, Shivi was a podium finisher winning the first position and I was the winner when I crossed the finish line.
December 1, 2019: I finished the half marathon at the Apollo Millennium City Marathon, Gurugram.
February 2020: 14 k Finisher at the Trail-a-thon, Bandhwari village, Faridabad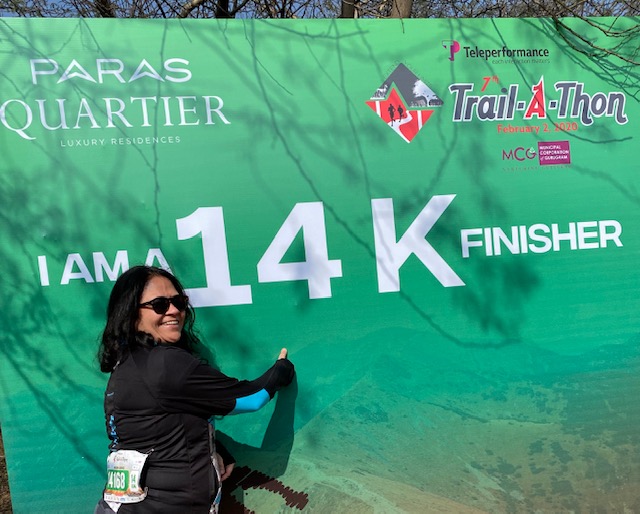 To mark my 50th birthday in November 2020, I registered for the 50k Tuffman Shimla U Run scheduled for June 27, 2020. Aman was confident, and we continued our training. Little did we know that the world would come to a standstill with COVID chasing everyone. This run is postponed to October 3, 2020, and my training goes on, the months of sweeping and mopping during lockdown my bonus workout! I run with confidence week on week with a back that grows stronger every day. With a sound mind and body and most importantly, my family and friends as my biggest support, I'm taking life in my stride with every step.
This is the story of Anjana Anand written in her own words 
Anjana is 49 yrs old and Co-founder, FYCGlobal Career Guidance Company, Gurgaon
This write-up has also been published on healthshots.com  (A Hindustan Times Venture)