[Photo Credits : ImageIn by Ankita ]
Do you remember the Sports Days of your school? Cheering for your house, running the races as if life depended on it….marching left right left right… till legs ached and our feet were sour. The thrill of winning and the excitement of parents coming to school; nothing could beat those joyous moments.
Naturally then, when GurgaonMoms gave opportunity to us to celebrate Sports day, there was no stopping. Enthusiastic mothers came in huge numbers to sweat it out and relive their childhood at Kunskapsskolan International for the Mother of all Sports Day!!
The Day kick started with a high energy and cracking Zumba session. Everybody grooved to the beats and prayed they looked slimmer after half an hour. The trainer kept the spirits high with variations and kept everyone involved. 45 minutes into it and nobody felt tired but we were refreshed and energized. The cool down of Zumba was based on belly dance Moms jiggled and wiggled with pearls of laughter accompanying the music.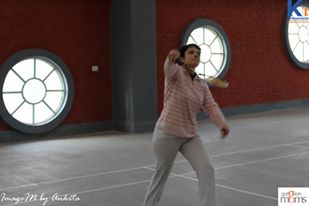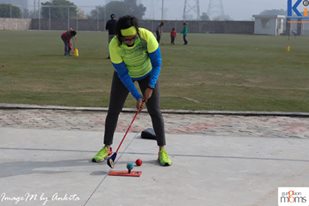 Next, we chose games of our choices. Badminton, shooting, golf, archery, squash…you name it and Kunskapsskolan had it. We played badminton crooning "dhal gaya din…ho gayi raat" and shot targets singing "aaj na chhodenge tujhe…". All the while competitive spirit prevailed and each one of us wanted to be the best.
The highlight of the event was a Kabaddi Match organized by VivaFit. We divided the teams with befitting names of Team Gita and Team Babita. We all went beserk going hutuuu..hutuuu. The raiders were cornered, gripped and made to lose their breath as the momentum picked up. Maximum participation ensured all got a chance to raid, target and fall flat on sand to touch the dividing line for scoring points. Team Gita won the exciting match by taking out all opponents of the opposing team.
The event closed with prize distribution and a promise by Neela, of more such events. We got home feeling refreshed with our Coca Cola hampers and excellence certificates. Waiting for more such fun events and practicising on my sports
🙂 Next time hoping to catch up and meet more from the forum…
The event also enjoyed good coverage from TOI which was a huge motivation for the mom participants 🙂