Nihira brings to you traditional Indian sweets with a contemporary twist. As we all know, sweets are a consequential part of the Indian culture and hold a significant meaning in our society for every occasion. Happiness is spelled with sweets.
Any occasion of celebration, be it getting a job, getting married, child birth, housewarming, all auspicious events or festivities "Muh Meetha Karavo" is the ruling verbal expression on everybody's lips. Sweets offered at auspicious occasions are considered 'Shubh' or Good Omen. NIHIRA brings extraordinary sweets to you which are intrinsically prepared and each selection is a result of resolute artistic ardency. It believes in utilizing only rich, fresh and pure ingredients to create 'perfection'. Nihira delicacies are exclusive one of a kind selection of Indian sweets and innovations. They are a perfect blend of traditional sweets with exotic contemporary versions. They surely have a modern touch but the essence of Indian tradition isn't lost.


So what makes NIHIRA unique?
It all commenced in our kitchen in 2017, when the Founders Subha Bajaj Aggarwal and Arshya Aggarwal started experimenting with sundry options to construct a barfi fusion as an alternative to the traditional mithai. They felt that there was a need for something different which appealed to everyone, especially the new age generation. Over the past decades, grandmothers are usually associated with old school sweets and the new age with chocolates or other trending desserts at the given time. That being said, they wanted to reintroduce Indian mithai and resurface Indian roots in a new, fresh and exciting concept.
Nihira offers unusual versions of Indian mithai which are an amalgamation of modern flavours with traditional eats resulting in exquisite plush treats. One of Nihira's favourites are the COLLECTOR'S EDITION – a blend of premium spirits with the classic ladoo which really is a match made in heaven. We have a SIGNATURE SELECTION of barfis – Cheesecake Barfi, Bubblegum Barfi, Oreo Barfi and Blueberry Barfi – an unconventional mix but will keep you salivating for more!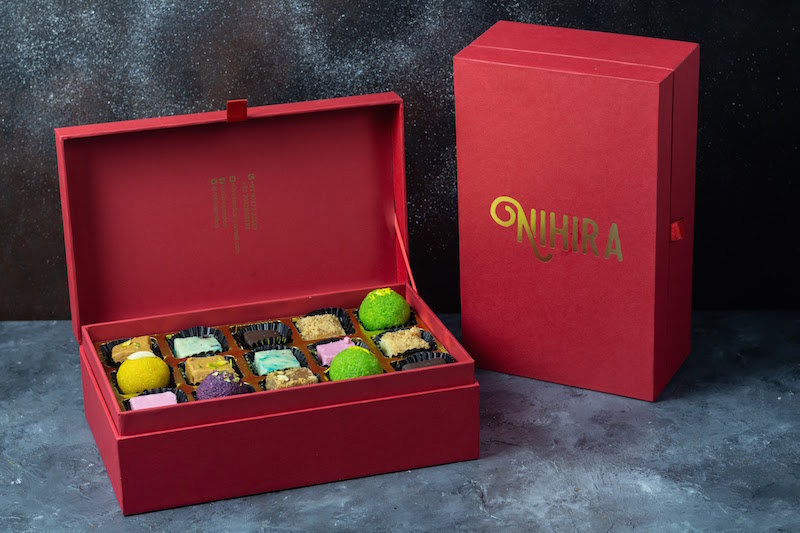 They also offer a variety of savoury snacks to satisfy all zesty cravings. Peri-Peri Namkeen Paare, BBQ Namkeen Paare, Spicy Cheese Namkeen Paare and Snickerdoodles Meethe Paare are just a few from the wide range of scrumptious savouries that Nihira offers. OLD SCHOOL SELECTION from Nihira are the Roasted Channa Barfi, Cranberry Panjiri, Blueberry Panjiri and Lentil and Nuts Panjiri to dig into.
Nihira takes extra care in curating a special range of PANJIRI for PRE NATAL and POST NATAL CARE
NIHIRA essentially in Sanskrit means "Newly Found Treasure", revamping the cliched Indian sweets into completely distinctive and unique sweet treats and aspires to be a part of every celebration and event to add more sweetness and love to your life.

So if you are looking for some mithais with a twist then do get in touch with them at +919717122667 ; +917042849182
Facebook:www.facebook.com/nihiraandco
Instagram :www.instagram.com/nihiraandco
You may also like to read
[crp limit="4″ heading="0″]