Behind every successful and a happy woman, is herself

– anonymous 
A recent post by Mala Honnatti in our Facebook community was a complete blockbuster. And her life story completely resonates with the above quote.
Mala is 70 years old, she has never been married, she is a retired banker and lived in different cities. She has had a strict upbringing. From quite early on, she witnessed the disparities and inequalities between a man and a women in a marriage. She had a strong urge to be independent and decided to break the patriarchal shackles to seek her own destiny. She embarked upon a new journey where health and fitness became her priority.
Let us find out more about Mala…
Mala Honnatti
A former banker turned trekker, mountaineer, marathoner, adventurer, skier, karate and yoga aficionado, the currency of Mala's life is adventure and fitness. She took up adventure sports in her thirties, and now, after three decades, she is still as driven as ever.
"A time of life that is generally viewed as twilight or retirement, I view it as a time to rediscover and reinvent and time of opportunity and change," 
A resident of Gurgaon & Delhi for the past 27 years, she believes fitness is not something that can be achieved overnight, but it is a lifestyle that one needs to adopt for a healthy and fruitful life. With a full calendar of adrenaline activities, Mala proves that life can be adventurous and exciting even after retirement. One just needs to rediscover and reinvent at every stage.
Her Roots…..
Hailing from a small town, Haveri in Karnataka, she studied in over a dozen different institutions for her 17 years of education, as her father had a transferable job as an Engineer in Karnataka PWD. She is one of those rare combinations of a studious student who not just became an outstanding corporate executive, but went on to excel in international sports. She secured distinctions in academics (BSc, LLB), and rendered meritorious service in banking industry for three decades. 
How it all started: Born again……
The mechanical and monotonous life of a banker in Karnataka's small towns like Hubballi, Davanagere, Belagavi did not excite or challenge Mala for long. She was looking for something more demanding and challenging to her potential. And the opportunity came in the form of Karate! She started training in Karate and Badminton in Belagavi way back in 1982 as pastime, and was little short of achieving a Black Belt! But had to give up because of her posting to Goa. As she advanced in her training she had to train and spar with male counterparts as there were no equal female partners.  Meanwhile, she found her passion for trekking and mountaineering in the Himalayas and did her Basic and Advance Mountaineering Courses from Himalayan Mountaineering Institute Darjeeling in 1985-86. The physical fitness and mental discipline developed through Karate training helped her to be in the forefront in Himalayan adventures and later indistance running. She found her calling in running on Goan roads, beaches and country sides when she was posted there. The natural progression was to participate in Veteran Athletic Championships in Malaysia, Singapore, Indonesia, Japan and US. A record holder in 1500m, 3,000m and 5000m at National Level for three consecutive years, Mala won bronze in 10,000m in Asian Veteran Athletic Championship held in Singapore in 1992.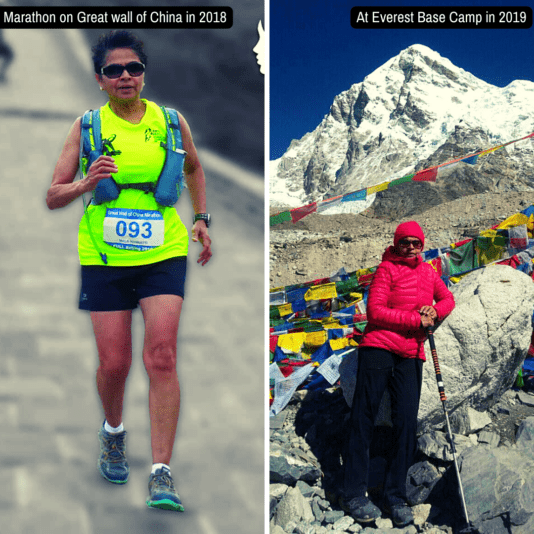 Marathon: The long strides……
As on date, she is one of the senior most women mountaineers and marathon runners in the country.Mala has run 26 full marathons and two ultra marathons across the world. Few among them including,
Miyazaki Marathon (1993)
Macau Marathon (2001)
New York Marathon (2009)
San Francisco Marathon (2011)
Sacramento Marathon (2011)
Everest Base Camp Marathon (2011)
Antarctica Marathon (2011)
Annapurna-50k (2013)
Great Wall of China Marathon (2018)
Ladakh Marathon (2018)
Kilimanjaro Marathon (2019)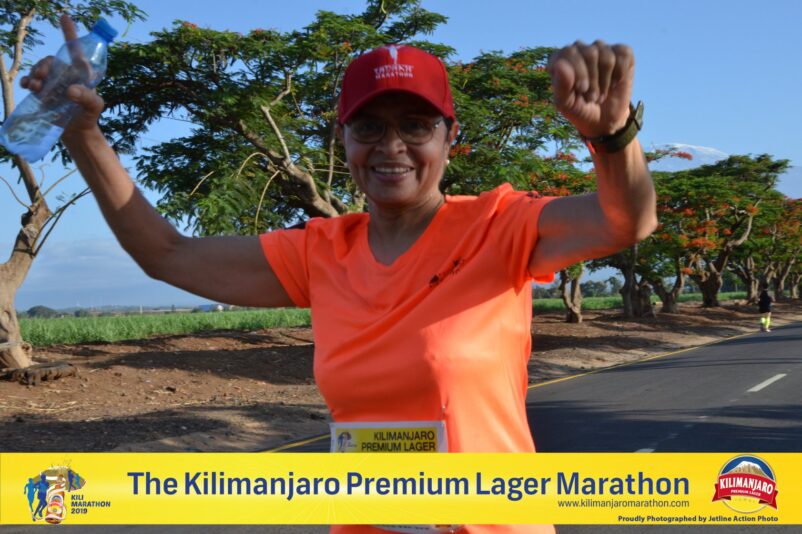 She is a prominent figure on Indian marathon circuit with podium finishes in most of the races, leaving behind the younger runners. She has hit a hat-trick of gold medals at Mumbai marathon in the 50+ & 60+ age group. She was the first Indian woman to accomplish Antarctica Marathon and Everest Base Camp Marathon in 2011. Among others, she has trained Rigzin Angmo, who won the Delhi RathMarathon, clocking her career best time of 2:45:08 hours.
Mountaineering: Scaling heights and reachingfor sky….
Her passion for mountaineering has taken her to Himalayan heights of 22,000 ft on many occasions. She has trekked and climbed extensively in the Himalayas for over three decades. She was a member of the Pre-Everest Expeditions to Mt Kamet in 1991 and to Mt Mamostang Kangri in 1992 and climbed to an altitude of 22000 ft. 
Mala has summited,
Mt.Stok Kangri (1992 and 2012)
Mt.Ladakhi, Mt.Sitidhar,
Mt.Kilimanjaro ( 2019)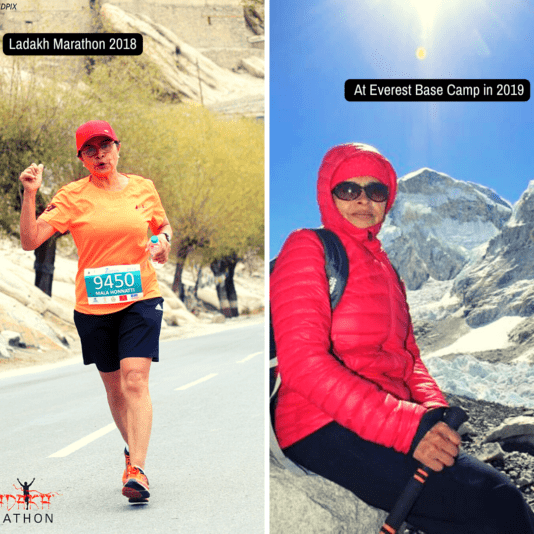 Other major expeditions that Mala has participated are,
Mt.Nun (1987 and 2017)
Mt.Shrikailash (1988)
Mt.Kamet (1989 & 1991)
Mt.Mamostang Kangri (1992)
Mt.Thalaysagar (1996)
Mt.Nandadevi East (2006)
Mt.GramangBar ( 2009 )
Siachen Glacier ( 2011 )
She has also served as a guest instructor at mountaineering institutes and has the distinction of being detailed as Liaison Officer with foreign expeditions to Indian Himalaya on four occasion. Scaling Mt. Everest is no mean feat for an athlete of any age and she embarked on this challenge at 62+ as a retired banker! Mala was all set to hoist the national flag on summit of the majestic mountain. But tragedy struck on 25th April, when an earthquake shook the land beneath her feet. The expedition was called off and she returned home safe but with broken heart and shattered dreams. With her tough fitness regime and even tougher mental endurance she was confident of making her mark in this ultimate adventure at the age of 60+ years.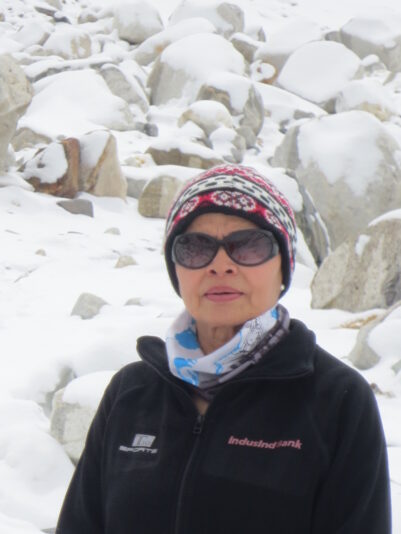 Breaking  Barriers
Mala has thus been breaking barriers without consciously wanting to do so, and living life on her terms.
be it pursuing her education, about half a century ago and taking up a job and being independent,
be it opting for male dominated fitness pursuits like karate and marathons and attaining international repute,
be it adventurous activities like mountaineering, trekking and skiing and carve a niche for herself
The choices and decisions she has made at every step in life has set her apart from the crowd and made her a role model for everybody specially the women. Having discovered her life's calling in adventure activities, she has been leading groups of enthusiasts who want to enjoy the amazing experience of mountaineering and trekking as well as training those interested in long distance running and marathons. 
At 70 years, Mala is fitter than most of younger lot who are half her age, and continues her pursuit of marathon running, mountaineering and fitness with the same zeal and zest of an youngster.