Marvellous Luncheon for our members with Love Macadamia India was held at Cafe Delhi Heights Good earth city centre . The event started with an interactive session with renowned Nutritionist Kavita Devgan and ended with a luncheon – A 3 course meal comprising of a Superfood Menu Curated by Nutrionist Kavita Devgan and executed by  Chef Ashish Singh and team .
Here are the recipes
Shakarkandi Tikki Chaat
Nutrition Facts by Kavita Devgan:
Sweet potatoes are great addition to our diet as they deliver more fiber than potatoes and are a brilliant source of beta carotene (gets converted into vitamin A in the body); One medium sweet potato provides your body with the complete recommended daily allowance of vitamin A and then some. It also delivers good amount of vitamin C, which helps boost immunity, and two essential nutrients for hearts health: potassium and magnesium.
Ingredients
Shakarkandi (Sweet Potato)-150gm
Curd-75gm
Chickpeas-50gm (Boiled)
Onion-50gm
Tomato-50gm
Chana Jor Garam-20gm
Amaranth (Puffed)-10gm
Pomengranate-20gm
Raisin-20gm
Macadamia nuts – 20 gm
Black Salt-3gm
Method
Boil the shakarkandi and mash it with the help of a potato masher. Make a small tikki out of it and grill on both sides. In a mixing bowl, add boiled chickpeas, chopped tomato, chopped onion, pomegranate, macadamia nuts and black salt. Take a plate, place chickpeas mix and top it with shakarkandi tikki. Pour beaten yoghurt on it. Garnish it with chana jor garam and amaranth.
Moong Dal Medley With Mango Chutney, Stuffed Sattu Roti And Bajra Roti
Nutrition Facts by Kavita Devgan: 
This is a high protein combination as both moong dal and sattu are high protein that is delicious and gives a gluten break to the body. Plus sattu is extremely cooling in the summer months.
Ingredients
For Moong Dal Medley
Moong Dal-50gm

Onion-50gm

Tomato-50gm

Garlic-15gm

Ginger-20gm

Turmeric Powder-10gm

Green chillies-10gm

Salt-3gm

Green Corriander-15gm

Lemon-To taste

Macadamia nuts- 30 gms
Method
In a bowl full of water, soak moong dal for 45 minutes. Parboil the dal with some turmeric powder and salt. In a pan, add desi ghee, chopped chillies, garlic, ginger, onion and tomato. Cook the ingredients until everything becomes a rough paste. Add boiled moong dal and season it with salt and lemon. Garnish with chopped green coriander and macadamia nuts and keep aside.
For Stuffed Roti
For Sattu Stuffing
Sattu 30gm
Ginger- 5gm
Green chillies-5gm
Black Salt-3gm
Lemon Juice- To taste
Method :
Knead whole wheat flour with salt and water. Mix sattu with chopped ginger, green chillies, salt and lemon juice and stuff this mixture in the kneaded whole wheat flour. Roll it with the rolling pin and bake it on an iron griddle.
For Bajra Roti
Bajra Atta-30gm
Atta (Whole Wheat)-50gm
Black Salt-3gm
Method
Knead whole wheat flour and bajra atta with salt and water. Roll it with the rolling pin and bake it on an iron griddle.Serve with moong dal subji with stuffed sattu roti, / bajra roti and mango chutney.
Bajra Khichadi With Gooseberry Pickle
Nutrition Facts by Kavita Devgan:
Bajra is a gluten free grain which can help detox the body and help keep constipation away thanks to its high soluble fibre content. It is your heart's friend and a diabetes preventer too thanks to being rich in magnesium and potassium. Amla delivers the much needed vitamin C.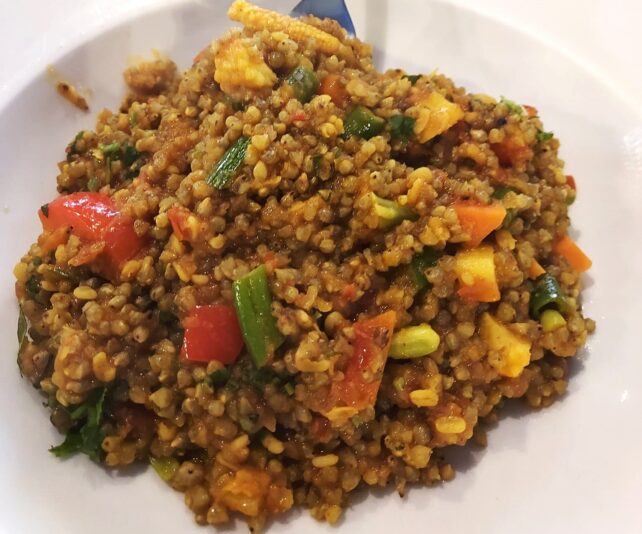 Ingredients
Bajra-60gm
Yellow moong dal-40gm
Green Peas-40gm
Cauliflower-40gm
Carrot-30gm
Potato-30gm
Broccoli-30gm
Salt-3gm
Pepper-5gm
Desi Ghee-10ml
Gooseberry-100gm
Method
Wash and soak the bajra overnight. Water should be 4 times the quantity of Bajra. Take a pot or cooker, add desi ghee and add all the vegetables (cleaned and cut into small cubes) into it. Add soaked bajra, turmeric powder, salt and pepper. Cook it until the bajra grains are fully cooked. Remove the cooker after 2-3 whistles it. Serve it with yoghurt and gooseberry pickle.
Masala Sattu With Coconut Water
Nutrition Facts by Kavita Devgan:
Perfect high protein and electrolytes hydrating and energy giving drink for summer.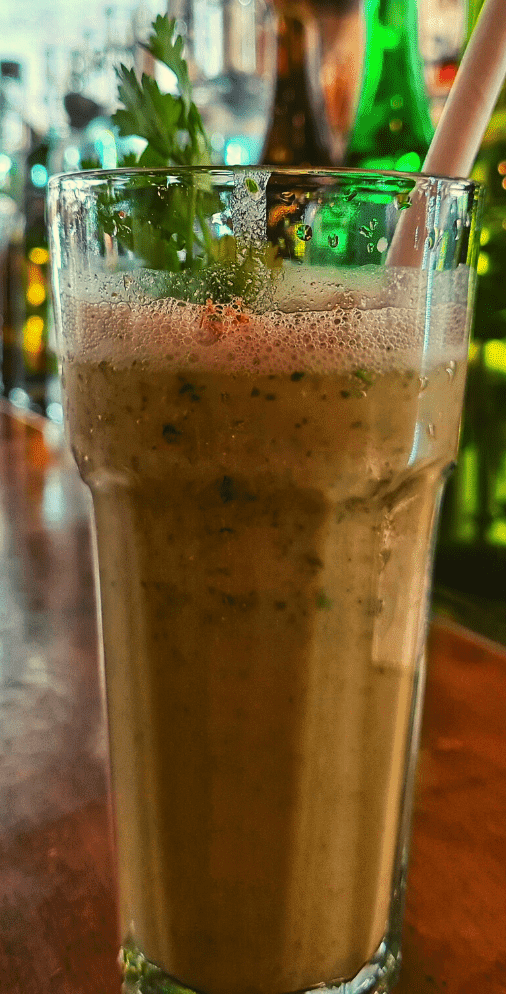 Ingredients
Sattu-60gm
Coconut Water-1 daabh
Lemon-2pcs
Black Salt-3gm
Coriander Leaves-10gm
Cumin Seeds-3gm
Ice cubes-As needed
Method
Take a jar/mocktail shaker, add sattu, coconut water, lemon juice, coriander leaves, cumin seeds and ice cubes. Shake it well and serve in a glass.
Sabja Lemonade
Nutrition Facts by Kavita Devgan:
This drink is a natural body coolant thanks to sabja seeds and is also high n alpha-linolenic acid (ALA), that help stimulate fat-burning metabolism in the body.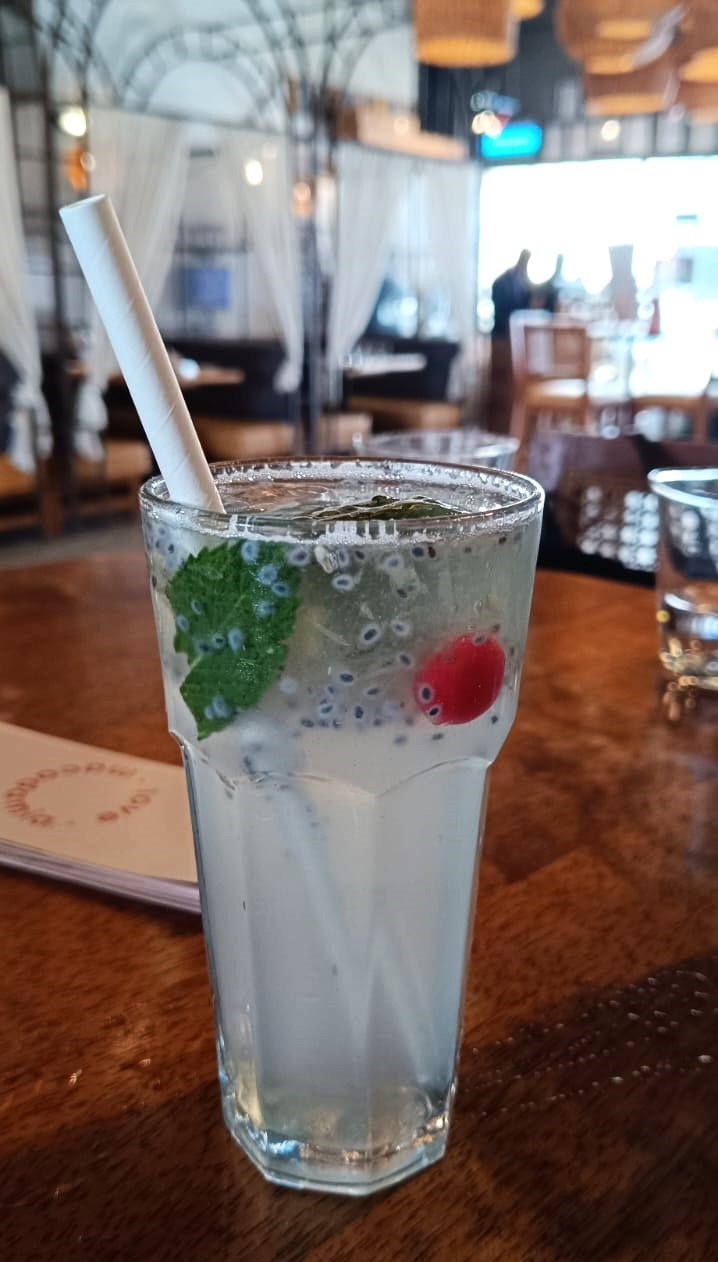 Ingredients
Sabja Seeds-5gm
Plain Soda-300ml
Salt-4gm
Sugar-10gm
Lemon-3pc
Pomegranate-25gm
Mint Leaves-3gm
Method
Take a jar/mocktail shaker and add soaked sabja seeds, soda, mint leaves,  pomegranate, lemon juice, salt and sugar. Shake it well and serve in a glass.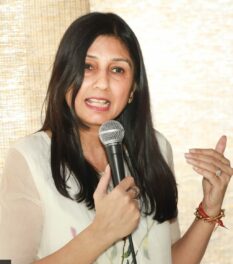 Kavita Devgan is an eminent writer, an acclaimed nutritionist, who propagates practical, effective and delicious ways to achieve a healthy lifestyle. Kavita is a purist and believes in promoting a minimally processed diet high in healthy fats and good quality protein to score a healthy mind and body.
Her books Don't Diet! 50 Habits of Thin People and Ultimate Grandmother Hacks: 50 Kickass Traditional Habits for a Fitter You are bestsellers in many countries.
It is loved by critics and celebs like Kalki Koechilin, Amish Tripathi, Kapil Dev and many more.