Keema Pav ((Mumbai Street Style)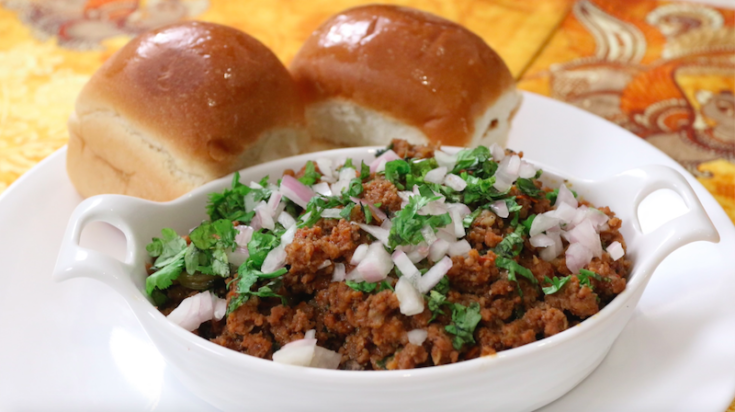 Ingredients
Minced Mutton (Goat Meat) – ½ kg
Onions – 2 chopped
Tomatoes – 4 Puréed
Garam Masala – 1 tsp
Coriander Powder – 1 tsp
Red Chili Powder - ½ tsp
Oil – 4 tbsp
Garlic – 1tsp minced
Ginger – 1 tsp minced
Green Cardamoms – 4
Cinnamon – 1" piece
Cloves – 6
Nutmeg – ½
Mace – 1
Tomato Purée – 2 tbsp
Pao/Pav Buns – 4
Coriander leaves
Butter - To taste.
Instructions
Add some oil to a heated pan
When the oil is warm enough add cinnamon, cloves and add 2 cardamoms and reserve rest to be use later
Add the onions, ginger & garlic once you get the nice aroma of the spices
Sauté well and cook the onions until they become light brown in colour
Meanwhile Purée the tomatoes in a mixer.
Add the tomato Purée when the onions change colour
Mix well and cook for a while.
Now add the dry spices – coriander powder, chilli powder ,Garam Masala and salt
Stir well, until you get the desired consistency.
Lower the stove flame and add the Keema. Stir until the Keema combines well with the paste
Add the whole spices –Mace, green cardamoms (only the seeds)
Crush the nutmeg fresh and add to the meat.
Lower the flame, cover and cook the meat. Stir occasionally in between
Check if the meat is cooked well.
Once the meat is cooked, add some chopped coriander leaves and reserve some of it for garnish. Allow to cook for 2 minutes.
Add the tomato Purée and mix well.
Now the Keema is done and set it off the stove.
Heat the griddle.
Slice the Pav in the middle. And apply some butter or olive oil onto the Pav.
Place the Pav on the hot griddle and toast it well.
Garnish the Keema with chopped coriander and finely chopped onions just before serving. Serve along with the Pav.
Vaishalee Luthra Jolly :Vaishalee Luthra Jolly is a self styled chef who loves experimenting with food.She is a Micro-Biology and Chemistry graduate from Mumbai University. She has travelled widely and loves trying out local cuisines everywhere she goes. She launched her own food channel called Vaishalee's Tips and Treats on YouTube in December 2015 and has shared over 70 recipes.