Diabetes in women 21st century era has encountered new challenges in relation to women's health likely because of lifestyle changes and stressful environment. The age of diabetes in women has shifted to reproductive age and increasing number of pregnancies are complicated by diabetes.
Overall women accounts for half the population of diabetic patients all over world with higher mortality seen in them. Around 7% (1-14%) of all pregnancies are complicated by diabetes. In India however this prevalence is quite higher than western world (3-21%).
Risk factors for diabetes in women
Sedentary lifestyle
 Increasing obesity
Increased screen time (television, computer, mobiles)
Increased consumption of processed packed foods
Genetic predisposition
Gestational diabetes
PCOS
Stressful environment
Taking into consideration important risk factor PCOS (Polycystic ovary syndrome) 5-15% females of reproductive age group suffer from PCOS. Patient complaints of menstrual irregularity, abnormal hair growth (male pattern), acne, difficulty in conception. Insulin resistance can be seen in 60-80% PCOS females both obese and lean. This increases their future risk of gestational diabetes (seen during pregnancy) during reproductive age group , Diabetes and pre-diabetes during latter years of life.
Diet and lifestyle remains the mainstay of treatment besides medications Diabetes in Pregnancy Diabetes during pregnancy can have untoward effect on both mother and foetus especially if diagnosed during early months of pregnancy called as pre-gestational diabetes. It can lead to various congenital anomalies of foetus, recurrent abortions along with preeclampsia, recurrent infections in mother. Diabetes diagnosed during later months of pregnancy (>24 weeks) called as gestational diabetes can cause large size baby, increased risk of intrauterine death of foetus, difficult labour and bleeding. Thus, one needs to be alert in diagnosis as well as management of diabetes in pregnancy.
As per international association of diabetes and pregnancy study group (IADPSG) females with following risk factors should be screened in early pregnancy for Diabetes whereas study groups from India (DIPSI) recommend that universal screening is best because of high prevalence. Women with history of
 Recurrent foetal loss
History of preeclampsia
Recurrent urinary tract infection
History of polyhydramnios (increased amniotic fluid)
Family history of diabetes
Obese or overweight
Past History of GDM/PCOS/pre-diabetes or diabetes
Management of diabetes during pregnancy requires specialist care because the treatment is different from diabetes in non pregnant patients. Early diagnosis and adequate management are key parameters for healthy baby and mother.
In Postpartum care four important aspects have to be kept in mind
Follow up surveillance for diabetes at 4-12 weeks
Adequate breast feeding without fear of transmitting diabetes to baby
Lifestyle modification to prevent future risk of GDM or diabetes
Planning of subsequent pregnancies as GDM may recur in subsequent pregnancies
Thus, women are prone to diabetes and its complications with a significantly higher mortality then men all across the globe. Diabetes is more aggressive more challenging and more neglected in women. Prevention of diabetes however is the only answer looking forward for a society with healthy women who have healthy babies and live long with good quality of life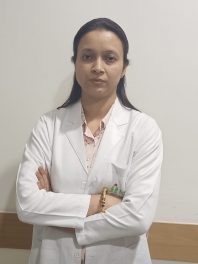 Content by:
Consultant – Endocrinology,
Fortis Memorial Research Institute, Gurugram
For appointment or more information, call 0124 4962200 / 7162200