Being born a girl when I was born was not easy, my sisters had it even more difficult. My mother always felt she had let down my father's lineage. Hence the pressure of being a girl and a boy was immense on my sisters and me.
With my father being away for long periods of time, I felt obligated to take the reins of the household in my hand. Screwdrivers, spanners, cutting pliers, and hammers were always in my toolkit. Whether it was fixing the fan or repairing the iron box were my roles.
My sister, Pamela would run the errands almost 100 times a day. Unlike many, we did not have the privilege of owning a cycle, in my memoir, Muthu, the neighbor's son who had a crush on my sister always lent his cycle to us and we aced riding it. But that was just the beginning.
Owning a sunny was akin to owning a Harley Davidson, within a week we aced that too. Lekin dil hamesha mange more. My father owned a Kawasaki Bajaj bike with the simplest gear system – all down. Every day when we would come down to see our dad off to work, we would push it outside the parking. The next step was kick-starting the bike and since my dad loved his vehicle more than us, if we did not behave with his beloved, we would have his hand imprinted on our cheeks. That was our lesson to a smooth kickstart.
One night, when my father was out, we quietly took the bike and tried riding it. Without any formal training, our hearts were in our mouths. But patience paid. We did ride but had to push the bike back lest we would be caught. We did this every night till we rode like mares.
When I got married, my husband owned a Yamaha RXZ, my husband's apple of the eye. He was not willing to share and I was far from giving up. After riding for a few months, he sold it off and I was heartbroken. However, I did not give up on owning my own back.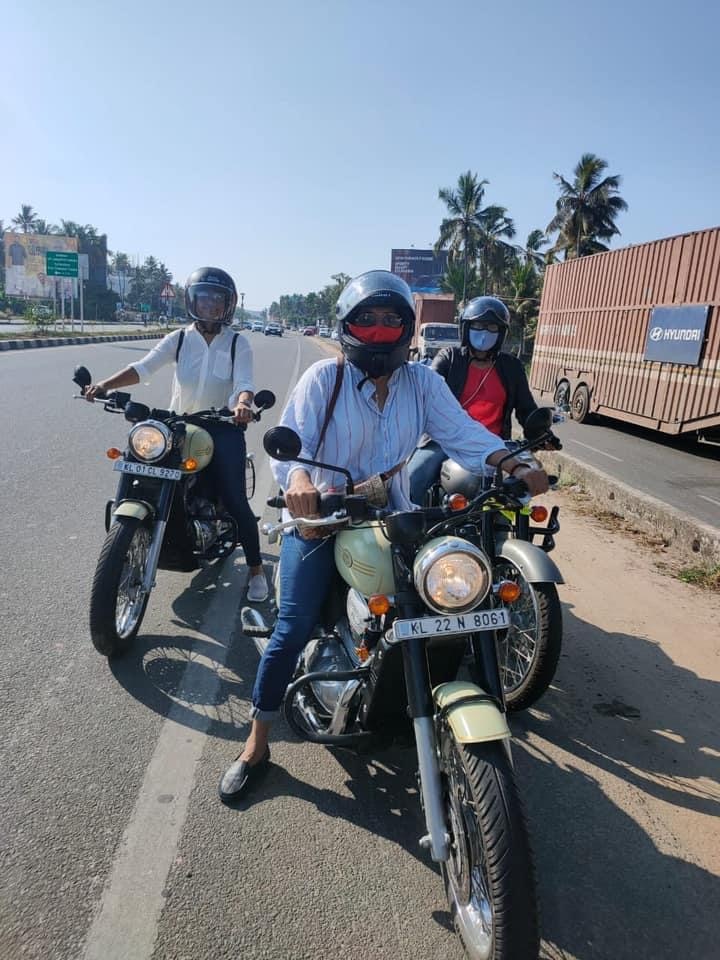 In 2020 before the pandemic struck, I bought my own Jawa 42 when I turned forty-two. Getting back to riding was exhilarating, despite the doubts that come with age. The only barrier between me and my Jawa was just me. I felt she said, trust me. And in her I trusted. Living in Kerala, I often ride to the beach to enjoy the sunset or sometimes to the backwater. Like-minded women always join. Sometimes we ride in groups, keeping a close watch on others and sometimes I take off solo. Winding roads, some cobbled some plain, they always lead to a destination, at times the sea is joyous hearing my sweetheart come and sometimes a pit stop for nariyal paani.
I realized machines are genderless and are absolutely nonjudgemental. All it understands is control and speed.
Never bury a dream that you had…unfulfilled dreams turn into ghosts haunting us with guilt and regrets.
This is Promira Banerjee's story 
Promila grew up in Pondicherry, is married to a man in the services for two decades who has taken her to each corner of India. She's a mother of two children- her son is biological and is now 18 and her daughter is 15 and was adopted when she was 2 months. Also a mother of an American Bully that bullies everyone. She is a writer by choice because she finds words cathartic. She is also partnering with her brother-in-law for french artisanal jams and floral teas.