Phoenix Rising.
As a keen observer of global wellness trends, I have closely followed the surge in the world-wide interest in the ancient Indian Science of Ayurveda. While the West is fast adapting its approach to natural & balanced wellness, unfortunately urban Indians have been increasingly adopting what the west is increasingly discarding – artificial, fast, processed, extreme lifestyles and products.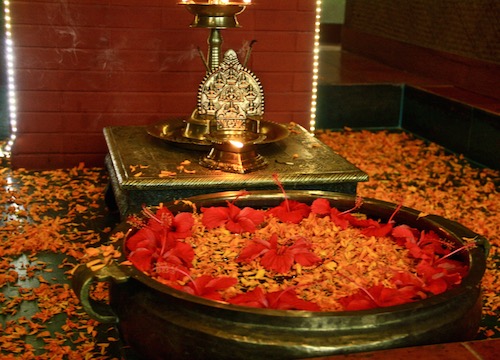 The workshop on 'Practical Ayurveda for Lustrous Hair, Flawless Skin and Wholesome Wellness' organized on Sep 30th by GurgaonMoms in association with Anammyaa Wellness, was an irresistible invitation. It was delightful to see a step being taken to familiarize modern women with the potential of Ayurveda. The best part was the workshop addressing everyday health & beauty issues with real, practical solutions.
Organized at Anammyaa's blissed-out Ayurveda and Wellness center at Global Foyer, Gurgaon – guests were accorded a warm, traditional welcome with flower garlands, Tika and a refreshingly light drink of Lemon water mildly sweetened with Jaggery. A beautifully decked up deity, floral décor, lit diyas and a sublime ambience formed the perfect backdrop to a wellness workshop.
Pics Courtesy : Lakshmi Thampi
Aadi ~ The Beginnings
30 Gurgaon Moms began their initiation into the wonders of Ayurveda with an eye-opening address by Ashma Khanna Sachdeva, Director- Anammyaa. Did you know that the first ever surgery in the world was performed by Sushrut, an Indian physician? Or about the systematic destruction of Ayurveda from Indian society and culture by invaders? Or how Ayurveda finds temporary residence in the dadi-nani nuskhas in our homes?
Touching upon the history and sound logic behind the science, Ashma elaborated on the intelligence behind Ayurveda through anecdotes, examples from daily living & some commonly accepted eating habits – drawing attention to the dangers of blindly following food trends and advertising gimmicks by supermarket brands.
Get ready for some shockers.
Milk/Yoghurt with Fruit Smoothies, the hottest 'fitness' trend currently are a strict no-no in Ayurveda. The logic is simple. Milk and Fruit are digested differently, with fruits taking a longer time which cause fermentation in the intestines and the release of toxins. Over years, this practice manifests itself in various health issues. Curd, a staple of Indian households is best consumed an hour before meals, as it lines up the digestive tract, reducing effective nutrient absorption. In earlier days, the tempering Curd (sanskars) with cumin, ginger, curry leaves etc. made it easier to consume with meals. Or that cool Water with meals douses the digestive 'agni' leading to poor digestion.
By now, we women were in. Hook, Line and Sinker.
[huge_it_slider id="5″]
Questions and doubts were bubbling up with everyone keenly looking forward to the fist topic on the agenda, which was an insight on 'Understanding Ayurveda' by Dr.Jyotsna.
Namaste' Ayurveda ~ an introduction
A very relevant topic, this section familiarized the audience with the basics of Ayurveda, its principles and the lens through which the principles are applied i.e. the three Doshas – Vata, Pitta & Kapha. It was interesting to learn how they were primarily responsible for a person's physical and temperamental constitution and that each one of us is a combination, with one dominant Dosha.
According to Ayurveda, any disease or discomfort is primarily a result of an imbalance in the dosha and wellness is about achieving the balance through correct diet with advised food combinations and other ayurvedic principles. Completely immersed in the topic by now, and questions asked and addressed, the engaging session was very informative.
'Pharmacy of the Gods' ~ skin care with Ayurveda
The audience curiosity was further piqued by a tray-full of herbs, lentils, fruits, vegetables taking center-stage. Welcome to the 'Pharmacy of the Gods' and a session by Dr.Lakshmi, on 'Skin Care with Ayurveda'. Dr.Lakshmi is a renowned Ayurvedic physician known for effective weight-loss, skin-care and addressing gynecological issues and we were in well experienced hands!
'What you wouldn't eat, do not put on your body' – this powerful advice kick-started the much anticipated session that established the connection between Dosha type, skin troubles and solutions. For instance, people with a Vata dominant prakriti are prone to extreme skin dryness and are advised a liberal coconut oil massage, followed by a warm water bath (to maintain skin pH) after an hour. On the other hand, individuals with a Pitta dominant prakriti are more prone to oiliness, so in case of dry skin are advised a very light application with a lighter oil like Sunflower Oil.
[huge_it_slider id="6″]
A hands-on demonstration followed, on how various common herbs, fruits and vegetables found in our kitchens offer easy, effective and nourishing solutions to different skin issues, while keeping it aglow.
Want a natural bleach? Equal parts lemon and honey applied on the face and neck once a week, and you have yourself a glowing 'bleached' visage.
With many more easy, practical skin care recipes, the session concluded with a passing around of a herb based soap (which looked like jaggery laddus!) made of dried marigold flowers, wheat bran, coconut oil, almond oil, sandalwood powder, almond meal and more! A deliciously nourishing way to clean, without stripping the skin of its essential oils and keeping the pH balanced.
Also, an impromptu discussion on the huge difference in Thyroid patients in North India vs South / West India brought to light that we, in the northern parts are less physically active, especially with daily chores as opposed to our southern / western India sisters. As a result, the metabolism is lower which results in Thyroid problems.
Time to give the household help a break, ladies.
A lot of personal skin queries were handled by the doctor, ensuring a personalized takeaway from the session.
Lustrous Locks with Ayurveda ~ handy insights, tips , recipes and more!
The final session on 'Ayurveda for Lustrous Hair' by Dr.Malathi, began with some hair facts and the Ayurvedic principle of 'M.E.S.S' for hair-care.
Mind (Stress Management), Eating (Nutritious, Balanced meals in accordance with Ayurveda), Scalp (maintaining its health) and Sleep (8 hours of sound sleep)- the four corner-stones of happy hair were elaborated in depth.
Another tray laden with flowers, herbal pastes, ground fenugreek seeds, aloe-vera et al was placed before us. It was amazing to learn that we can make simple, effective hair cleansers and conditioners from say, the paste of Hibiscus leaves. Or ground fenugreek seeds. Or aloe-vera.
Ditch that Fancy Brand already, woman.
Bliss ~ Much pampering the Ayurveda way J
After an enlightening Q & A session, each guest was invited to a Dosha Identification & Analysis, a Stress Assessment Test (turns out am pretty zenned out), Nadi –Pariksha (quite magical with the insights the physician gave, just feeling my pulse. Secrets are no longer secrets) and a relaxing Ayurvedic foot massage (Happy feet make for happy women, so said every woman ).
Light pass-around snacks of delicious, fluffy mini-idlis and vadas, ginger-lemon tea & gentle conversations ended this insightful workshop on a beautifully satiated note.