We are a unique nation with an extensive array of cultures and traditions. We shall shortly usher in the festival season as we gradually bid farewell to the monsoon season.
Chhavi Poddar Lath of "Les Delights" and GurgaonMoms Team Member Mukti Agarwal offer some simple and delectable festive recipes that are simple to prepare at home.
*Besan Ladoo*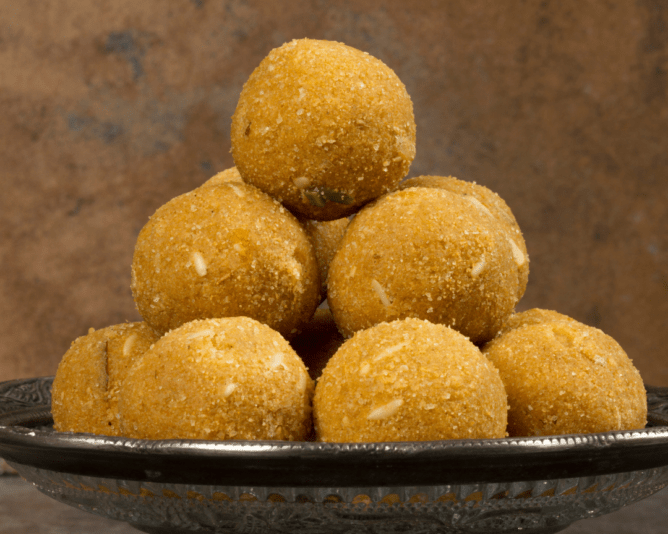 Ingredients
2 cups besan
1/2 cup ghee
3/4 cup sugar granules (powdered into a mixer)
1 tsp green cardamon powder
Handful of chopped roasted almonds (optional)
Method
Now for this you surely need patience and a strong stirring arm!!
*Pro tip* Most important tip here is to use fresh Besan not an old to avoid bitterness.
Besan is roasted in ghee on low flame for the nutty fragrance and flavor.
Take a heavy kadhai/pan, add besan and roast in for 5 to 7 minutes without ghee on low flame. After that add ghee. The mixture will thicken and gradually color will change.
Once the mixture starts releasing ghee and gives nice fragrant aroma that would mean that the besan is fully roasted.
The molten lava kind of consistency is what you will see (ghee floating)
Be sure of reaching this stage and then allow it cool down.
Add sugar, green cardamon powder, almonds when it's warm and mix well with hands.
Then shape them into ladoos. In case you're not able to form proper round balls, referigerate them for 8 to 10 mins before shaping them.
*Kalakand*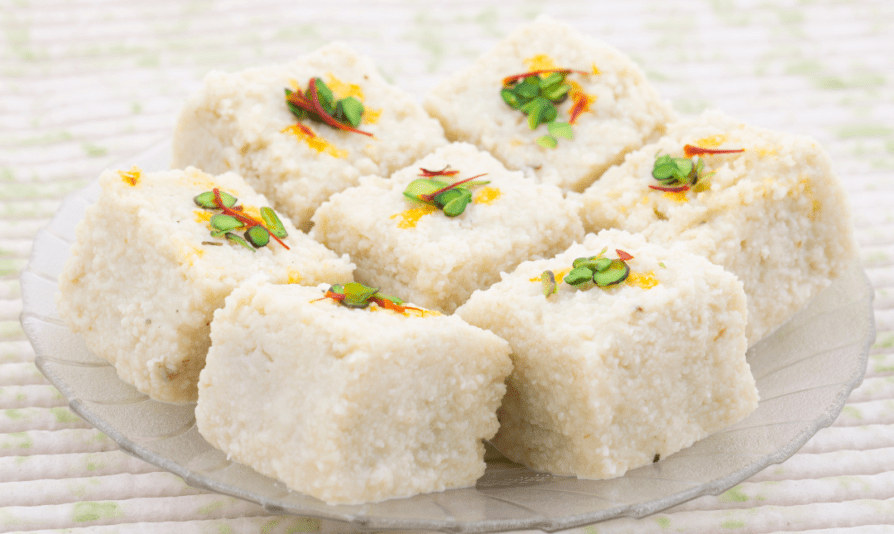 Ingredients
Full cream milk (2litres)
White vinegar 2 tbsp
Sugar-Little less than 2 cups
Pistachios- Handful
1/2 tsp cardamon powder
Water
Method
Take 1.5 litre milk and boil it. When it starts boiling, turn off the flame and add vinegar (dissloved in some amount of water) gradually to curdle the milk.
Keep a strainer ready on a bowl with a muslin cloth to drain the Chena in it.
Immediately after straining, put some good amount cold water over it. ( this process is important to remove any sourness which comes due to vinegar)
After that mash it well using your palms until super smooth.
Now boil 500 ml of remaining milk on low flame until it thickens completely ( keep stirring in between so that it doesnt sticks at the bottom and is also of smooth texture)
Post that add sugar and cardamon powder and mix well.
Add the well mashed chenna nicely and set it into a dish or a tray with low edges. Garnish with finely chopped Pistachios.
Cut it into desired shape and size after 2 hours of referigeration.
*Pro tip*
Do not dry it completely as it would dry after cooling down. Excess of drying would loose the moisture and freshness.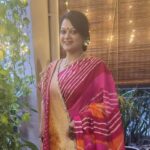 These recipes are by Chhavi Poddar Lath Chhavi is a  passionate home chef and a proud mother who believes that anything and everything when done with best of intent and love blossoms very well. Her venture's name is Les Delights by Chhavi
*Instant Dhokla*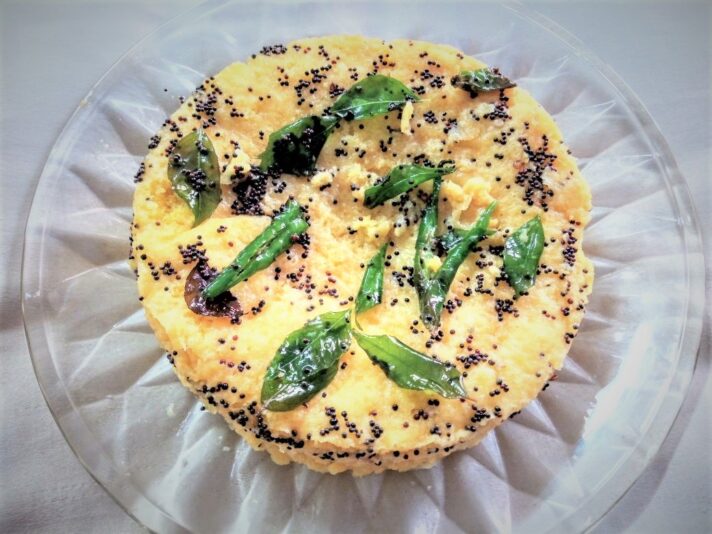 The family is a big fan of dhokla but not too fond of the heavily sweetened and very wet version available in the market. So, my only option was to experiment with the zillions of recipes available online and combine them all to get my version of the 'almost perfect Instant Dhokla'!
Why almost? Simply because everyone has a different palate and there is always room for improvement
Ingredients
For the batter:
1½ cup besan / gram flour
3 tbsp sooji / semolina
½ tsp ginger paste
¼ tsp turmeric
1 tsp sugar
A pinch heeng / asafoetida
½ tsp salt
1 tbsp lemon juice
1 tbsp oil
1 cup water
½ tsp Eno fruit salt
For the tempering:
3 tsp oil
½ tsp rai / mustard seeds
A pinch of heeng / asafoetida
A few kadi patta / curry leaves
2 green chillies, slit lengthwise in the middle
¼ cup water
1 tsp sugar
¼ tsp salt
1 tsp lemon juice
Method
In large mixing bowl sieve 1½ cup besan and 3 tbsp rava.
Add ½ tsp ginger paste, ¼ tsp turmeric, 1 tsp sugar, ½ tsp salt, a pinch of heeng, 1 tbsp lemon
juice and 1 tbsp oil. Mix it all up using a spoon.
Add 1 cup of water and mix to prepare a smooth batter. (Note: Batter should not be runny)
Just before steaming add ½ tsp of Eno fruit salt. (If not available, you can use a pinch of
baking soda as an alternate)
Steam the batter for 20 minutes.
Prepare the tempering by heating oil and adding all the tempering ingredients into it.
Pour tempering on to the ready dhokla.
Cut into big pieces your 'Instant Dhokla' is ready to serve. Best enjoyed with tamarind chutney
and coriander chutney!
*Zaffrani Pulao (Sweet) *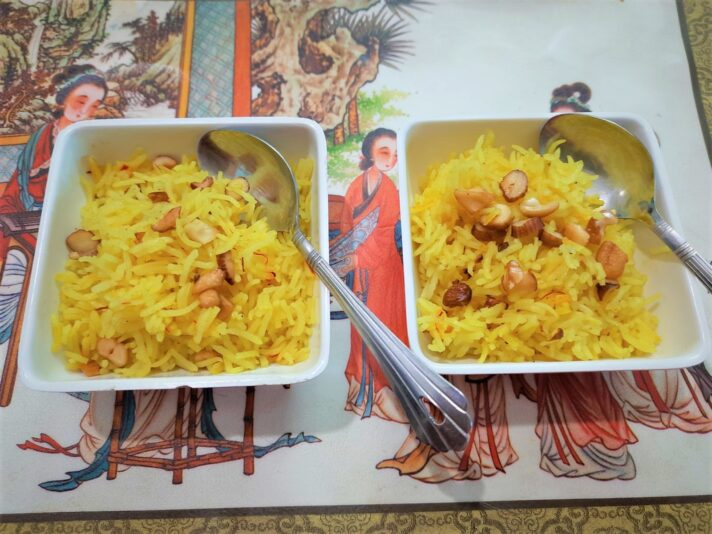 This dish is another family favorite and is in high demand every festival. It is very simple to cook and
gets ready in a jiffy too !
Ingredients
2 cups long grain Basmati rice
4 tablespoons Ghee
10-12 Cashewnuts
10-12 Almonds
1/4 teaspoon Nutmeg powder
1/2 teaspoon Green cardamom powder
A few strands (10-12) of Saffron
1/2 cup Sugar
1/4 cup Milk
Method
Wash and soak rice for half an hour. Drain and keep aside.
Heat 1 tablespoon ghee in a deep pan and gently fry almonds and cashewnuts. Drain and
keep aside. When cool, roughly chop all the nuts.
In the same pan add 3 tablespoons ghee and add the soaked and drained rice. Sauté gently
for two to three minutes.
Add nutmeg powder and green cardamom powder to the rice and toss lightly making sure
the rice grains don't break.
Boil the milk and add saffron and sugar.
Add this milk to the rice with three and a half cups of hot water. Stir lightly.
Cover and cook on low heat till rice gets cooked, making sure the grain does not become
soggy. Keep the cooked rice covered and let it rest in its own steam for at least 5 minutes.
Garnish with almonds and cashewnuts. Serve hot!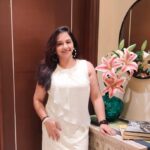 These recipes are by Mukti Agarwal
Mukti is currently pursuing her passion for content creation, storytelling and writing. She dabbles with cooking experiments and populates her YouTube channel – 'Pitaaraa Pooja Mukti ka' and her Instagram 'Muktis oho se aha tak'. Mukti is a proud mom to a teenager, a qualified yoga trainer, a reiki practitioner, and in her spare time enjoys reading and photography.