Valentine's Day is just around the corner and we bring you some delectable recipes from some of our very own Mom members. It's the season of love and time to cook up some delicious food for loved ones, be it your spouse, kids, parents, grandparents or friends.
Chocolate Cake with a Sweet Surprise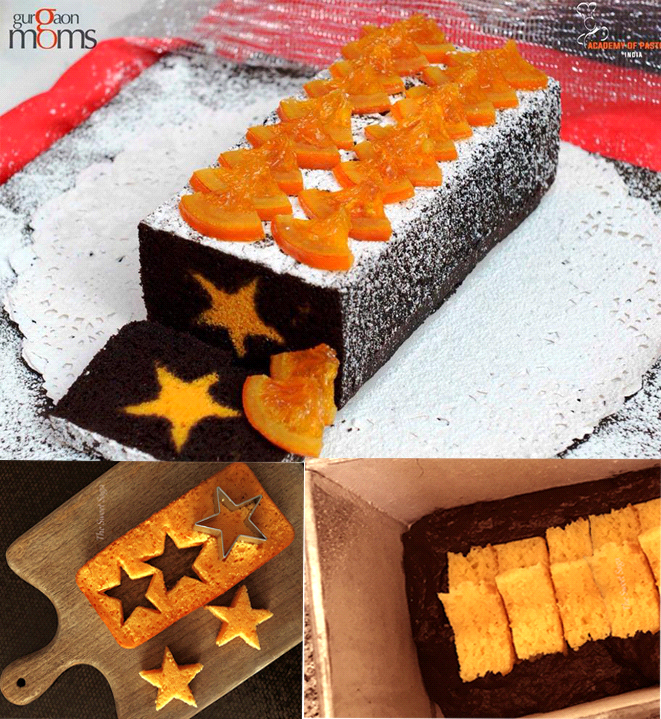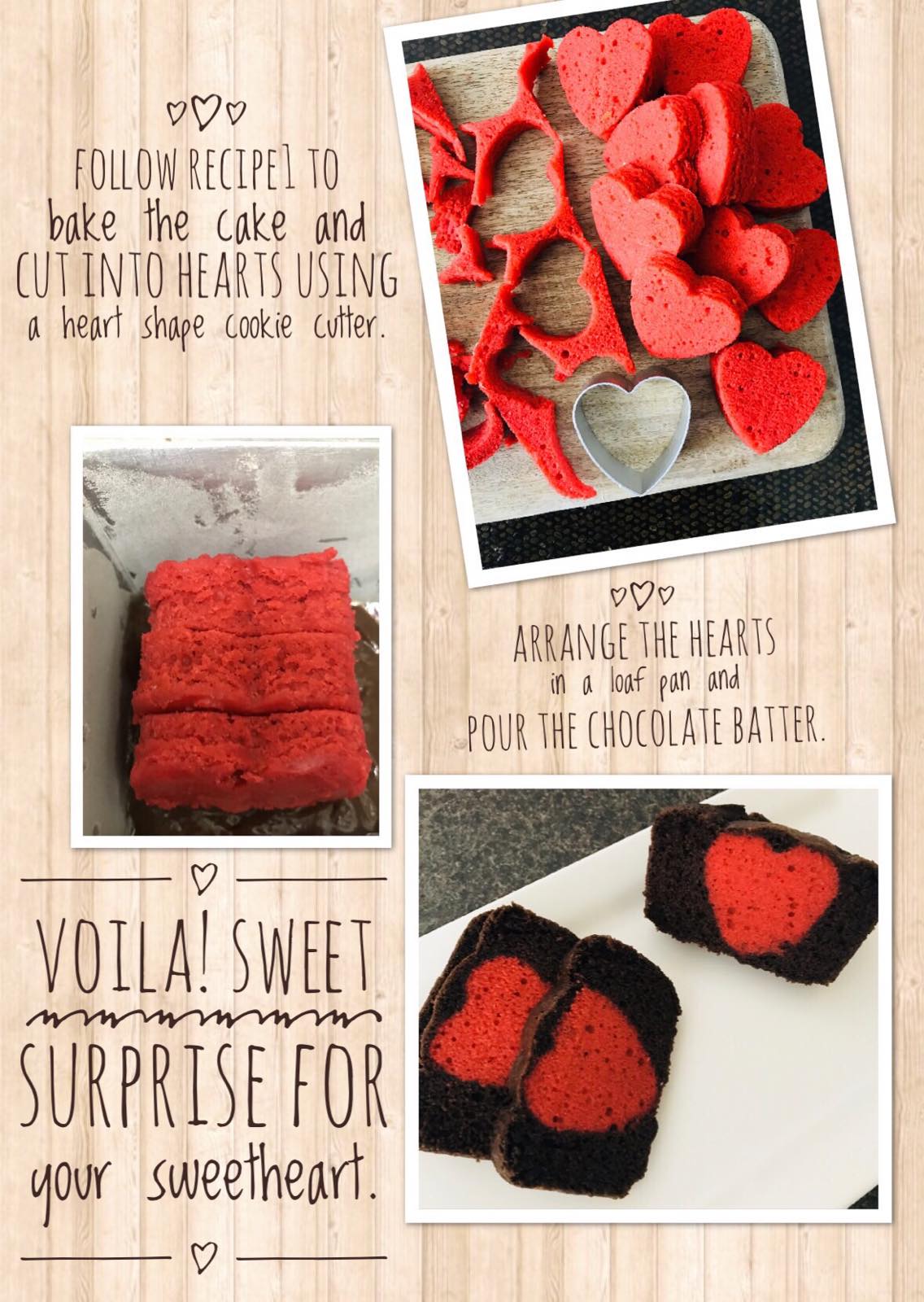 Instructions
Step1: Follow recipe1 to make the orange cake and using a star/heart cookie cutter cut it into star shapes.
(Tip: You can cut them heart-shaped to make a cake with hidden hearts and surprise your loved ones on this Valentine's Day!).
Step2: Follow recipe2 to make the batter for the chocolate cake. Prepare a deep loaf pan or a bread pan and pour 1/5th of the chocolate batter first. Arrange the orange cake stars in a row, without any gaps in between. While the batter at the bottom helps to hold them in place, pour the rest of the batter to cover the stars entirely and spread the batter evenly. Bake at 170 degrees for 35-40 minutes or until done. Once completely cooled, dust with some icing sugar and garnish with candied orange slices.
Recipe1: Orange cake
Ingredients
1 1/2cups all-purpose flour+3tbsp corn flour
2tbsp zest of Malta oranges (wash and scrub the oranges well before grating to remove dirt
or any wax).
1/2 tablespoon baking powder
1/2 cup softened butter
1/2 teaspoon baking soda
Muffin cups – 12
1/4 teaspoon salt
2 large eggs
1 cup+2tbsp sugar
1/4 cup buttermilk
1/4 cup fresh orange juice
Method
Preheat oven to 175 degrees. Grease and flour a shallow baking tray. Sieve together flours, baking powder, baking soda and salt; set aside.
In a large bowl, combine sugar, butter and orange zest. Beat this mixture until light and fluffy, about 5 minutes. Add eggs one at a time, beating well after each addition and occasionally scraping down sides of the bowl, until mixture is light and very fluffy.
Combine buttermilk and orange juice. While beating on low speed, add dry ingredient mixture in three parts, alternating with the liquid mixture.
Pour the batter into prepared pan And bake for 35 minutes or until toothpick inserted comes out clean. Cool in the pan for 10 minutes before inverting onto the wire rack to cool completely.
Recipe2: Easy one bowl chocolate cake
Ingredients
| | |
| --- | --- |
| 1 1/2 cups unsweetened cocoa powder | 3 large eggs |
| 3 cups all-purpose flour | 1 1/2 cups buttermilk |
| 3 cups sugar | 1 1/2 cups warm water |
| 1 tablespoon baking soda | 3/4 cup vegetable oil |
| 1 1/2 teaspoons baking powder | 1 1/2 teaspoons pure vanilla extract |
| 1 1/2 teaspoons salt | |
Method
Preheat oven to 180 degrees. Grease the pan with butter and dust with cocoa powder.
Into a large bowl, sift cocoa, flour, sugar, baking soda, baking powder, and salt. With the mixer on low, stir in eggs, warm water, buttermilk, vegetable oil, and vanilla extract until you just about have a smooth batter.
Pour the batter into prepared pan and bake for 35-40 minutes or until done.
Cool the pan on a wire rack for 20 minutes before inverting to cool completely on the wire rack.
For candied orange slices:
Wash well 2 Malta oranges and scrub to remove dirt and wax. Cut them into thin rounds and remove the seeds.
Add the orange slices to boiling water, boil for 5 minutes and drain. Repeat this process for 2-3 times to remove the bitterness from the peel.
Prepare sugar syrup by boiling together 1/2cup water and 1/2cup sugar. Add the orange slices, cover and cook on low flame first, then remove the lid and cook until the syrup is all reduced coating the orange slices well (Do not stir or move the contents around much to avoid crystallization of sugar). Once done, gently take the slices onto a wire rack and cool completely.
Recipes contributed by Gayathri V Datla of The Sweet Saga
Gayathri V Datla is a former Graphics and digital designer, who in her attempts to make a preservative-free cake for her child's birthday stumbled onto baking. It soon became an outlet, steering her fine art skills and a penchant for perfection from digital media to the medium of sugar crafting. It became her passion to create challenging cakes for her children year after year and now she has taken it as a profession, working under the name The Sweet Saga.
Vanilla Muffins with Strawberry Reduction
 Ingredients for Muffins
| | |
| --- | --- |
| All-purpose flour – 1.5 cups | Cognac – 2 tsps |
| Castor Sugar – 1 1/4th cup | Eggs – 4 large |
| Baking powder – 2 tsps | Muffin cups – 12 |
| Refined Oil – 3/4th cup | |
Method to make vanilla cups
Sift the maida along with the baking powder. Sift this mixture twice to incorporate air. Beat eggs well till frothy. Add the sugar and beat both the egg and sugar together. Add the oil gradually and mix again with the help of a blender. Add the cognac. Mix again. Now mix the dry ingredients with wet ingredients. Add the all-purpose flour mixture with the egg-oil mixture and fold the mixture gently. The mixture consistency should be of dropping consistency. Transfer into baking moulds of cupcake lined with cupcake liners. Bake at 180 degrees for 20 minutes. Test the muffin with a skewer. If it comes out clean means the cake is done. Serve with strawberry reduction
Ingredients for Strawberry Reduction
| | |
| --- | --- |
| Strawberries fresh – 1 box | Star anise – 1 |
| Brown Sugar – 3/4th cup | Cinnamon powder – ½ tsp |
| Cinnamon stick – 1 inch | Port wine – 2 cups |
Method to make the strawberry reduction
Heat up a pan. Add strawberries and sugar. Mix well. Add the port wine. Add the Cinnamon Stick. Add the star anise. Mix everything and let it cook. Gradually the wine will reduce and the strawberries will start shrinking. Once cooked well. Switch off the gas and sprinkle cinnamon powder. Mix well. Serve along with vanilla muffins
Recipe contributed by Manjusha Sinha of  Bayleaf by Manjusha
Manjusha Sinha, consultant chef has turned her passion into a profession. She has been successfully taking baking and cooking classes for the past few years in Gurgaon at Nirvana Country.She's also into catering North Indian, Regional and Quick Meals dishes and she has recently opened her very own takeaway joint Bayleaf. She can be reached at 9811053613.
Sweet Hearts

Ingredients
| | |
| --- | --- |
| Wheat flour-500 gms | Sesame seeds / til-1/2tbsp |
| Jaggery-300 gms | Ghee/oil for frying |
| Ghee-100 gms | |
Method
Dissolve the jaggery in 1/2 lt water and boil it to make a syrup…Ek tar ka chasni
Allow the jaggery syrup to cool. In a big bowl take the flour. Add ghee and mix the flour with this ghee evenly. Now Add some sesame seeds Knead into a tight dough using jaggery syrup only Let it rest for 1 hour. Take a big portion of dough roll it. Cut mathri of the desired shape. Here I used a heart-shaped cookie cutter. Pierce them with a fork or else they will puff up while frying.
 Deep fry the hearts carefully on medium heat. Do not overcrowd them in the kadhai
Recipe contributed by Deepali Bakshi of Deepali's Kitchen 
Born and brought up in a Punjabi household, Deepali is the youngest of the 3 siblings and was always pampered with an extra dollop of butter and a second serving of parantha. After quitting her formal corporate job, she ventured into the food industry as a home chef and cooks North Indian recipes which she loved while growing up.
Butter Garlic Prawns
 Ingredients
| | |
| --- | --- |
| Prawns -1kg | Green onions – 100 gms |
| Salt- to tast e | Butter -as per  choice |
| Pepper -to taste | Vinegar  – 1tsp |
| Egg  –   1 | Cornflour   -2 tbsp |
|  Chopped garlic-2 tsp | Soya sauce -2tsp |
Method
Clean and de-vein the prawns. Marinate prawns with salt, pepper, egg and cornflour for an hour. Then fry till 3/4 done.
Remove from oil
 Take a wok. melt  butter
Put chopped garlic
saute for 1 minute
Put half of the chopped green onion bulbs.
Saute for 1 minute
Add prawns, soya sauce and vinegar
Put salt and pepper  to taste .cook for another minute
Garnish with green onions and serve hot.
Chatpatti Gosht Nallis
Ingredients
| | |
| --- | --- |
| Nalli mutton- 5pcs | Ginger garlic paste – 2tsp |
| Green elaichi – 3pcs | Yoghurt -1cup around 200gms |
| Cloves – 3- 4 pcs | Red chilli powder  – to taste |
| Cinnamon -1 stick | Salt  –  to taste |
| Tejpatta –  1 | Black pepper powder –  1tsp |
| Onions –  5-6 | |
Method
Take ghee put all garam masalas In a potli , ginger garlic paste , salt and keep frying the nallis for few minutes.
Cover and cook for 30minutes on slow heat
Stirring occasionally.
Add curd cook till the water dries.
On other side fry onions until brown
Cool it and make a paste.
This step can also be done earlier.
Add brown onion paste and red chilli powder
And stir .add little water so that it doesn't stick in the vessel.
Add black pepper
Add water, cover and cook for 1hr on slow heat till done. Remove the nallis
Thicken the gravy
Remove the khada masala
Add saffron with little milk (optional)and cook
For 3 to 4 min.
Place nallis in a bowl and pour the thick gravy on it.
Garnish with ginger juliennes and coriander.
Recipe contributed by Shipra Mathur of Shipra's Kitchen 
Cooking as a hobby became a passion and bought Shipra's Kitchen into existence.Beside Awadhi delicacies coming out of the kitchen of Mathurs, it also graduated to some Chinese and Continental starters and main course.
Rotzaa
If you love experimenting with recipes then this one is with a twist, a combination of roti and pizza
Ingredients
| | |
| --- | --- |
|  Plain Wheat Dough -for chappatis | Tomatoes-2 |
| Mozzarella Cheese |  Capsicum -1 |
| Pizza sauce | Salt -to taste |
| Shredded boiled chicken (optional) | Pepper to taste |
| Onions-2 | Refined oil |
Method
Roll the dough to make 2 round chapatis. Set aside For the filling: Heat oil in the pan and add chopped onions.Saute it till golden brown. Add salt and pepper to taste and add chopped tomatoes. Saute until soft. Add shredded chicken ( for non-veg) or finely chopped capsicum and saute until cooked. Now heat a pan and add one chappati. Add the filling and top it with grated mozzarella cheese. Now cover the filling with the second chappati. Cook on both the sides and add refined oil to cook it as a paratha till cooked Slice it into pieces  with a pizza cutter or knife
Recipe contributed by Anshu Bhatia
Anshu is the Managing Editor at gurgaonmoms.com and she also loves to experiment with her culinary skills. Cooking for her is a stress-buster and she loves to prepare interesting and innovative recipes for her daughter.