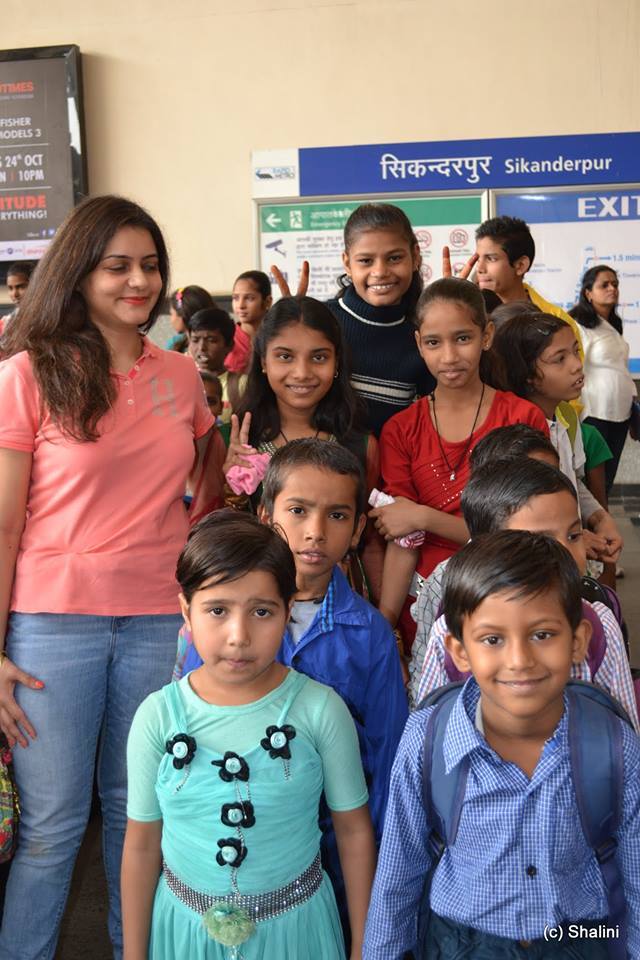 The bus screeched to a halt. Excited faces peeped out. Giggles and laughter filled the station.
The 120 kids from the Radiant School ( A School for the underprivileged kids) are ready to zoom inside the Metro. A fun Metro Ride organised by the GurgaonMoms for the kids to celebrate Children's Day.
They can't wait to step inside the metro. Holding hands in pairs , they quickly line up and start singing Hum honge Kamayab ek din…!!! Their Twinkling eyes can't be missed .
The fun has just begun.
They are greeted by colourful balloons inside the metro.They quickly take their seats. The metro twirls and swirls and the kids sway too. They look outside the glass window totally delighted. And there arrives our friendly Magician.
The bachchas are quick to join him in the tricks. Next in line is the Tattoo man.Kids can't wait to get their favourite things tattooed on their hands. While most Bachchas are happy with their tattoos , we have one young lad who insists he wants a scorpion on his neck .
I smile !! It's always nice to stand out in a crowd , young boy.
Hurrays ! Yays ! Claps !!! Fill the air .
The initial nervousness of some little ones of stepping into the metro has disappeared completely.
This 40 mins ride now stops at our next destination – Cyber Hub.
Eagerly the kids make a bee line to the amphitheatre at the hub. They are now ready to munch on their burgers and cupcakes. "Thankyou's " in chorus can be heard from every corner.
They all take care not to litter the place and use the empty boxes to fill the garbage . So the kids make their contribution to Swachch Bharat.
Music now becomes louder. Some kids can't wait to dance . They take to the floor . All who were present at that moment must be dancing with joy in their hearts. Such happy faces are the best medicine for any soul.
Now , the Color zone waits for the bachchas. They are all glued to the sheets which they splash with Color to paint their Sapnon Ka din!!!
Personal Account by Sunali