What is the first thing that comes to your mind in order to protect your new born? Or your toddler child who has just started crawling 2 days ago?
Cleanliness in the immediate surroundings? Sterilizing all the things meant for the baby?
When GurgaonMoms asked me to attend an event for 59S, I was very intrigued with the idea of having a constant support system to help make sure that our houses remain clean. Finally a product that I want to use on a regular basis.
Even though I am a mother to a 6 year old and 4 year old, the idea of having their toys, clothes and room sterilized and germ free on a daily basis always stays in my mind. Living in a country like India, I struggle every day to make sure that the room that my children spend the maximum amount of time in stays clean to a certain extent.
Children by nature love creating a mess and do all things possible that attract germs, which is fair because personally I feel, it's great for children to explore and learn new things.
Which is why a company like 59S can work wonders in your house – It is a US based company that pioneers in creating a technology that uses NO RADIATION – LED TECHNOLOGY to sterilize anything in under one minute, hence the name 59S (59 seconds)
The products created by the company help in creating a germ free environment on a daily basis in all households. The main idea behind it being to create a clean and healthy environment at home all the time.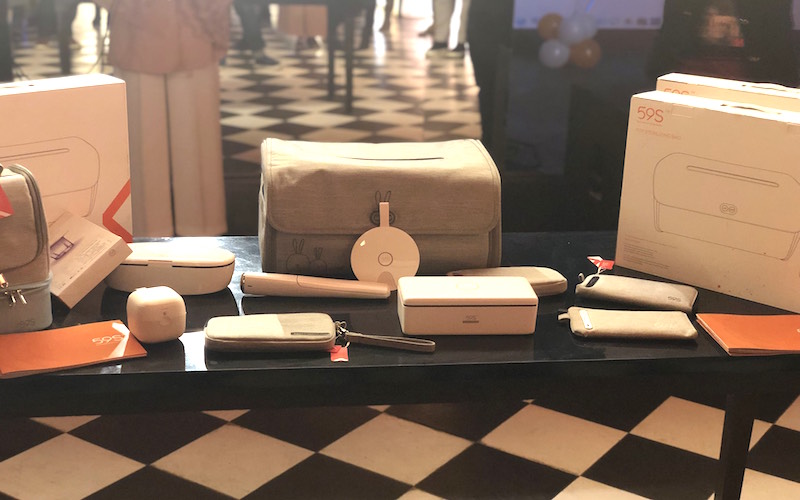 Some of the products that they are currently created are Bottle sterilizers, Sterilizing storage boxes, Sterilizing Wand, Sterilizing pouches, Sterilizing lids, portable mini sterilizers, Sterilizing sling bags etc.
These can help sterilize things like make up brushes, pillows, sofas, Bottle nipples, lids for containers and mugs/glasses and so on. All products that are used on a day to day basis in our homes but tough to keep clean all the time. Lack of time and efficiency in these days always creates a hindrance from getting any of these things done.
But not anymore, 59S will help cut down your time and effort for all cleaning related activities.
And yes, for me cleaning is an activity , one that I do not enjoy at all.
During the course of the event, the director for the brand in India, Mr. Sunil Budhiraja unveiled the entire line of products that are available for consumers within the country.
You will be excited to learn about their diverse product range and the multitude of products they help sterilize some them also being clothes.
So do take a look on their website to explore all the products and enjoy a fabulous 10% off on your first order.
Happy clean homes here we come!!!