Hello all ! Exams are almost coming to an end and it's soon going to be holiday time ! Also a time of kitchen stress for mums!! Kids are at home and crave for snacks all the time !!
My kids wanted to have noodles the other day but it being a weekday , I wanted to give them something healthy ! Saw some leftover chapatis from lunch and voila ! I have hot chapati noodles made with Veeba stir fry sauce
Made in a jiffy and approved by kids ! Healthy and yummy! What else can you ask for !!
Here's the quick recipe-
Ingredients
Chapatis – 4
Veggies like capsicum , carrots , onion and cabbage – 1 cup ( cut in Juliennes)
Veeba hot garlic stir fry sauce – 1 tbsp ( you can increase it to 2 tbsp if you want extra spicy )
Garlic – 1/4 tsp ( chopped finely)
Oil- 2 tsp
Salt to taste
Spring onions or fresh coriander – to garnish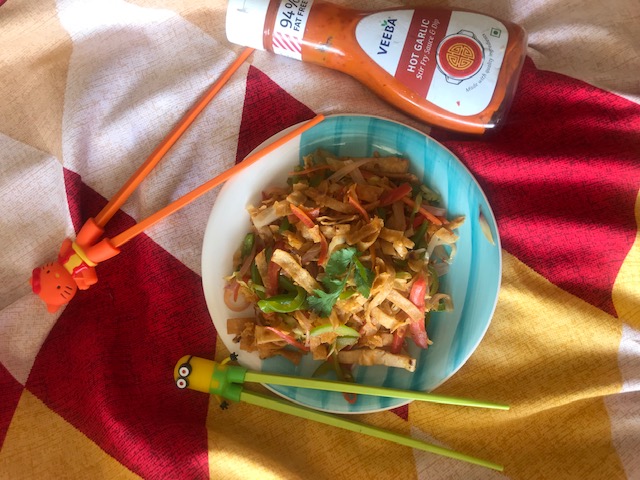 Method
Cut the chapatis into thin strips.
In a pan , heat oil .
Add garlic and sauté.
Add all the veggies and sauté in high heat . They should be soft yet crunchy.
Add Veeba hot garlic stir fry sauce .
Mix nicely and add some salt.
Add the chapati strips .
Sprinkle some water on it so that they are not dry.
Toss gently on high heat for 2-3 mins until the chapatis are mixed with the veggies.
Garnish with fresh coriander or chopped spring onion greens .
Serve immediately .
Enjoy!!
You may also like to read
[crp limit="4″ heading="0″]