Semolina Mango Muffin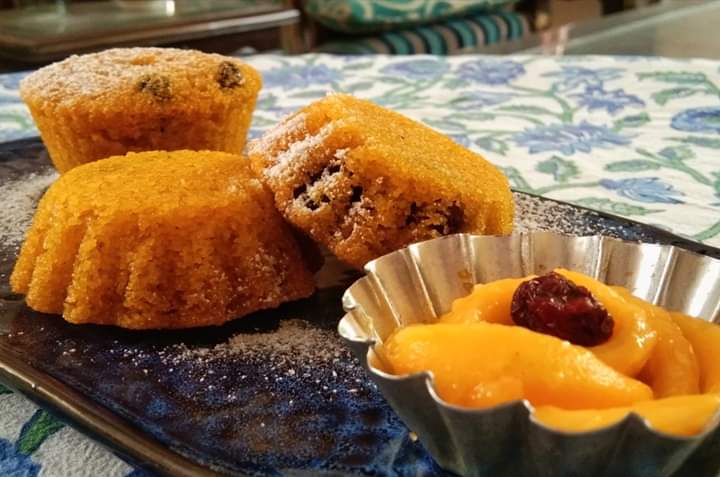 Ingredients
Fine Semolina/Fine Rava -1 cup
Mango Pulp – 1 cup (thick)
White Sugar – 3/4 – 1 cup
Oil – 1/4 cup any flavourless oil
Cinnamon powder – 1/2 tsp
Baking powder – 3/4 tsp
Chopped nuts ..1/4cup (optional)
Instructions
1.Make sure to use fine Rava or you can grind the upma Rava to a fine texture (not powder) and used it to make this cake.
Powder sugar and keep it ready. If you prefer it too sweet, you may add 1 cup of sugar. It also depends on the sweetness of the mangoes.
Sliver almonds and pistachio and keep it ready.(optional)
Grease and flour the baking tin or tart shells or muffin moulds as you usually do when baking cakes or line the pan with parchment paper.
You can use 2 medium sized alphonso mangoes to get 1 cup of mango pulp. Do not add water while pureeing the mangoes as the mango pulp should be thick and not watery. It is preferable to use alphonso mangoes as it gives a nice color and taste to the cake.
In a bowl, mix fine Rava, powdered sugar, cardamom powder and baking powder well.
Add oil to the above and mix well.
Add mango pulp and mix well.
Let it sit for 15 minutes.
Pour it in a greased tray/ Muffin Moulds and garnish with thinly sliced almonds and pistachio.
Preheat the oven at 180 degree C. Then bake at 150 degree C for 15-20 minutes or until a toothpick inserted in the centre of the cake comes out clean.
Notes
I used canned pulp which has sugar so reduced the quantity of sugar to 1/4 cup