Mango Shrikhand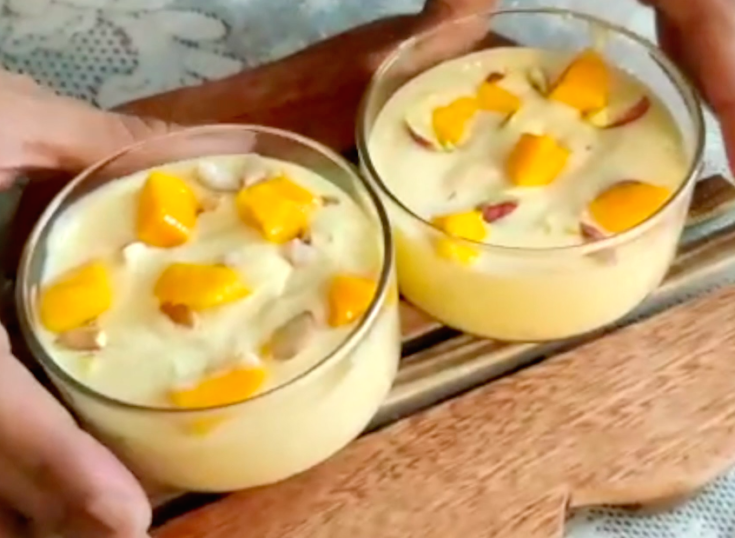 Ingredients
Mango Pulp 1 (3 – 4 tbsp)
Curd 400g
Cut mango pieces For Garnish
Cardamon Powder For Garnish
Dry fruits (Almond, Pistachio) For Garnish
Sugar to taste
Saffron few strands
Mango Essence 2 drops
Instructions
Remove the pulp from the mango.
Grind it into the mixer to make a smooth paste.
Place a colander over a container with a muslin cloth to collect yogurt whey.
Add yogurt to the cloth. Make a knot and hang it just above your kitchen sink, so that the whey drips to the sink. (I kept it 4-5 hours in the fridge so it doesn't go sour in taste)
After the water stops dripping completely, refrigerate three to four hours. (Watch the video to understand the chef's technique.)
Whisk the refrigerated hung curd well until smooth.
To this whisked yoghurt add Saffron, Cardamom powder, mango essence, dry fruits sugar and mango pulp.
Whisk all the ingredients well until they are well combined. Mango Shrikhand is ready.
Place Shrikhand into individual bowls and refrigerate it for 3-4 hours before eating.
Garnish with some dry fruits and cut fruits of mango.
Your delicious Mango Shrikhand is ready to serve as a dessert.