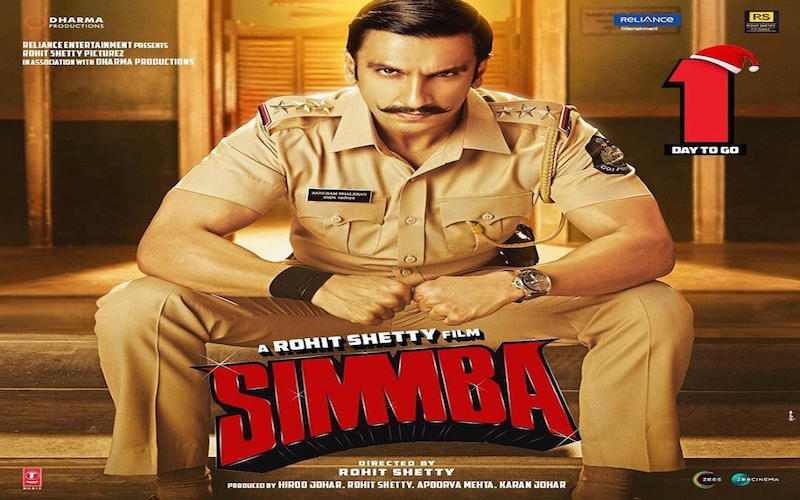 Disclaimer first: If you are not a complete Bollywood Buff, skip this one. In fact skip this review altogether as well. Coz I am going to sing praises for a very typical Rohit Shetty kind of movie, high on testosterone, good cop beats bad guys, and the pretty lady actor doesn't have much to do, except well, look pretty (which btw she does well!). But I am going to sing these praises because even though this movie is a typical Hindi movie potboiler, it has a heart. And a message. And a very strong one at that. And I like strong men as much as I like strong women. I married one, and I am very proud of it.
I am sure all of you would've read the story of the movie already in other reviews, but still a brief about it. Sangram Bhalerao, an orphan who became cop, is loose on morals, accepts bribes and closes his eyes to all things bad under his regime. Ranveer Singh plays this corrupt lecherous cop to the T. I almost cringed every time he broke into an idiotic dance and wondered if coming for this movie was a big mistake. *That* is how good an actor he is. He can convince you that he is a Peshwa Bajirao, a warrior who can die for his lady love, he can also make you hate him to the core as Alauddin Khilji, and he can make you cringe as a corrupt cop Simmba.
But then the movie takes a turn. Unfortunately, at a very horrific rape incident of a girl who he calls his younger sister. And no, rape is not glorified here. These incidents (and much worse) do happen every single day, and we read about them in the newspapers. Lack of women's safety is a very serious concern in our country. We all are scared to send our girls to schools, colleges, and workplaces. Hell, I am scared to even send my daughter down the lift of my own building! This is the reality! To the credit of the director, there is not one titillating rape scene in the movie. Not even one. I did send my kids out of the movie hall to buy popcorn with daddy at this time though. But honestly, you can watch this with grownup kids (depends how matured though, and the conversations you have as a parent).
The movie goes on to show how this horrific incident transforms Simmba into the man he is actually meant to be. I truly believe this can happen. It takes a lot of intelligence to be a mastermind – especially a bad one. Raavan is one such example from our mythology. Most terrorists are extremely intelligent brains who were trained in the wrong direction. This is where positive parenting comes into play. Which is shown beautifully in the movie. He says that there was no one to correct him when he went on the wrong path. If a father or mother had corrected him in childhood, he would've known. These are the values we instil in our children – honesty, stealing being a bad habit, respect for elders, and respect for women.
And boy, did I love this transformation! If I knew how to whistle I would've in that theatre today! Crushing majorly on Ranveer in the scene where he kicks the ass of the goons who come to tamper with the evidence of rape. And I literally went weak in the knees when Ajay Devgn makes his entry sometime later in the movie. Yes, yes, I am still that silly little teenage girl inside : p Judge me! I don't care! I wish there was one scene where Sara Ali Khan had done a powerful thapad though. Now that would've surely made it my favourite masala potboiler this year! Anyways, the girl is just a movie old and still very young, and she did play her part of strong police officer's daughter decently well… so we could give her another chance! She definitely does not play a dumb bimbette. Ashutosh Rana was brilliant as an honest cop. Sonu Sood played the villain with all sincerity. In fact you don't really hate the guy coz he does respect and care for his family, slaps his brothers when they commit the horrific crime but then, his over-protectiveness for family makes him a monster who comes in the way of law and breaks it in every possible way. Btw he looks extremely hot while doing this!
Now for one of the most important messages in the movie. Death sentence for rape. I am sorry for anyone who opposes, but I actually very strongly believe this should be a law. Castration and death sentence. In public. Let the fear prevail. Only then will these incidents stop. Police can do it. They have the power. They have the network. They have the resources. They just need the political leaders and judiciary to support them. Of course, they need honest and committed officers like Singham and Simmba. Salute to many such who do exist which is why we can still live in this country. Salute to many more who might get inspiration from such movies or any other source, and become the helpers of the citizens that they are meant to be. We need just one. And the fire will start.
We sometimes don't realise what a powerful medium movies are. The subtle messages given in these movies get registered in the subconscious somewhere. It is on us which ones we want to absorb. Books, print media, digital media, radio, TV, movies – all are very powerful mediums to rely messages which you want to give out. And it is not easy to make a commercially successful movie with strong social message. Kudos to Rohit Shetty, Ranveer Singh, Ajay Devgn, Karan Johar, Sara Ali Khan and the entire team of Simmba for belting out a full paisa vasool movie to give us a dhamaakedaar ending to this year. I couldn't think of better!
And please do not peep into my house for the next few days! You might find me dancing silly to the catchy 'Aankh Maare…. '! :p (My husband rolling his eyes!!)
Mala te avadale! (I loved it in Marathi!)
You may also like to read
[crp limit="4″ heading="0″]
#Simmba #Moviereview #bollywood #yearenddhamaka #masalamovie #potboilerwithamessage #deathforrape #RanveerSingh #AjayDevgn #AkshayKumar #RohitShetty #KaranJohar #SaraAliKhan #AshutoshRana #SonuSood #policeofficers #honestpolice #honestjudiciary #honestpoliticians
This was published on https://surbhirastogi.com/