When you enter the newly opened Soy Soi in in the equally new Ardee Mall the colours immediately take you to the Orient. The running theme of the dragonfly, delicate and beautiful is a theme that runs through the food and its presentation. The Red and black décor transports you to something out of the sets of Miss Saigon.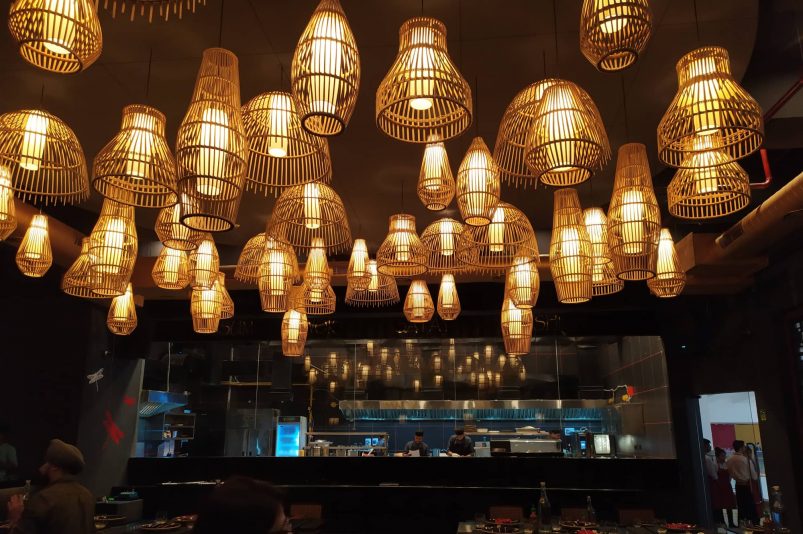 The lacquered seating and bamboo lamps add to the ambience of the Oriental charm.We were offered many exotic cocktails and mocktails from the bar. The talented barman kept whipping up new creations to entice us. Some of them were .
A Pina Colada : The lady who ordered this one didn't get to take a sip for a good ten minutes as everyone wanted to just pose with this bronzed pineapple.
Pomegranate Delight  : This delightfully burgundy beverage was served alongside a mini park bench on a wooden tray with a tiny container with pomegranate shelled in it. This drink was indeed as pretty as a picture
The bar also stocks wines, whisky and many drinks of choice.
Now onto the food…
Vegetarian options came in the form of an edamame dumpling in a clear soy broth. The edamame had umami and was soft and chased with the broth made a riot of flavours.
We also had the Veg Sushi which was colourful and pretty
The Lotus root crisps were done to perfection and are always a crowd pleaser snack. The Vietnamese rice paper rolls were bursting with veggies and served with a tasty dipping sauce
The non vegetarians were treated to crunchy and fragrant Jasmine prawns. These were an instant hit.The seafood sushi was excellent as was the crispy prawn cheung fung .The Sate Ayam Madura was grilled well and the peanut sauce was well-balanced
Soy Soi gets full marks for presentation as each dish is served in an aesthetically pleasing way. The pictures just prove it!
The Main course had Coconut rice served with an accompaniment of Nyonya Pumpkin Curry and Wok fried Morning Glory greens . The non-vegetarians had Stir fried prawns as well as Malaysian chicken curry. Pad Thai was another feature.
This sumptuous meal had a perfect ending with a savoury trending dessert the Japanese Cheesecake. This had great salty undertones and was soft. I personally loved the Tab Thim Krob which is the renowned Thai dessert with Jellied water chestnuts topped with crushed ice and served with snake fruit syrup, sweet coconut cream and tender coconut slivers
All in all, a befitting end.
Visit Soy Soi to take a trip to the streets of the Orient .
Soy Soi : 3rd floor, Ardee Mall, Sector 52, Gurugram, Haryana 122022
Timings: 12noon – 3:30pm, 7pm – 11pm
Phone Number: 093194 29735
Average Cost : Rs. 2000 per person ( approximately )