The announcement of The Mom Achievers Summit was enough to excite the entire GurgaonMoms community! It took me a while to figure out how to plan everything as I had to find out someone to baby sit my brats! I called up hubby who happily flew few miles to my rescue, and I booked my tickets without further delay! Tickets were soon sold out- weeks ahead of the event! The TMAS fever was on high and we all eagerly waited for 3rd August! Discussions of what to wear when to reach- who's getting ready and how! All these only kept increasing the excitement and anticipation! Your's truly was also preparing for the same with a childlike excitement!
On the  3rd as I reached  The Leela Ambience Gurugram Hotel & Residences ,the venue was already buzzing, packed with the delegates of  The Mom Achievers Summit. Went on to meet and greet the moms whom I know personally or virtually and also whom I don't know! It felt great to see in past one year I have been able to connect with so many! I could see a vast change in me – as I went on to meet the delegates.
It was a different feeling altogether when so many whom I could barely recognise were coming up and greeting me and were talking about my work- both my preschool and the articles I write and how they are able to relate and benefit.
As we were chatting and greeting, the visually challenged boys and girls from National Association for the Blind– trained under Richa Maheshwari, clicked and framed us! (I am eager and excited to see their photos)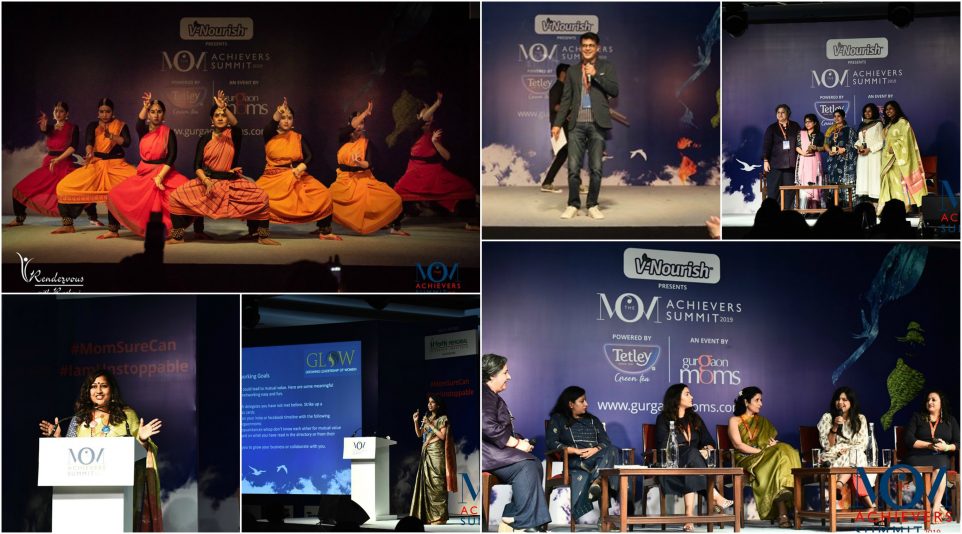 Soon it was time for the even to begin t and we all entered the ball room. Neela's beautiful and crisp welcome speech was followed by a beautiful dance recital by Smt. Ragini Chandrashekhar and her troupe from Kalangan Dance Company, New Delhi- to set the mood. The panel discussion on Mom Shaming was strong- on the point and the different perspectives brought on the table on a single topic by the different speakers was very interesting and intriguing.The panel was moderated by Kaveree  Bamzai and the panelists included moms from all fields, Sujatha V Kumar,Dr Shelja Sen, Sk Jenia , Priyanka Chaudhary Raina and Harini Sivakumar . It was inspiring to hear from Sameera Satija , Latika Thukral and Sarika Bhatt about their work, while they were felicitated  with 'The Unstoppables ' Award  for their contribution to the society . Nirupama Subramanian's networking challenge was surely interesting and I loved the fact that I exceeded my expectations making the best use of tea and lunch break!
The show stopper of this year's The Mom Achievers Summit for me and most of us was none other than – Dr. VS Ravindran! I am sure all delegates would remember his session on parenting for days!
And that surely is not just for the content- but also how effectively and effortlessly he could deliver the same to his audience with a dash of humour, wit and pun! He sure deserved the standing ovation! No wonder Anshu Mor – the very witty emcee of the event and a noted stand up comedian felt a threat from this amazing speaker!
Anuranjita Kumar's session – "Can I have it all?" was interesting and relatable." The session on Making Trending Youtube Videos" by Vibhor Khandelwal, was informative and insightful. The panel discussion- "Boss Moms" was a great opportunity to learn from Ambika Pillai, Nita Mehta and Rinku Paul. Meeting Ambika sure was a fangirl moment! While we were starting to think that this couldn't get better- the Mom Squad said – picture abhi baaki hai dost! And we had a blast with the Beats Work – a high energy upbeat team building activity by d'frens ! I learnt to play cowbell and had a ball playing along with 350 + delegates who like me had no clue what (instrument) and how they are playing but were enjoying immensely!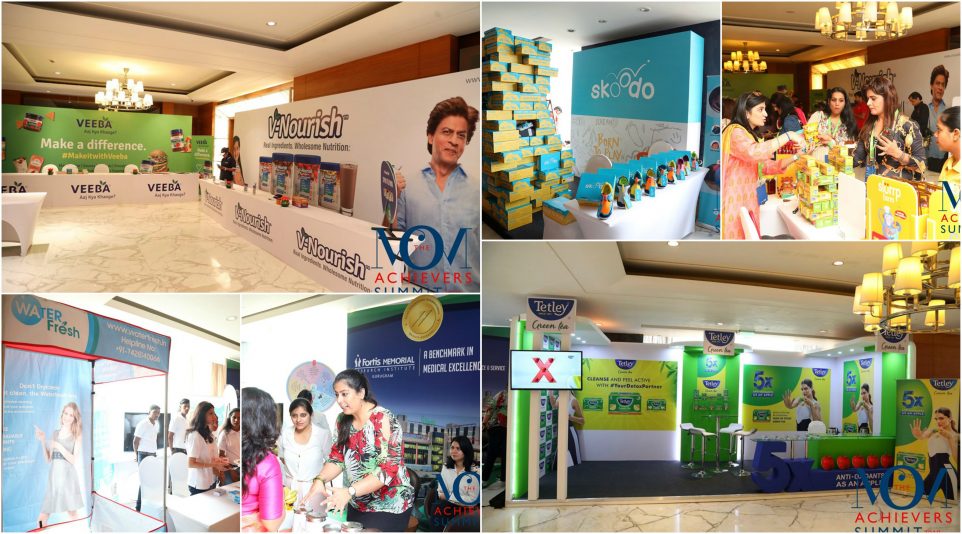 Like all good things The Mom Achievers Summit ended with some drinks, chitchat and goodie bags to take home.There were also many stalls by momprenuers like Slurrp Farm, & Skoodo alongwith sponsor brands like V Nourish, Veeba , Fortis Memorial research Institute, Gurugram , Tetley, Water Fresh and many more .
But did I take home just the goodie bags? Surely not! My take away was way more than that- a sense of fulfilment, immense learning, knowledge and inspiration.. and the list doesn't end here.
I made new friends and bonded with the old ones, I discussed my work and got compliments for the same which brought me a sense of accomplishment! I felt inspired by so many – some were on the podium while many around the podium- some were everyday heroes while some were larger than life- but all were inspiring for sure! I also learnt if few women decide and put in their efforts to- they can create History! Yes I am talking about the team behind this extravaganza- The Mom Squad or the GurgaonMoms team lead by Neela. I can't even imagine how much of efforts.. planning.. checks and rechecks are needed to organise such a smooth transition day long event for 400 odd delegates at this great level! Can't thank them enough for this.
But my best take away from The Mom Achievers Summit was a day for myself with my community of moms and happiness in abundance.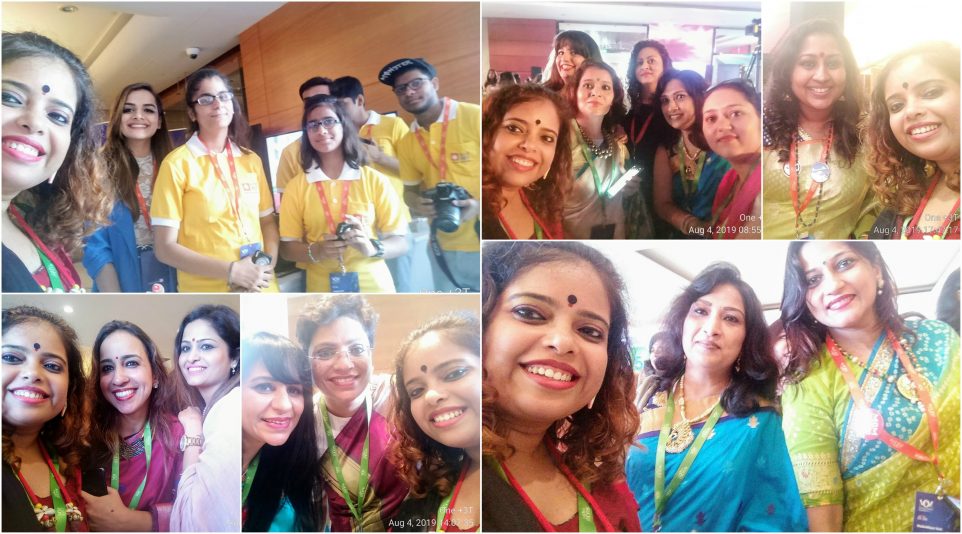 Images Credit : Rendezvous with Rashmi , Shampa Moitra