The New Year's around the corner so is the time for house parties . 
When organizing a house party, there are a few things to be kept in mind to ensure that it's successful, memorable, and enjoyable for everyone.
To start with
•Set a date.
•Send out invites so that guests can save the date. Keep a list of RSVPed. This also helps you get plenty of time to plan and prepare.
•Set a theme if you want – the dress code or the décor can be done accordingly.
•Set a budget so that you don't overspend.
Planning
•Plan your menu and purchase the ingredients depending on the perishability.
•Prepare space.
•Consider an entertainment: DJ/singer/playlist.
•Delegate work amongst your family- ask your better half to get the ingredients as per the list and kids to help you with the crockery and table set up. (Although it's a big task itself)
Before the party
•Take out your crockery 2 days in advance so that it's washed, dried and ready.
•A day before to do preps halfway (soaking stuff, making masalas, dips especially the much loved green chutney, saunth chutney, hummus, etc.) so that you aren't worked up the next day for everything completely.
•Clean up and set the table.
•Make sure you have enough tissues, disposables, and a trash can ready for guests to throw waste in.
•Keep food safe- cold as cold and hot as hot.
•Keep options between mocktails and cocktails as per your preference.
Menu
•Menu needs to be elaborate *
Say if you have vast options in appetizers, keep the main course limited or maybe vice versa, and of course minimum of 2 kinds of desserts.
•Plan for leftovers – keep takeaway boxes handy if your guests want to take something, so that it's easier to manage the next day and also it would avoid wastage of food.
Some tips for table styling
•Take out your platters, and arrange them well and in advance as per your menu.
•Use fresh flowers, candles, and fairy lights to make your table layout lively and appealing.
•Use your creativity – Use wine glasses as candle stands/flower stands (keeping them upside down)
Last but not the least get dressed up and welcome your guests with a smile.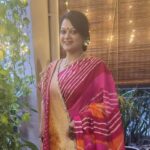 This article is by Chhavi Poddar Lath
Chhavi is a  passionate home chef and a proud mother who believes that anything and everything when done with best of intent and love blossoms very well. Her venture's name is Les Delights by Chhavi