Most parents struggle a lot when they are making tiffin for their school going children. They want their children to eat healthy and happily. Priyanka Talreja has shared some really colourful, tasty and healthy recipes that your child will absolutely love to eat. 
Beetroot and Spinach Cheese Roll Ups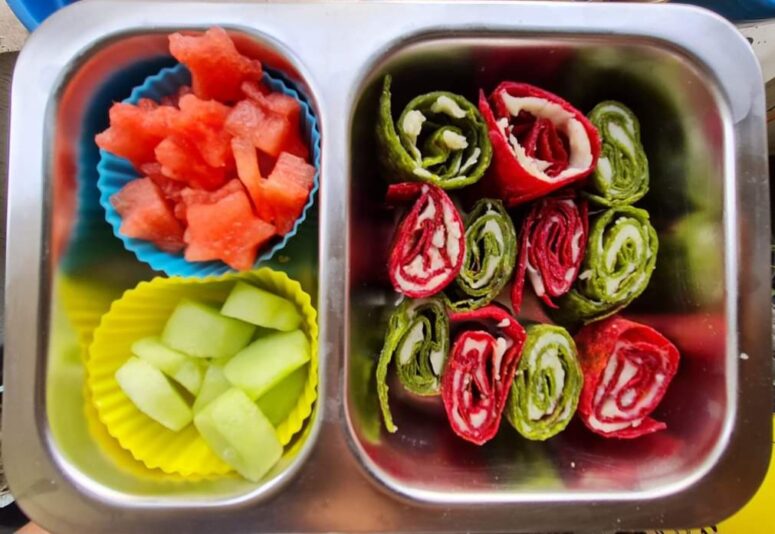 Ingredients
Handful of spinach leaves blanched
1 beetroot  boiled
Cheese cube
(The tortillas are homemade from scratch) blanched and pureed the veggies at night. Alongwith watermelon stars ? and melon hearts
Method
Boil and puree beetroot. Add some salt and pepper to the puree,knead the dough with the puree just how we knead a regular roti dough.
Blanch spinach leaves,cool and puree in the mixer with a few cloves of garlic and some salt. knead the dough with the puree just how we knead a regular roti dough.
Now roll out a thin and a slightly bigger chapati using the above kneaded dough. Lightly seko it on both sides using ghee. Dont crisp it up,we wsnt it to be soft.
Remove on a plate,grate amul cheese and put some seasoning.  Fold in slightly from left and right,thrn just roll it tightly so that the cheese melts. Cut into roundels and serve.
Repeat the process with the other dough.
You can put some spread,ketchup,jam ,mustard,absolutely anything
Spinach Corn and Cheese Rice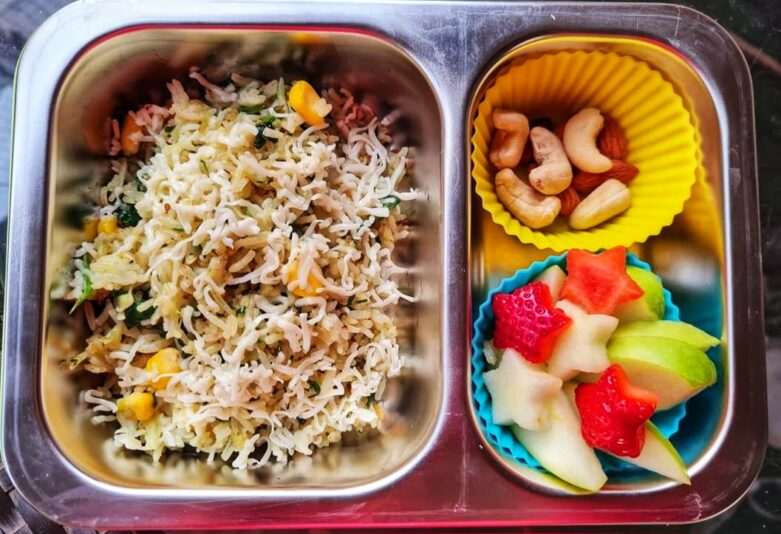 Ingredients
Butter

Extra virgin olive oil

A handful of spinach leaves 

1 cup boiled rice

1 cube grated cheese
Method
Heat 1 tbsp butter and 1 tbsp evoo in a wok

Add chopped garlic and stir fry for a minute.

Now add thinly sliced spinach and salt, stir fry on full flame.

Once the water from the spinach has dried,add boiled corn,mix well.

Add Oregano seasoning and black pepper.

Add boiled rice. Mix well

Finish with lots of grated cheese,cover with a lid and let it rest for 5 min and it makes for a yummy tiffin.
Potato and Corn Cheese balls
These are made in an appe pan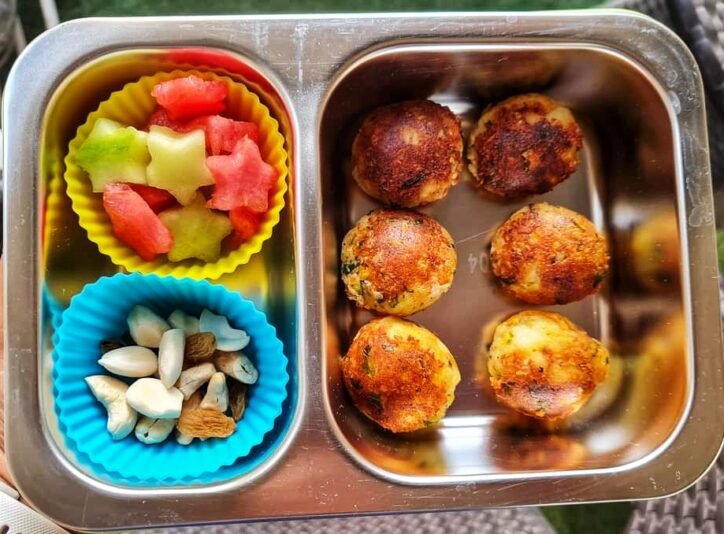 Ingredients  (for 13-15 appes)
2 boiled potatoes

1/2cup boiled corn ground in the mixer

2 slices of bread again ground in the mixer

1 tsp oregano seasoning

2 cubes Amul cheese-grated 

Chopped dhania
Method
Mix all the ingredients and let it come together as a dough

Make small balls and fry them in an appe pan in butter

Keep turning so that they cook evenly on all sides

Let it cool and then pack in the tiffin
Egg Sandwich
( substitute for egg can be paneer cubes)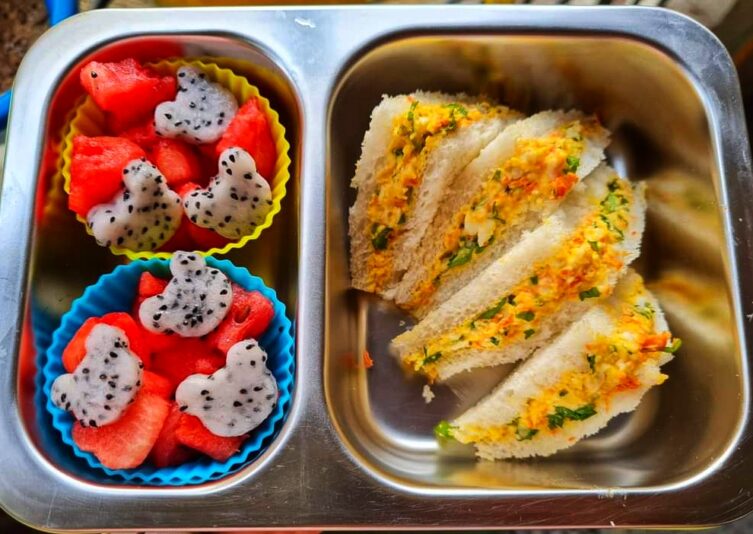 Ingredients  
2 boiled eggs

 Mayonnaise 

Chopped capsicum

Crushed pepper and salt
Method
Mix all the ingredients in a bowl

Adjust consistency using a few spoons of milk and spread in a sandwich.
Lemon Idli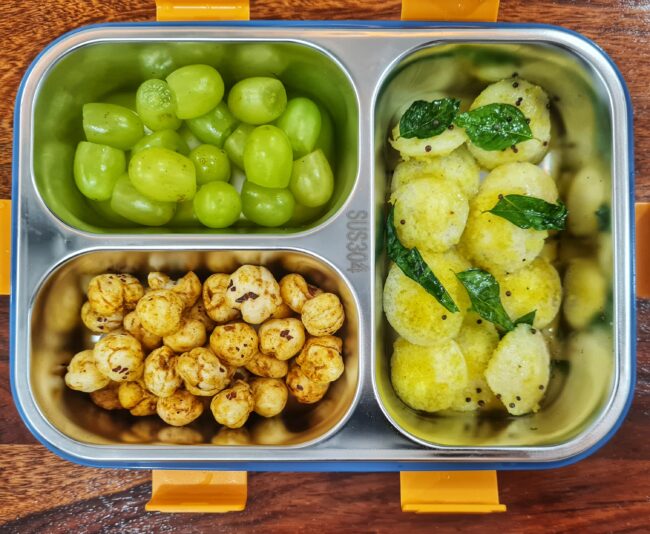 Ingredients  
 Ready made Idli batter

Urad dal 

 Chana dal

Mustard seeds

Curry leaves

Lemon juice 
Method
Make mini idlis

In a pan take some ghee

Crackle , urad dal and chana dal,mustard seeds and curry leaves

Then add  haldi , salt and sprinkle water and mix

Put the idlis and toss

Turn off the flame , and squeeze some lemon juice
Vegetable Pinwheels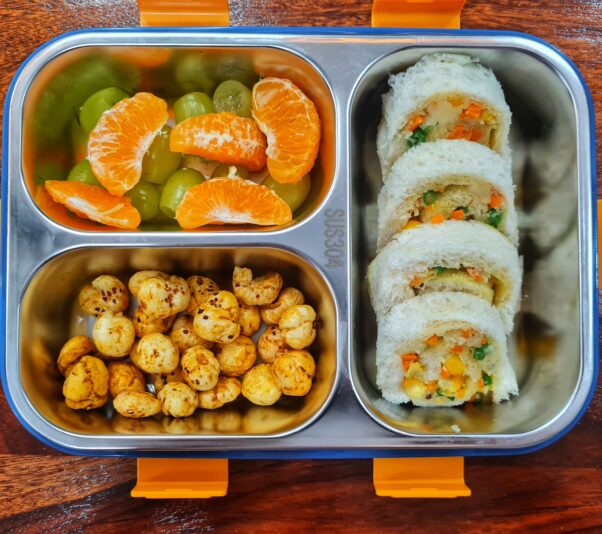 Ingredients  
 1 cup mixed vegetables (carrots, beans and boiled corn)

4 slices of bread( sides removed)

1 tsp finely chopped garlic

1 tbsp butter

Crushed pepper

Grated Amul cheese

Salt

Oregano
Method
 In a pan,heat some butter,add chopped garlic,saute for a minute

Add all the veggies,salt,pepper and saute on high flame

Let it cool

Mix in grated cheese

Spread out some aluminium foil

Place 2 slices of bread and join them vertically with the help of some water to seal the edges

Now spread some butter and evenly spread the vegetable cheese mixture and now start rolling it tightly with the help of the foil like a sushi roll.

Now just let it sit for 2-3 minutes,remove the foil and cut the roll into pinwheels using a sharp knife
You can try different combinations and make it a very interesting dish for kids.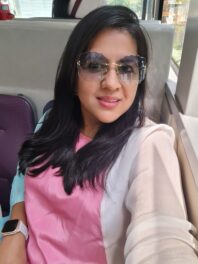 These recipes are by Priyanka Talreja 
priyanka is a foodie,an avid cook, and a food photographer by profession above all a  mommy to a 5.5 year old boy. Nothing gives her more joy than Cooking for her family and friends. She loves trying my hands at cooking various international as well as regional recipes. 
Follow me on her insta handle to know more about her  love for food.