GurgaonMoms received an invite from SMAAASH Pitstop Brewpub and Sky Karting , Gurgaon.
I usually extend these invites to some of our awesome bloggers in the community. However this one was too tempting for me to give it away.
The family visited the new multi-level karting arena on a Sunday. We reached the venue around 12:30 pm. This is a dedicated huge space inside Oysters Water Park. We were ushered in and taken to a higher up level where the Karting track is.
An unexpected playdate
Since crowd was just starting to trickle in, we had a good chance to move around and take a look at the place. And just when we were in the line, we noticed my son's friend and his family were also there to spend their Sunday afternoon. It was one pleasant surprise. We decided to go in as a group and race against each other. Upto 7 players can go together.
Just before entering the arena
The kids were super thrilled. The parents were nervous as they looked up at the screen that kept displaying the details of the racers, their timings and ranks. We knew we had expectations to live upto. And then we comforted each other saying, 'it is just for fun'.
After the registrations, we were briefed on the safety rules. We were clearly told the do's and don'ts before you decide to go vrooming in there. Our names appeared on the screen and we were taken inside the racing area. We were inside a world class racing track laid by the renowned Protek Karting (Germany), the best electric Go-Karts in the world. The kids were ushered to the special kiddie cars where they were more comfortable and in control.
Safety Levels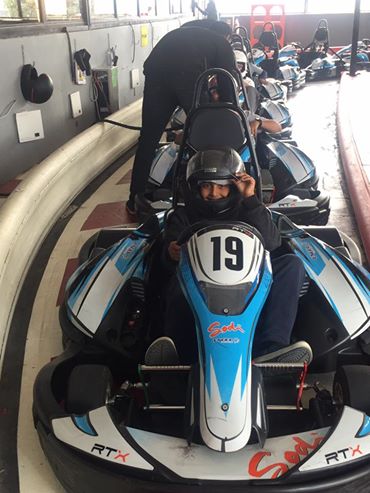 The Karting tracks come packed with high technology based spring barrier system. These spring barriers have been nominated as the best technology for the safety they provide to the driver and karts. In addition all the gokarts are equipped with exclusive speed control to give track operators an extra degree of ensuring safe fun.
The track features dramatic elevations. The race started, with our heartbeats racing, we embraced the wicked fun. The electric karts provide much superior acceleration compared to engine powered karts, making it super fun.
This was followed by a great spread of buffet. Food was good.
The experience was exhilarating to say the least. This is a perfect activity for family weekends. Can also be a great place for kids' playdates. I also recommend it a great activity for all the moms who wish to catch up with friends and have some adventurous fun. It also hosts an English pub inspired cafe concept with a micro brewery.
Weekdays (Monday to Thursday): 12:30 PM – 12 AM Weekends (Friday to Sunday): 11:00 AM – 12 AM
Prices are:
Weekdays Mon to Thru- Rs 499