Haven't we all heard this at least once in our married lives? I remember by the time it was around 4 years after my marriage and we were still not parents, the concerned relatives & neighbors were passing on the numbers of fertility clinics to me and at every pound I gained, the question pooped up without fail!!
Well, just like us, Zarreen was also not spared of this question. The experiences she gained from her own pregnancy as well as observing the small yet funny details of her friends & relatives who were expecting, she took inspiration in writing her second book – Koi Good News?

At an event, talking about her book, Zarreen told members of Gurgaon Moms how excited she is that her book is picked up by a production house already to soon become a motion picture. She also shared how initially her story was revolving majorly around Mona – the female protagonist of her book. But eventually she built the character of Ramit – the male protagonist of her book to come out as an equally strong character in the book. Well, after trading the book & all the drama, I am super excited to see the book being converted into a movie that I would take all my friends along to watch!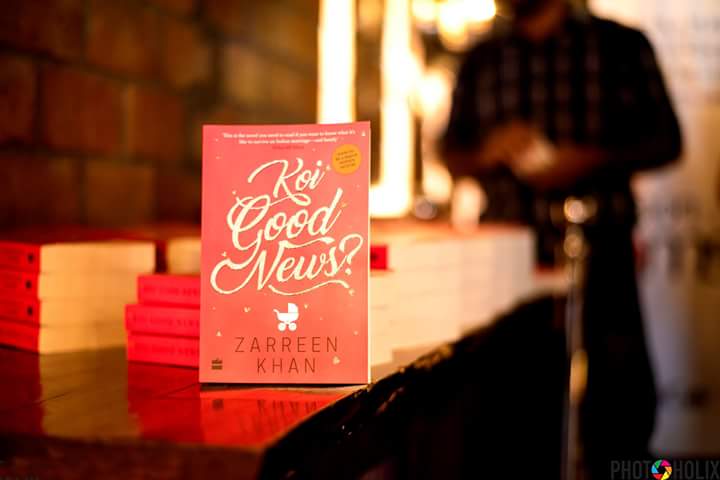 Koi good news is the second book of Zarreen and revolves around the life of a married couple who has not been spared by the nosy neighbors & relatives to start a family soon. The way she has shown the journey of a married couple of becoming parents is funny yet bang on the point – all those emotions, problems & joys that a pregnant couple goes through. "It is no longer a time when mothers are the one solely responsible for everything to do with pregnancy & the child. It's about PARENTING and not just about MOTHERHOOD these days" is what Zarreen had to say when asked if this book was about the motherhood experience of the protagonist.
When I asked Zarreen if any of the incidents in the movie were inspired from her life, she mentioned that the incident where Ramit mentions about feeding NEROLAC to their child was something that Moksh (Zarreen's husband) once said. Well, to know what funny incident I am referring you, you will have to read the book!
I being a mother of 2, every time I meet another mother of multiples without fail ask the question, "What's your mantra of managing the dynamics of the siblings?" "If only I figured that out," said a very honest and modest Zarreen.
While saying goodbye to her I asked her if there is any parenting advice she would want to share with Gurgaon Moms. "Parenting should be all about having fun. If we don't let kids be and ourselves don't let loose & be a little silly, we might look back & regret being uptight in the years we should have had the most fun in our lives. So just be a kid with your kid & have fun!" is what she wanted to pass on to all of us here!
Grab your copies of this refreshingly wonderful book today!