Serves- 4 pax
Ingredients
A
rbi ( colocasia roots)  peeled and cut into thick roundels – 8
Carom ( ajwain) seeds- 1 tsp
Heeng ( asafoetida) powder- 1/2 tsp 
Ginger crushed in mortar & pestle – 1inch 
G
reen chilies crushed in mortar & pestle- 2-3
R
ed chili powder- 1/2 tsp 
Mustard oil – 2 tsp
Water – 2 cups
F
resh Coriander leaves – chopped for garnishing 
Directions 
In a pressure cooker, heat oil and add carom seeds till it splatters. Add heeng, turmeric powder, and the chopped arbi roundels. Sauté till slightly brown. Add ginger, chilies, salt and stir well. Add water and pressure cook it for two whistles only. Release the pressure and put back on flame. Add coriander powder, chili powder and whisked yogurt. Simmer till yogurt blends well and gravy looks done. Add coriander leaves and serve hot with parathas.
The Science Behind 
 Indian food is very scientific and wisely uses the combination of spices and vegetables as well as the method during cooking to derive maximum nutritional values.
Arbi contains many Vitamins – A, C, B, minerals like copper, manganese, zinc, magnesium, calcium, iron, selenium, potassium, beta-carotene and cryptoxanthin. All these are good antioxidants that are useful to protect against diseases and slow down the aging process.
Carom seeds and heeng is used with arbi to prevent bloating.
Crushed ginger and chilies lend more flavor to the curry than chopped ones.
Mustard oil is widely used for cooking in Uttar Pradesh and releases the flavors of arbi better.
Cooking in the pressure cooker keeps the vitamins and flavors intact as well as uses very little oil to cook.
The Recipe has been contributed by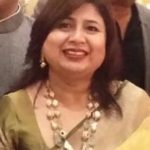 She is extremely passionate about food and a good vegetarian cook herself. She also has a Facebook page by the name
FoodTogether By J
 for curated home dining experiences.
With each of the recipes that she would share, she would like to give the scientific reason for it so that is informative and interesting.