A marginalized and discriminated community, a run-down society, an NGO suddenly comes about, infuses some life into the lives of the women in the area, seems like your everyday NGO story we read about in the newspapers, or watch on our television sets, doesn't it?
Well, no. When you see the kind of hardships we faced and more importantly, overcame (though we are still constantly overcoming challenges because well challenges are the only constant outside your comfort zone) and the amount of hard work that has been put in just for the minutest of results, it's a completely different story altogether. Also, what is to be kept in mind is that the above paragraph in no way undermines the work of any other NGO.
ARADHAGA,
or rather PROJECT ARADHAGA, is very important to all of us here at Enactus Ramjas. Not just because it is one of our very first projects, but more so because it has taught us so much, so many countless life lessons, things we could never have learned in our classrooms.
 Coming to how it all started, one fateful, rainy day a few of our members were going around Delhi looking for down-trodden communities and if we could help them in any way. We were mainly looking for places where we could open up a health centre or a canteen to address the very critical issues of health and food security but there was something which stood out in front of us. Whichever area or community we went to, we could very easily see that the most marginalised, the most underprivileged, the most I nopportune were the women. Most communities featured women who had faced some kind of domestic violence,  at some point in their lives. They had no life, so to say. And that's when we realised that we had found our community, that we we had found our beneficiaries, that we would make these women entrepreneuers, that we were going to work for these women so that they could have a better shot at life, at redemption. And this is how Project Aradhaga came about and into our lives and also, changed everything.
At Aradhaga, what we do is employ these women to work at our 'stitching' centres. Most of the women know how to stitch bags and we provide them with designs and they manufacture the bags. And then we sell the manufactured bags on a variety of platforms, for example in college fests, Enactus Store, subscription gifts and also we receive orders from other companies and NGOs. We pay the women, our beneficiaries a fixed salary from the revenue earned. What is very important here is that most of the women end up opening their own stitching and tailoring shops, with a little help of course and in this way, our beneficiaries go on living their own independent star-crossed lives. This way, we help these women to carve something out of their lives and we couldn't be more grateful for the opportunity, for the one fateful, rainy day we came across this opportunity.
Just like the fact that we all need a little help along the way, all of us also know that no endeavor is without challenges, without problems. And hence as is inevitable, Project Aradhaga too stumbled upon a number of issues, a number of challenges, ranging from the obvious ones to the never expected ones. Needless to say, the never expected ones were the toughest we had to face and overcome. For example, seeing the kind of down-trodden and underprivileged lives some of our now-employees were leading, we never thought they would say no to such an opportunity. But most of our women were reluctant to work with us in the first place. We had never expected this and convincing them, their families was the toughest part. We held community development sessions for them where we explained the importance of leading a life with dignity, the benefits they would get out of working with us and likewise things.
Other than their own reluctance, a lot of resistance came from the women's families too. Most of the husbands and the in-laws were unwilling to allow the women to work, but similarly, after a lot of community development sessions, we managed to convince them too. Also, some of the women had to rebel against their own families. And along the way, we developed a strong community connect with these people and we learnt about their lives, about their hardships, and at the end of the day, we realised how fragile human relationships were, how fragile our lives were.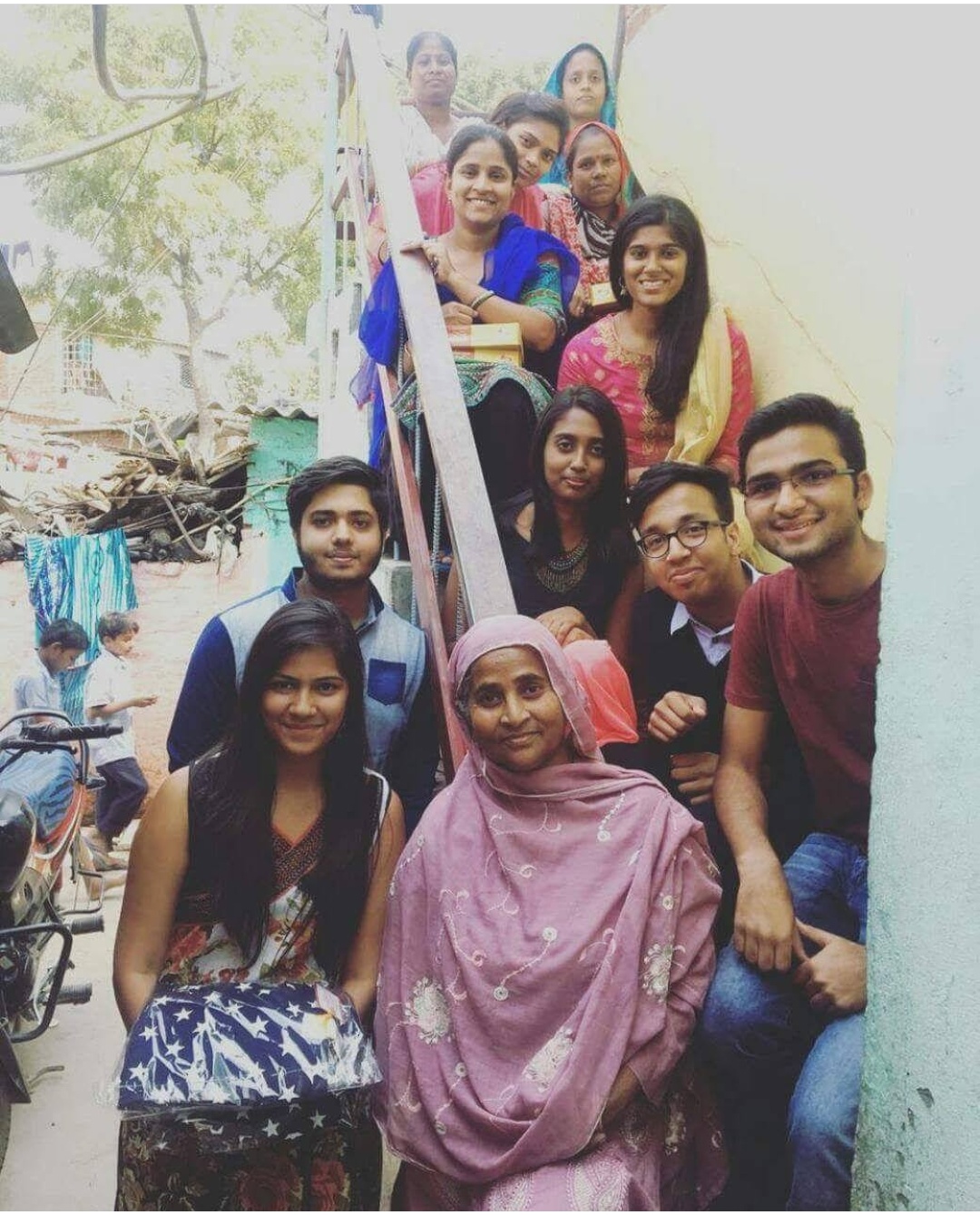 Other problems that we faced were of funding the project, something where Lakshyam stepped in. Again, other than funding, it was heartwarming to see how much involved Lakshyam got into this project and the amount of help they gave us. We also faced the problem of finding sales channels for our bags, which is where Gurgaon Moms stepped in. The 8500-strong community of mothers placed massive orders with us and not only did our sales increase in massive amounts, the number of our beneficiaries increased too as we employed more and more women and we were only glad to. Our products are also listed on
Enactus Store
, and it's a humble request to visit the website and you will not only get to know about our products but also, be introduced into the world of some of the most heartbreaking and heartwarming stories you'll ever witness.
Yes, so that is all. We at Enactus Ramjas are still involved in Project Aradhaga and we currently have one functional stitching centre in Yamuna Khadar area, right on the bank of the mighty Yamuna river.
And lastly but not the least, we just want to say we can never be grateful enough for Project Aradhaga. Actually, not just the project, but also the beautiful, beautiful women we work and worked with, and who now proudly call themselves entrepreneurs!

Contributed By