In 2017, a study on Breast cancer has ranked it number one cancer among Indian women. Besides this, young age has been found as a major risk factor for breast cancer in Indian women.
Women's health and specifically breast health gets attention when a woman is pregnant. On other days, We as women seldom talk about breasts. Sometimes even hesitate to openly use the word breast. But we must understand that breast is not a static organ, it changes with different stages in a woman's life and requires regular attention and  screening.
Studies say:
1 in 22 women develop breast cancer in urban India. Out of 2 women detected with it 1 dies.
More than 70% women are detected in advanced stages. One out of two women suffering from Breast cancer succumbs to it.
The only way to fight this menace is to catch it early which is made possible by SCREENING process.
The Standard Screening Methodology using Mammography is recommended only after the age of 40 – 45 yrs
Most of Indian women have dense breasts which are not amenable to mammogram. Doctors in India say, they are mostly presented with cancer having reached stage II by women.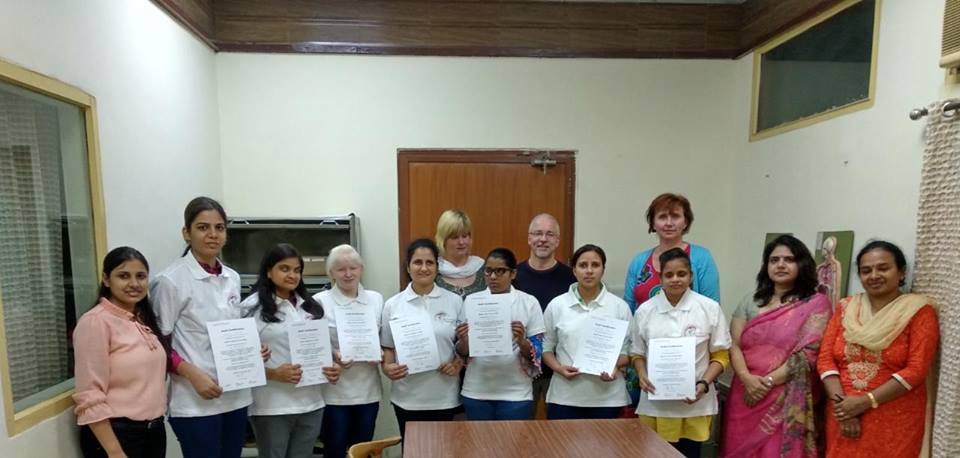 First batch of blind medical tactile examiners in India. Trained at Nab India Centre Hauz Khas and certified by discovering hands
Medical tactile examination is a unique solution developed by the German gynaecologist Dr. Frank Hoffmann that uses the highly developed sensory skills of visually impaired women for manual breast health screening for women of all age groups. It has been adopted successfully in Germany for last 10 years, Austria as well as Columbia and being introduced in India. According to Dr. Mandeep, the oncologist of Fortis hospital, `the visually impaired have the special focus to detect the smallest abnormality of 0.5 mm with their tactile sense which a naked eye cannot'.
The 30-45 minutes long examination is conducted by visually impaired medical tactile examiners who are trained to detect the minutest abnormalities in the breast. She records a detailed patient history to help doctors ascertain high risk patients for further precautions and also teaches women self breast examination. The results of the examination are shared with a doctor for future course of action.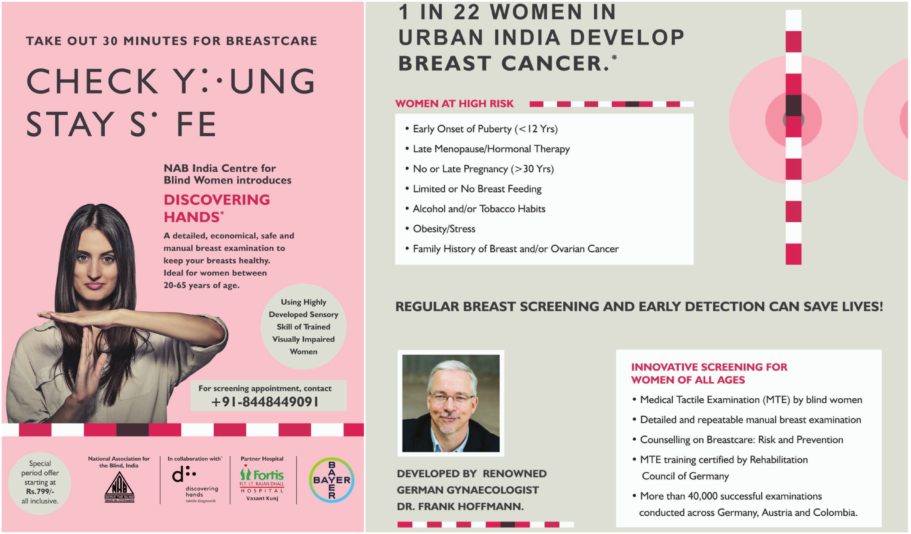 MTE is a manual and repeatable procedure.
In India, the 9 month long Medical Tactile examination training is conducted at
NAB India
Centre for Blind Women in New Delhi in collaboration with Discovering Hands, Germany. Training is followed by a 3 month internship under doctors in leading hospitals in Delhi NCR.
Do click below to view the detailed presentation about
NAB- Discovering Hands
that is fighting breast cancer and empowering blind women.
Available at Fortis Vasant Kunj, and NAB Discovering Hands centre Hauz Khas. Also Talks and Check ups are made available at corporates, factories and work spaces. Soon coming to Gurgaon!!
Here's a video made by Brut India about the wonderful initiative
This write- up as been contributed by
Shalini Khanna
Hony. Secy./ Director
NAB India Centre for Blind Women and Disability Studies
L-25, Hauz Khas Enclave I New Delhi -110016
Member Governing Council, Skill council PwDs
Consultant Panelist, Prevention of Sexual Harassment Committees