Creamy Mushroom Crepe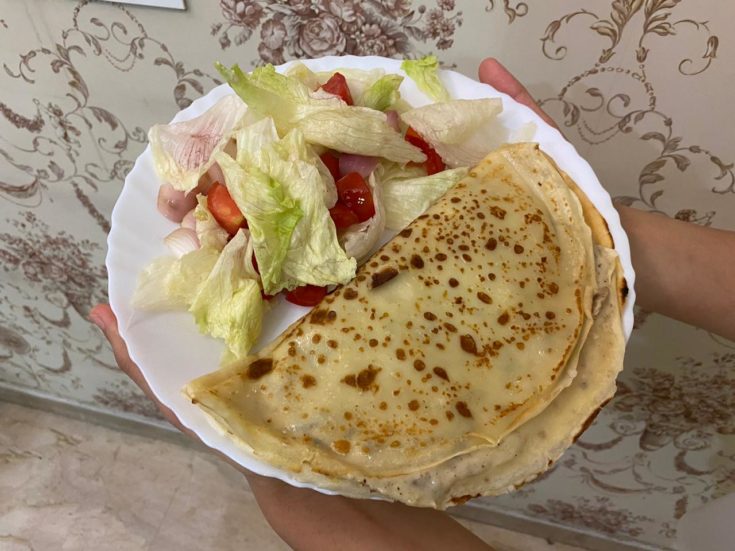 Ingredients
For the Batter:
• Refined Flour 375 g
• Milk 750 ml
• Whole eggs 6 nos
• Salt 2 g
• Olive oil 60 ml
• Sugar 40 g
For the Creamy Mushroom filling:
• Button mushrooms 2 boxes
• Garlic cloves 6-7 nos
• Ground black pepper 3 g
• Olive oil 15 ml
• Salt to taste
For cream sauce:
• Full fat milk 500 ml
• Unsalted butter 20 g
• Refined flour 20 GMs
• Cheese slice 2 nos
Instructions
Procedure to make the batter:
Combine dry ingredients in a mixing bowl -
Maida, sugar and salt. Mix well all the
ingredients.
Next, combine the wet ingredients in a separate
mixing bowl – egg, milk and oil. Beat them well until all the ingredients are mixed
well.

To the dry ingredients bowl make an insertion in the middle and pour half of the mixed wet ingredients into this.

Using a whisk slowly and gradually mix in all
the flour with the wet ingredients to make a batter (Watch the video to know
the technique).

Once you feel the flour needs more liquid to
form the batter pour in some more of the wet ingredients.

Pour the wet ingredients in batches to the dry mixture to form batter consistency and place it in the refrigerator for 30 minutes.
With the help of a tissue dipped in olive oil,wipe the surface of the non-stick pan.
On a medium flame pour the batter on to the pan to prepare the crepes.
Preparation of theCreamy Mushroom Filling:

To a pan add 15 ml of olive oil and allow it to heat.
Next add chopped garlic. Fry for some time.

Add the sliced mushrooms and sauté it well. In a while they will start releasing the moisture, at that moment add pepper and salt. Stir well and cook it uncovered.
Allow to cook until the moisture is completely evaporated. (Look into the video to know tips on this recipe from the chef).
And the filling is ready when the mushroom is
stirred until dry.
Preparation of CreamSauce

Add butter to the pan

Add the refined flour while you keep stirring along with butter in low flame until the flour is cooked.

Once the flour leaves the side of the pan, add cold milk and start stirring along with the flour.

Keep stirring until a desired thick consistency. Add 2 cheese slices when the sauce is not either too thin or thick.

Keep stirring until the sauce attains thick consistency and take it off stove.

Now place the mushroom mixture back on stove and add the prepared sauce to it.

On low flame keep stirring the mixture and cook for a minute or two on high flame.

Switch off and allow to cool.
Plating the Crepe:

Put back the mushroom filling back to the stove on low flame.

Heat a non-stick pan, add a little butter and spread evenly on the surface of the pan.

Place one of the prepared crepe on the pan and allow to cook in the flavor of the butter.

Spoon little of the warm mushroom sauce and place on one side of the crepe and fold the crepe

The delicious creamy mushroom crepe is ready to serve.