Kidney Bean & Rice Burritos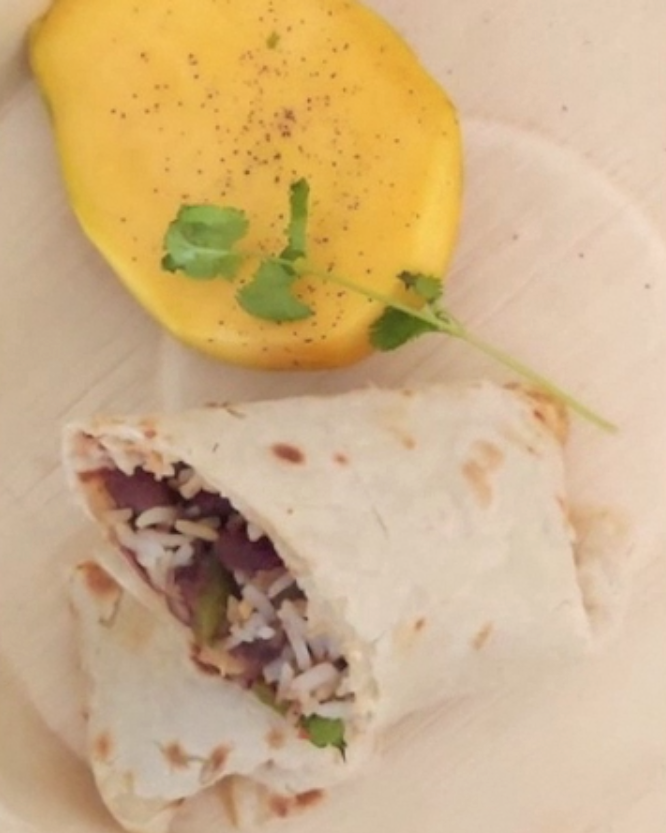 Ingredients
Cooked rice 2 cups (pre-cooked or leftover)
All-purpose flour 2 cups
Lime 2 (juiced)
Fresh cilantro 2 tablespoons (chopped)
Green Bell Pepper 1 Julienned
Chili Flakes To taste
Onion 1/2 (diced)
Garlic 3 to 4 cloves (minced)
Vegetable oil /olive oil 2 tablespoons
Black beans/ pinto beans 1 can (15-ounce) (drained)
Chili powder 1 tablespoon
Cumin 1/2 teaspoon
Hot sauce 1 tablespoon / to taste
Salt Optional / to taste
Black pepper powder To taste
Instructions
Pre-Preparations:

Put in mixing bowl all-purpose flour, a pinch of salt, hot water and a dash of olive oil.
Combine all the ingredients well to form dough and knead well for soft and fluffy tortillas. [Watch the video to know the chef's special tip on kneading of dough.]
Rest the dough by covering it with a clean wet kitchen cloth.

Preparation:
Place a pan on the stove, add some olive oil and allow the oil to heat up.
Add the sliced garlics and sauté well, no browning is needed.
Add the chopped onions and sauté well.
Add the julienned green bell peppers and sauté
well along with onions and garlic.
Add the beans, a pinch of roasted cumin, a pinch of salt, chili flakes and black pepper. Sauté all the ingredients together for a minute.
Add little water just enough for the beans to get cooked.
Stir once and on a low flame allow the mixture to be cooked with the lid on for four to five minutes.
Meanwhile in a mixing bowl add cooked rice, chopped fresh coriander leaves, a pinch of salt, pinch of roasted cumin.Mix all well.
Allow to rest and then squeeze out a little bit of lime juice and mix well. Place aside.
After 5 minutes check on the beans, when cooked well transfer them to a bowl and allow the mixture to cool.
Divide the dough into three equal portions. [Watch video to learn the rolling technique.]
Roll out flattened dough for the tortillas.
Place the prepared tortillas on a hot tava on a medium flame.
Cook well until soft and not crisp on both sides.

Plating the tortillas:
First place the cooked tortillas on flat surface.
Spread a bit of the seasoned rice in the center and flatten it out.
Spread a little bit of the bean mixture on top of the rice layer and end with a dash of a hot sauce.
Fold the tortillas from all sides, ensuring the stuffing being packed well intact. [Watch video to learn the Buritto folding technique,]
Cut them into half and place on a serving plate.
Enjoy the healthy kidney bean & rice Buritos.
Nutrition Information:
Yield:
4-6
Amount Per Serving:
Calories:

565
Total Fat:

6g
Carbohydrates:

107g
Protein:

22g