I was born and brought up in the City of Joy , Calcutta and I call myself a Punjabi Bong. I moved to Gurgaon around  2 decades ago and was not sure if I would be able to experience the Puja celebrations and festivities in the city. Thankfully since Gurgaon has a sizeable Bengali population , this festival is celebrated in many areas and societies and only gets better and bigger each year. This year , Durga Puja  is back with a bang have 2 years of muted celebrations due to covid .
Durga Pujo will be celebrated from October 1st – October 5th 2022
Must-visit Durga Puja pandals in Gurgaon
DLF City Durga Puja & Bengali Cultural Society -DLF 2
DCDP Bengali Cultural Society
is a socio-cultural organization based in DLF 2 Gurgaon. It is engaged with practice and propagation of Bengali culture and community building. A group of Probashi Bengalis in Gurgaon decided to join hands and bring in a slice of Bengal in the still new Millenium City in 1992 and thus, DCDP flagged off its journey of celebrating the Bengali in all of us!
Venue: Community Centre,DLF-Phase 2 , Gurgaon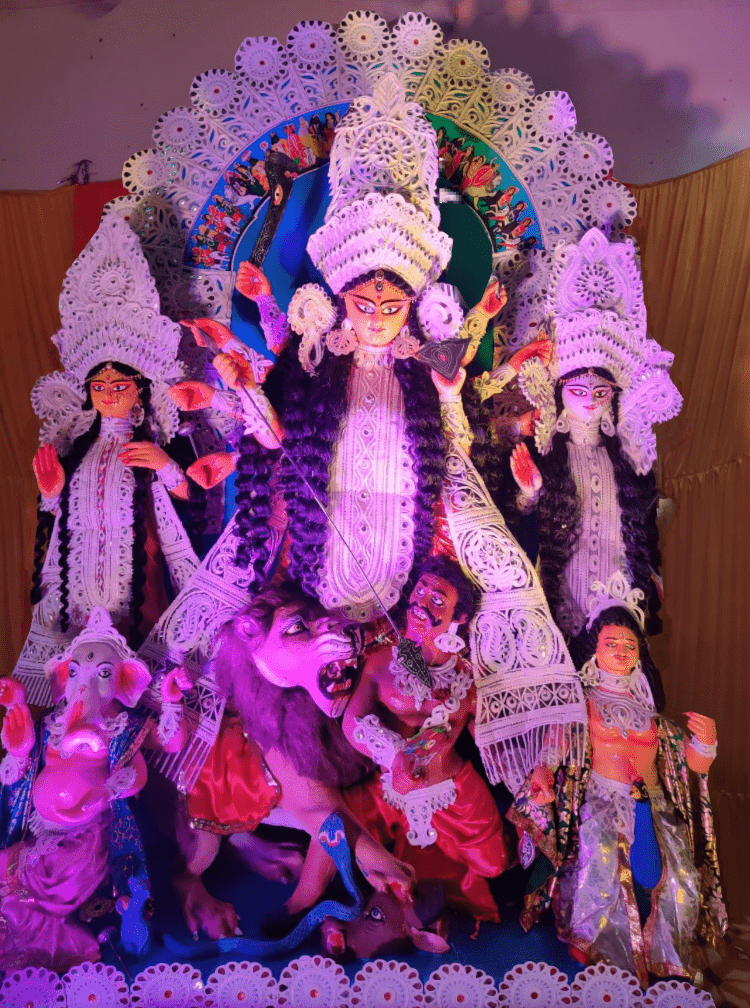 Kendriya Vihar Durgotsav Samity Sector 56, Gurgaon
Venue: Sahyog – Community Centre inside Kendriya Vihar condominium, Sector 56 ,Gurgaon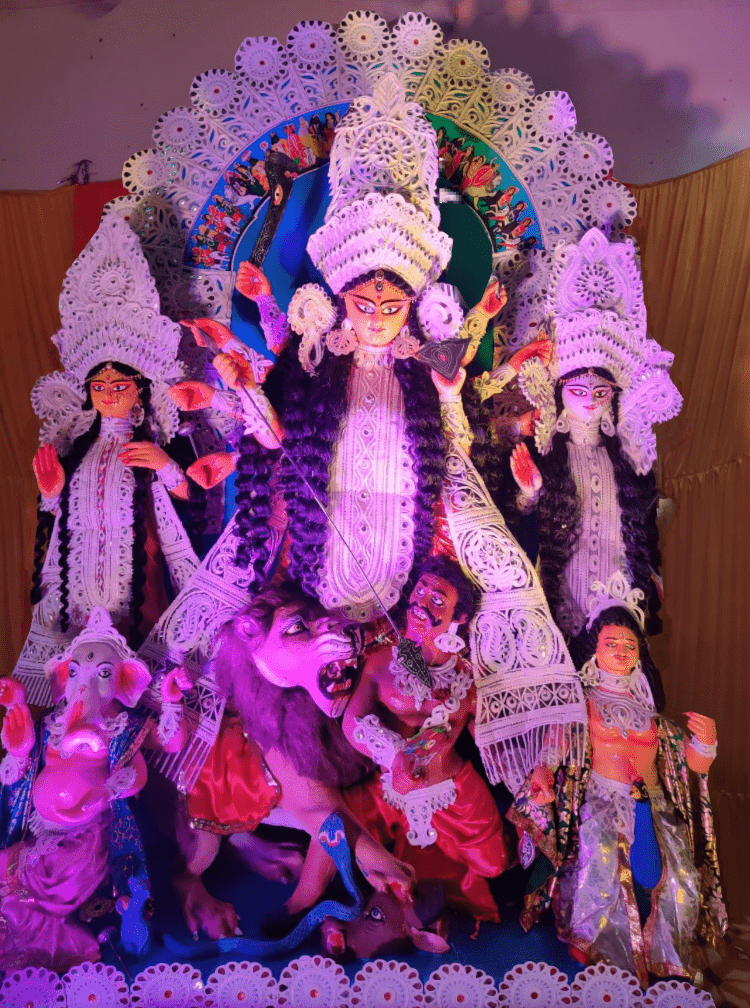 Sahashrabdi Durga Puja Samity, Sec 46
The Durga Puja festival is an extremely social and theatrical event at Sahashrabdi Durga Puja Samity Drama, dance, and cultural performances are widely held. Food is a huge part of the festival, and street stalls blossom.
Venue: Community Centre,Sector 46 ,Gurgaon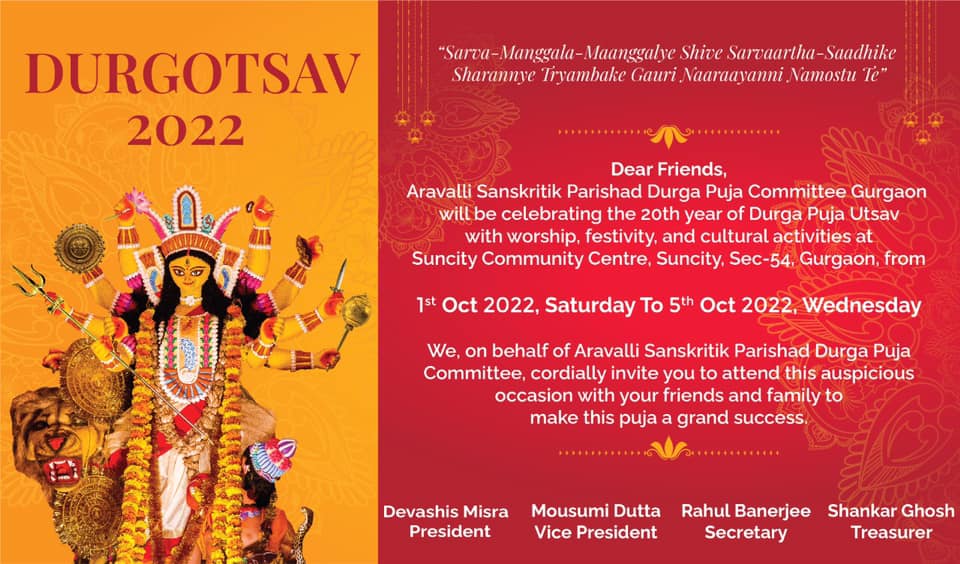 Aravalli Sanskritik Parishad, Sun City
Aravalli Sanskritik Parishad Durga Puja Committee will be celebrating their 20th Durga Puja with worship, festivities and ciultural activities
Venue: Suncity , Sec-54 , Gurgaon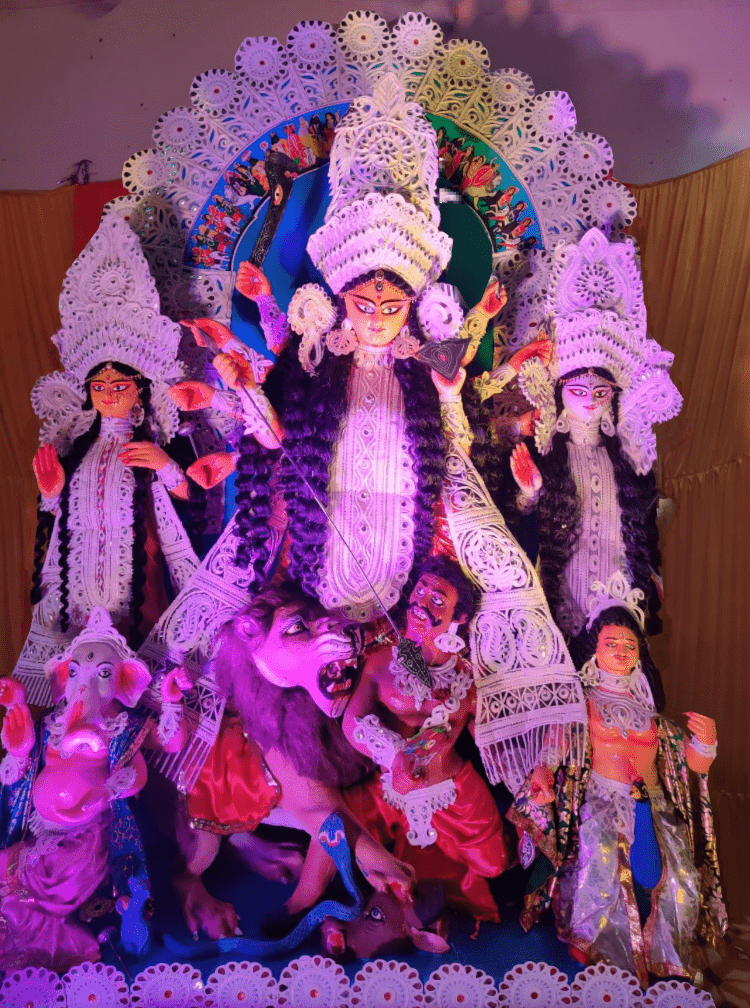 Ankur Cultural Society, Sec 56
After a gap of two years, Ankur Cultural Society (ACS) is organising the Gurgaon's only "Gharoa" Durga Puja. This Puja is simple and will make you feel nostalgic , and take you back to your days in your hometown
Venue: HUDA Community Centre ,Sec 56 , Gurgaon
Here's a list of some more Durga Puja Pandals in Gurgaon 
| | |
| --- | --- |
| Name  | Venue |
| Sarbojanin Puja & Sanskritik Samiti | D Block Palam Vihar |
| Maruti Vihar Sarbojanin Durgotsav | Sector 28, Gurgaon |
| Vatika City  | Community Centre & Park , Vatika City , Sohna Road , Sec 48, Gurgaon  |
| Saradiya Durgotsav Samiti | Sector 10 A , Gurgaon  |
| Amra Bangali Cultural Society | Sector 46, Gurgaon  |
| Garden City Bengali Cultural Society | Garden City, Sec 90-91 |
| Gurgaon Durga Puja Committee | Sec 9A mCommunity Centre, Gurgaon  |
| Valley View  | Central Sports Park,opp Tower6, Valley View Estate , Gurgaon Faridabad Road  |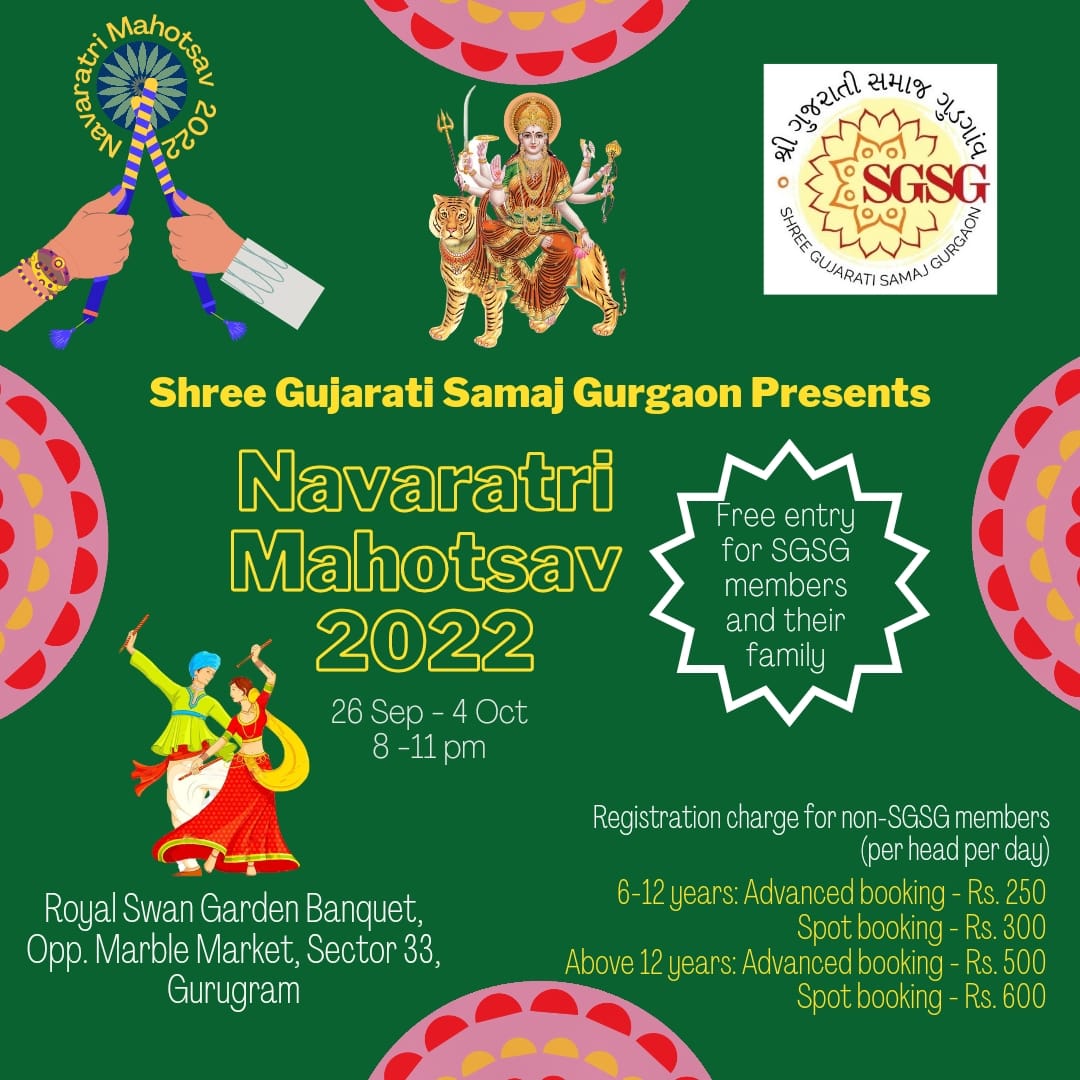 Navratri Mahotsav 2022 by Gujrati Samaj Gurgaon
This event is highly reccommended by our members and a dandiya pro Shailee Mayur Shah and Avani Mathia Vora, who also a part of the Governing Body of Shree Gujarati Samaj Gurgaon,
Shree Gujarati Samaj Gurgaon is a non-for-profit social welfare society formed for the advancement of Gujarati Culture, Heritage and Values for its members and non-members alike. The Navratri Mahotsav 2022 is being organized from 26th Sep-4th October, 8pm-11pm
Venue:  Royal Swan Banquet & Garden, Marble Market, Sector 33, Gurgaon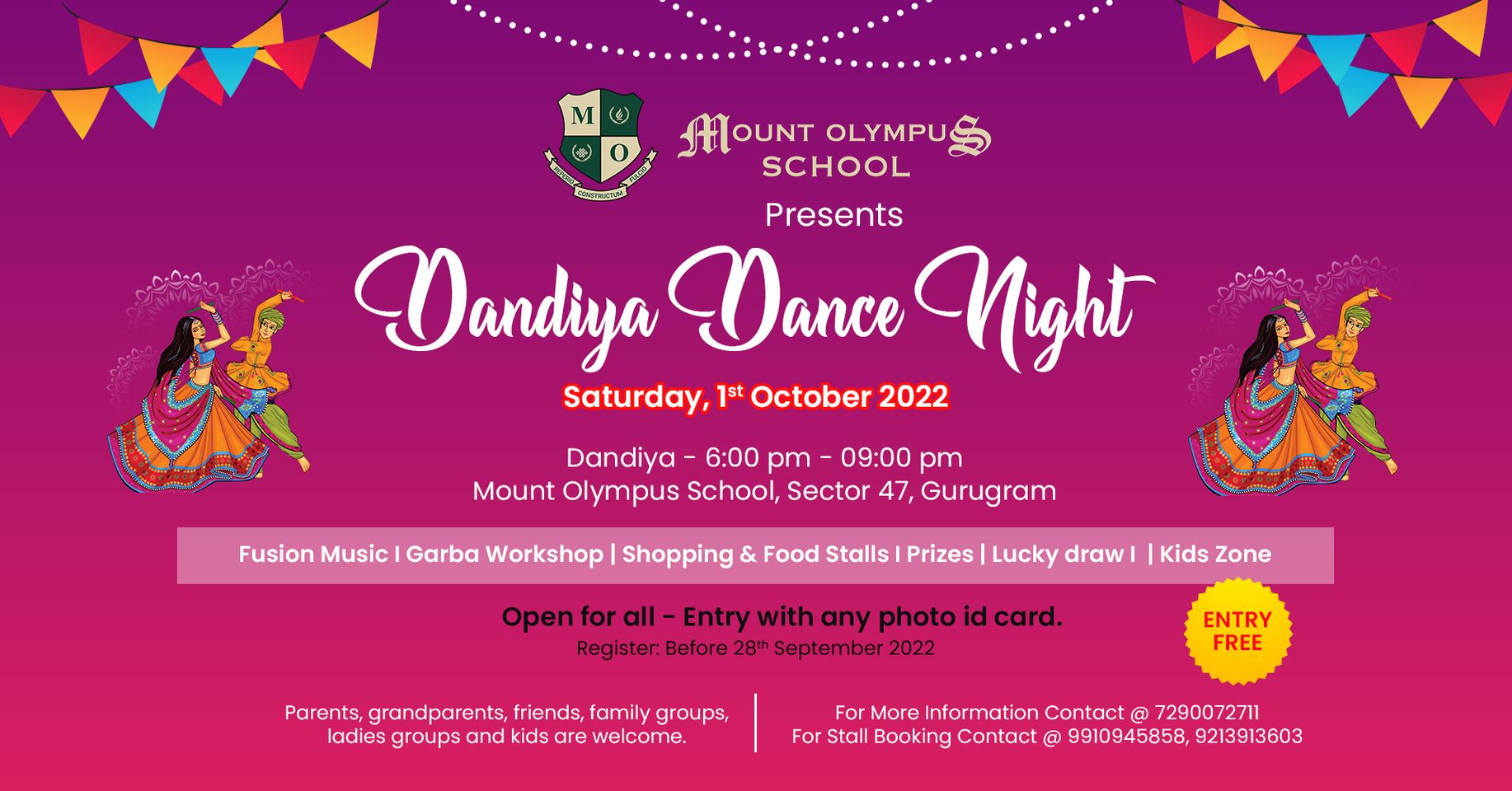 Dandiya Dance Night at Mount Olympus School
I reccommend this one as have attended this earlier 
Time to put on your dancing shoes and immerse in the colours of festivities friends and family!
Mount Olympus School
is back with its festive extravaganza – "Dandiya Night" in association with the 'Swayam Siddha' foundation by Ms Alka Dalal.Fusion Music, Garba Workshop, Shopping & Food Stalls, Prizes, Lucky draw, Kids Zone and much more. Do join the fun on 1st October , 6pm-9pm 
Venue:  Mount Olympus School, Sec 47, Malibu Towne, Gurgaon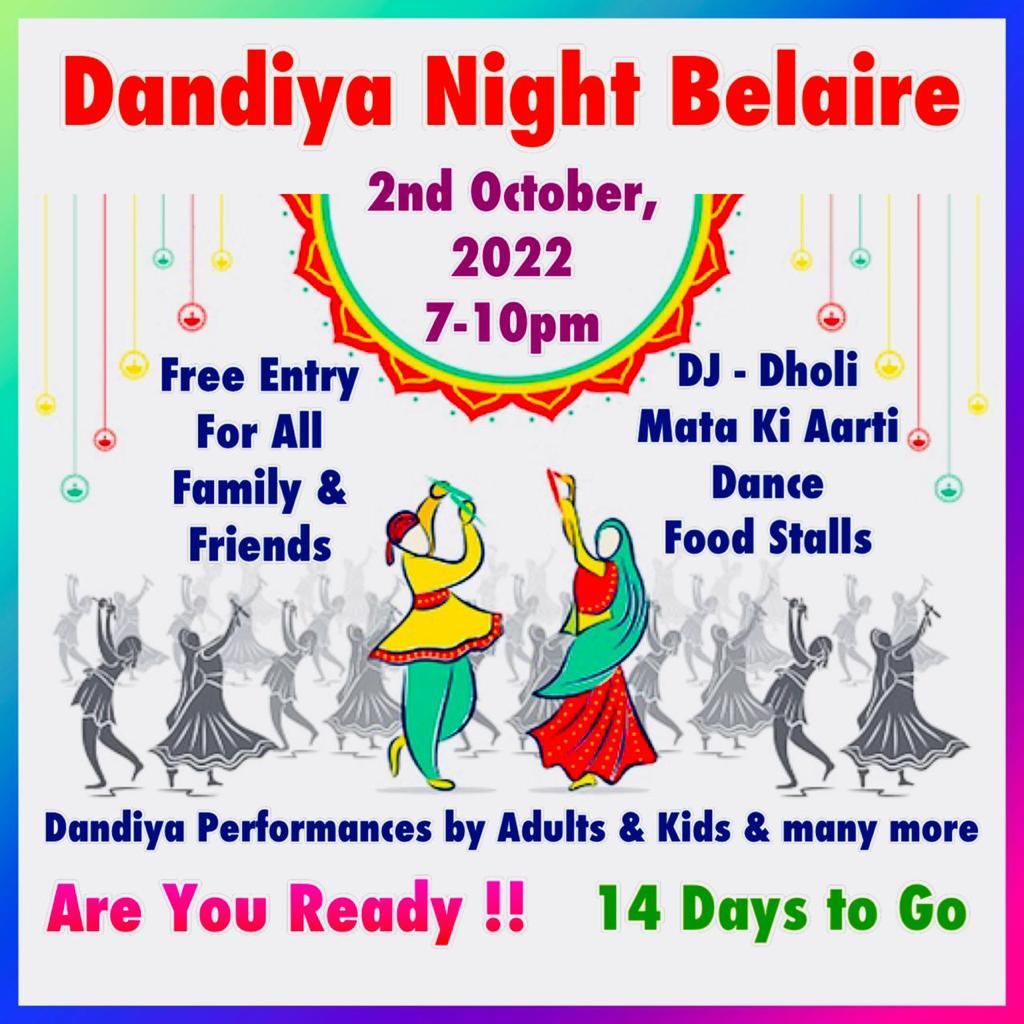 Dandiya Night at Belaire
Shailee also recommends the Dandiya Night at The Belaire
The Dandiya Night at The Belaire , will have loads of fun including DJ-Dholi, Mata Ki Aarti , dance and food stalls on 2nd October ,7 pm-10 pm . There will be dandiya performances by both adults & kids too 
Venue: The Belaire , Golf Course Rd, DLF Phase 5, Sector 54, Gurgaon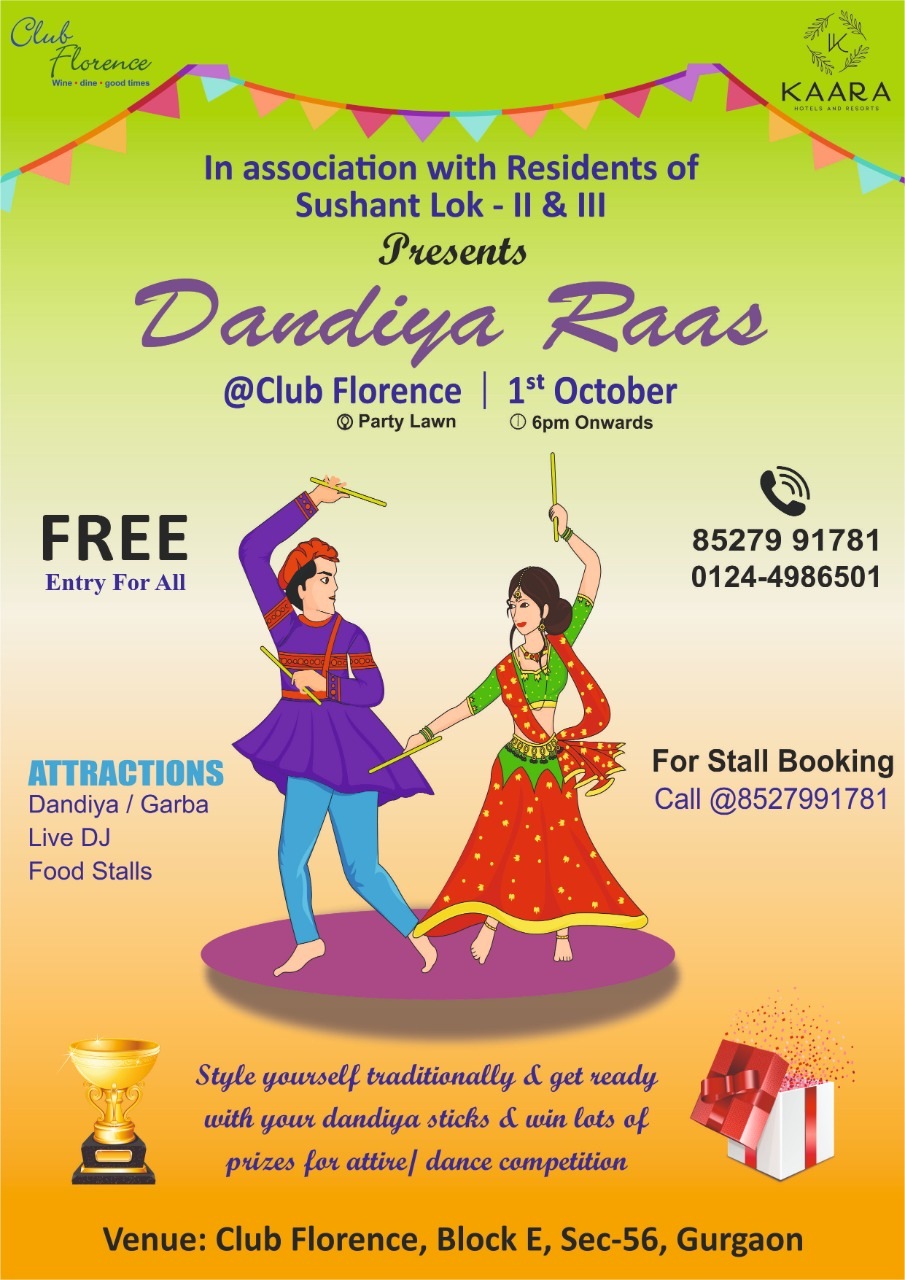 Dandiya Raas at Club Florence
Style yourself traditionnaly and get ready with your dandiya sticks . There are also many prizes to be won for the best dancer and attire . there will be Live DJ and food stalls 
Venue: Club Florence, Block E , Sector 56 , Gurgaon
Here's a list of some more Garba & Dandiya in Gurgaon 
Date 
Venue
29th Sep
DLF 2 Community Centre 
Tulip White Sec 69
30th Sep
 Times Residency Sec 63 
Bestect Park View Spa , Sec 47 
Park View Spa Next , Sec 67 
DLF Icon 
1st Oct 
New Town Heights, Sec 90 
Regency Park 2 , DLF 4
Ireo Geand Arch , Sector 58
2nd Oct
Wellington Estate , DLF 5
Silver Oaks , DLF 1
3rd Oct
Vatika India Next, Sec 83
4th Oct 
Vipul Belmonte,Sec 53
Parsavnath Greenvilee, Sec 48
5th Oct
DLF Park Place ,DLF 5 , Sec 54