More than anything else, happiness looks gorgeous on you – Anonymous
We bring to you four gorgeous women who talk about some traditional styles that can be adapted during this festive season. What matters most is how comfortable and easy you feel wearing them.
Traditional Bengali saree draping style which is known as – "Atpoure" (meaning simple) style  has always fascinated me. I grew up seeing my Mammam (grandmother) draping her saree in "atpoure" style and I was always intrigued to drape saree like her.  So my first lesson of saree draping was from my grandmother when I was a kid and those were the small sarees for kids.
"Atpoure" as in the simple traditional style of saree draping was once something associated with the elderly only. But thanks to media and bollywood tollywood, it has made a comeback as a fashion statement! Come Durga Puja or a fashion show girls look forward to drape saree and style their look in this traditional Bengali style. 
Here are few tips for your next plan to drape atpoure style
# Sarees or fabrics which are good for this particular style are: Cotton, Silk- with border , Linen, Maslin , Banarasi etc. 
Sarees which are not compatible for this style are- Chiffon, Crepe, Georgette etc. 
# This particular style doesn't require any pleating only folds and wrapping and the styling should be in a way that the saree border and pallu are done nicely as these two get the attention! 
# This is a traditional style of saree draping hence will be incomplete without proper accessories – for  Durga Puja or wedding – gold or silver heavy jewellery with Sankha-Pola and bangles and to complete the traditional look a nath works wonder! 
# this style of saree draping goes really well if one wears "aalta" on feet. But footwear one needs to be mindful. Not very chunky and western style footwear if you want to create a traditional look , but if want to add fun n quirk – add  knee length boots and wear saree a bit short to make your boots visible for that funky look! 
# For a traditional bong look accessorize your hair with low bun and gajra . And complete your look with Kohl / kajal and big red bindi. 
You can take a Gujarati out of Gujarat,but you cannot take the Garba out of a Gujarati
Growing up in Bombay, a hardcore urban environment, my idea of Navratri celebrations revolved around the giant pandals, and fields turned into Garba and Dandiya ground. Singers Falguni Pathak, Preeti & Pinky, Bhumi Trivedi, Roop Kumar Rathod along with their teams would be hosting Garba-Dandiya nights where you get hold of your favourite dancing partner and sway to the tunes of good Gujarati folk music.
When we landed in Gurgaon way back in 2008, Navratri was limited to Bhajans, Maata ki Aarti, Kanjak, Prashad and that's it. Really? Aur Kuch Nahi!!!
Today, being a part of the Governing Body of Shree Gujarati Samaj Gurgaon, I feel so proud and happy. One to keep the Gujarati culture alive for people who have to migrate for work and family, and also being able to teach my daughters and many other kids the fun of Garba and Dandiya.
I just love dressing up for Garba & Dandiya Nights .I am sharing some of my favorite looks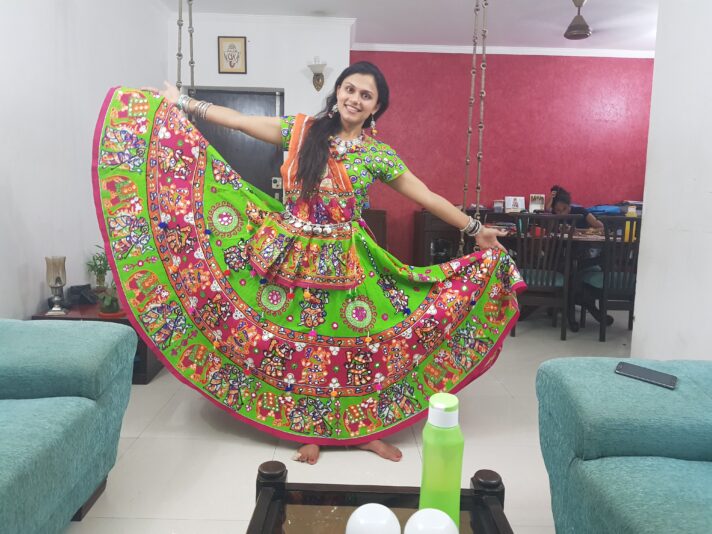 This is a full gherao Kutchi work Cotton lehenga, accessoried with light weight oxidized pom pom jewellery.Dupatta keeps flying off while you dance, so it is held in place with a kamar bandh.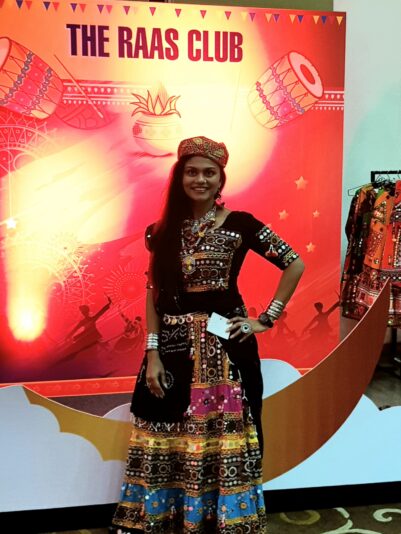 This was a winners dress up when I participated in danida competition, I had to add a bit more than normal lehenga choli. So added a prop Topi, it helps to hold your hair in place and also looks elegant. The layered lehenga, adds to all twirling steps.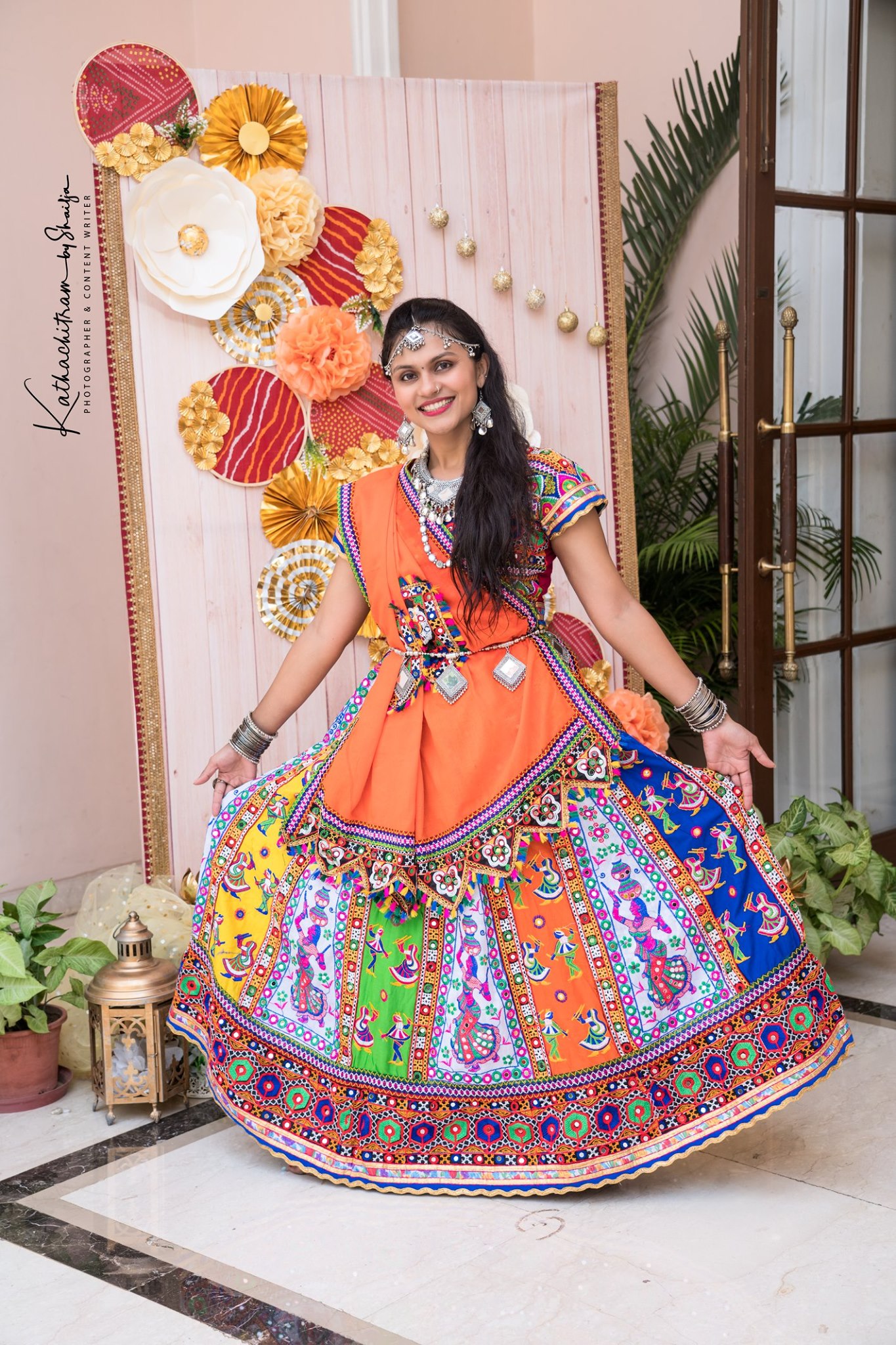 My performance look at GurgaonMoms' De Taali Event a few years ago. I am wearing a multicolour vibrant cotton chaniya choli. I added a matha patti, a long and a short necklace and not to miss out my long danglers.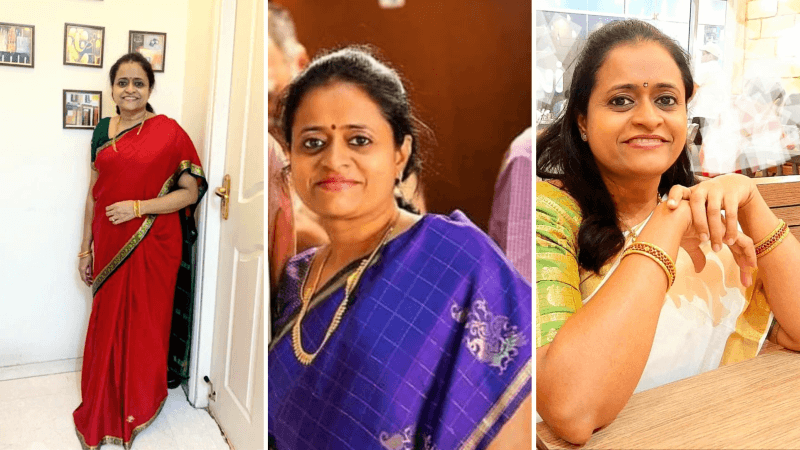 Here are  my three different pics   wearing 3  different sarees – A Kanjeevarm, a Mysore silk , & a Kerala cotton with a gold zari border  
Traditional South Indian look for any occasion / puja /festival  is all about draping traditional  silk sarees  like Kanjeevarams & Mysore silks or Silk cotton sarees !  A simple hairdo to go with these sarees is a  neatly tied behind ponytail or bun   or plated one  and  wrapped with thick Jasmine flower strings . Jewelry is traditional studs and jhumkas and a thick  chain or small necklaces   in gold color or temple jewelry .Bangles  in gold color /temple jewelry are compulsorily worn! . The look is complete with a big maroon color bindi and eyes lined with kajal or liners with  subtle color lipsticks during puja and a bit  bright during functions or festivities  .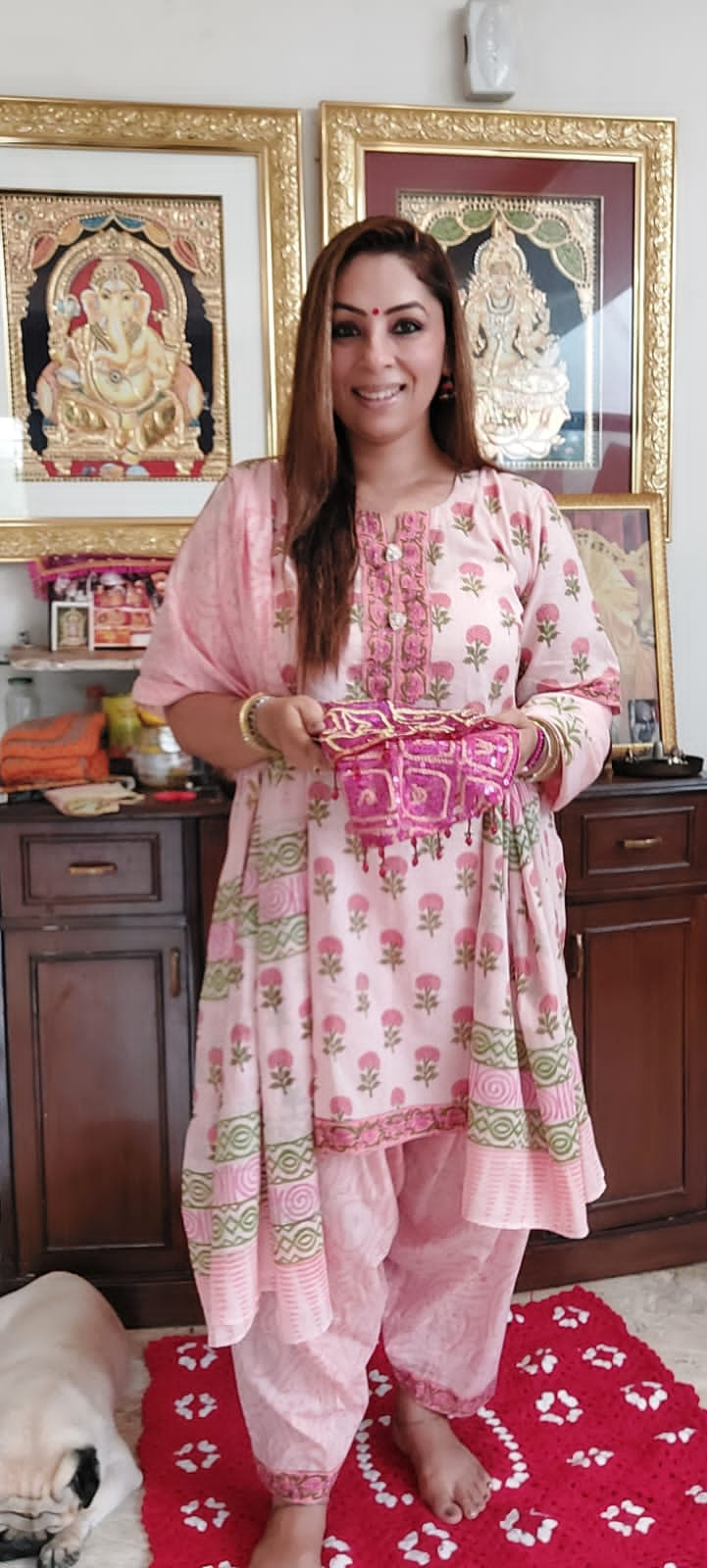 Simple and comfortable is the new trend
Here I have styled and gotten stiched a simple cotton fabric into a salwaar kameez which is very apt for coming pooja season. The cut and style makes it so comfortable that one doesn't think twice before wearing it. The shirt and salwaar are short which makes them trendy. Duppata can be taken on one shoulder to make it look more ethnic and can be worn around the neck like a scarf to make the look of the attire more contemporary. Pockets in the salwaar are a big plus point of this outfit as it becomes super easy to carry phone, keys and little cash. Completing the look with jaipuri meenakari jhumkis and bangles, a sindoor bindi and lots of kohl in the eyes. VOILA! YOU ARE ALL SET FOR THE NAVRATRI POOJA!