The ways of teaching and learning have evolved over time. There has also been a tremendous change in how the children of the current age learn as compared to how children learned years ago. Teaching and learning is no more a one way process but an interactive medium of gaining knowledge. Pre-schoolers are quick learners and when facilitators use innovative methodologies of imparting education, it brings out the best in these little children.
There are multiple ways one can experiment with when it comes to facilitating learning in the early years. From hands-on learning, using audio-visual ways to incorporating activity based techniques, one can explore numerous combinations that may work for different sets of children.
One such fantastic tool to work with in the early years is by making use of kids activity sheets. These can be made a part of almost anything that you want your little ones to learn. We at Hp Print Learn Center (PLC) bring to you a comprehensive collection of worksheets for 3-12 years. All Hp PLC worksheets for kids have an innovative and fun approach to learning and have been designed by experts in the field of education.
Following are the top 5 benefits of kids activity sheets: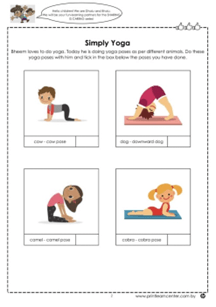 1. They encourage learning without letting the learners know that they are actually learning. Learning through fun worksheets for kids makes the concepts interesting for them and at the same time reinforces the concepts each time with a different, unique approach. Take this worksheet here for example. If the same activity was carried out with the children only verbally, it may not have been as fun as it would be for children to try out the yoga poses then come back and tick all the boxes to complete the sheet. Such worksheets that involve movement excite children to quickly finish the activity.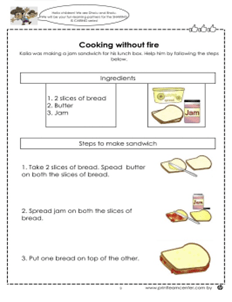 2 .Kids activity worksheet are visually appealing. They not only instruct the children to complete a particular task but make it exciting by accompanying them with attractive visuals. When little children look at these pictures, the task not only becomes interesting for them but also helps in their comprehension of written text. Let's look at this worksheet. The pictures given next to every step of preparing a sandwich makes the activity easier and understandable for the children to do it more efficiently. Next time the child is in the Kitchen, he will also be able to easily spot and identify these ingredients as well as value the food that is being made. Thus, kids activity work sheet is a superb way to also inculcate values!
3. HP PLC Worksheets for kids help in developing independence and confidence in learners from a young age. The children learn to follow multiple step instructions. By doing this, we also encourage them to be risk-takers and take ownership of their learning. Kids activity sheets are mostly used in the reinforcement stage of learning and therefore, it pushes learners to make efforts to complete a task all by themselves. When provided with such opportunities, these tiny explorers almost always surprise us with the outcomes of their learning!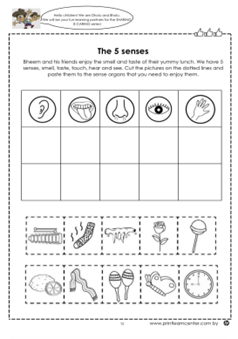 4. Fun worksheets for kids are not limited to reinforcing one concept at a time. They are a great tool to work on and reiterate multiple concepts at the same time. One can focus on developing more than one skill as well through these activity worksheets for kids. Let's look at this worksheet of 'The 5 senses'. By indulging in this activity, children gain knowledge about the concept of 5 senses and develop their logical thinking skills. They also have the opportunity to develop their eye hand coordination while pasting the pictures and fine motor skills through scissoring.
 5.The Hp PLC kids activity sheets pdfs are easily available and accessible. They are easy to print and take care of the minute details that we may miss out on. They can be found on a range of educational topics, for the age group 3-12 years and are a source of constant practice. They are fabulous in building a consistent recapitulation habit especially in young learners. Children also learn time management skills by regularly using these fun activity worksheets for kids and learn to focus on a task at hand as well as finish them speedily.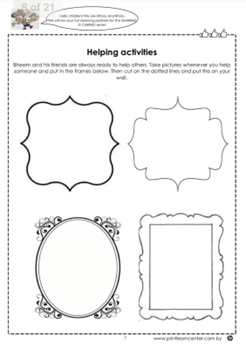 Kids enjoy engaging in fun activity worksheets. They are a useful resource for parents and teachers and are a wonderful way for children to be happily engaged.
At Hp PLC, we are aware that understanding a concept can take time and can happen in stages. Therefore we follow an innovative LAR approach (Learn Apply Resolve) that helps develop critical skills in children. First, the children "Learn" skills they then "Apply" them in real life and finally parents step in to help "Resolve" common doubts and roadblocks with the help of our insightful tips & techniques.
These activity worksheets for kids enable them to build their foundational skills in math, literacy, science as well as social skills. 
There couldn't be a better way for children to utilise their time than engaging in meaningful fun learning lessons!