MY CANCER JOURNEY
#YesICan2021 #fightbackcancer2021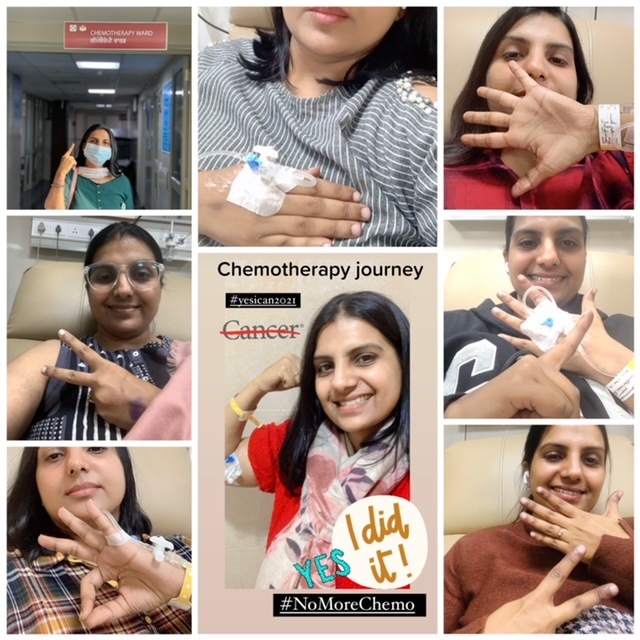 My name is Gurvinder Kaur, I'm a 35-year-old female – with a Stage IV Colorectal metastasis to Liver & Breast Cancer Survivor, International Social Activist, Celebrity Chef, India Director of a UK based NGO Jaikara.org.uk & a Founder of a women leisurewear brand named NEKKI OFFICIALS where we support &  empower women tailors who had tough times during Covid to have a better livelihood and sustainable earnings. 
Somewhere, when I was setting up NEKKI, I compromised my health in between and had a drastic weight loss of 10 kg in just two months. I also had anal bleeding, which I suspected as piles (for which I was being treated as well).
In Feb 2021, when my body started giving severe alarms, I decided to visit a doctor in Amritsar who examined me and initially diagnosed piles/ fissure. Again, I got a whole abdomen ultrasound and full body test, everything was normal except hemoglobin dropped to 7gm. Bleeding continued for a while and then the doctor suggested I should go for a colonoscopy to find out the actual reason. We had a wedding in the family and I was not able to get the tests done for a week. I could sense something was wrong.
16 MARCH 2021 (THE WORST DAY OF MY LIFE)
After attending the wedding, I started bleeding vigorously and I had to get an urgent appointment for a Sigmoidoscopy. While doctors were doing the procedure, I saw a big tumour on the screen. The doctors kept quiet and asked me to get a biopsy. It was an indication that something is not right but I didn't want to believe my eyes or ears at that time. I asked my doctor to be honest with me as I had to share the news with my family and had to be mentally prepared for it. The doctor said that most likely it is cancer but will confirm after biopsy, MRI, CT SCANS, PET SCANS, BLOOD TESTS and what not. We got the tests done and doctor confirmed that it's colon cancer. Biopsy report was awaited.
I called my brother and informed him. I told him not to tell mom as she's a BP patient and lives alone in Delhi. They visited me the next morning and took me to my brother's house in Chandigarh to take a second opinion. It was STAGE IV COLON CANCER that had metastasized to the liver, lymph nodes and breasts.
Next morning, we left for Delhi where we got all the tests again. Sadly, the reports were almost the same. The doctor said there is no scope of surgery and I had almost two months to live. The cancer had spread and I could get into a multiple organ failure if I delayed the treatment. The treatment suggested was scary and I refused it. I decided to spend precious time left, with my daughter. Though my family did not agree but they couldn't force me.
I tried multiple alternate treatments and but nothing worked for me. My condition kept getting from bad to worse. I was taken to the hospital in Amritsar where the doctors were shocked to see me and asked me, to fight this journey for the sake of my daughter. At last, I decided to start my cancer treatment for my daughter. I started documenting my treatment and the efforts that my 7 year old daughter was putting in for me. What my daughter did for me in the toughest phase of my life, is incredible. I was documenting everything, just in case I couldn't make it, my daughter would know that her mother fought like a tigress, and she should be proud of what she did.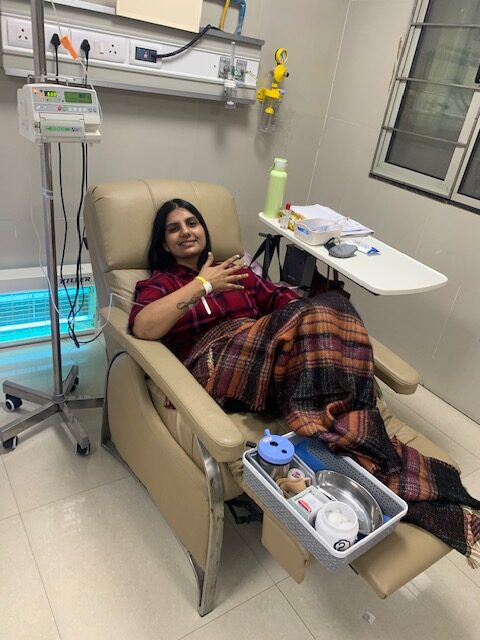 Finally, my chemotherapy treatment started in Jalandhar on 13 July 2021. I donated my hair (before the side effects started) to HAIR FOR HOPE INDIA to make wigs for Cancer Patients. I had donated my hair earlier as well, but I could understand the pain and fear as I was in the same boat now.
Chemotherapy had many side effects like changes taste buds, pain, excessive sweating, sensitive to extreme temperatures, diarrhoea, swelling on face and some more. But it was totally worth it. In Jan 2022, I was in complete remission. I was tumour free. But I am still on my healing journey and it will take some more time to get fully recovered. It was an impossible survival journey that I managed to conquer. I wish all women would make their health a priority and get screening done if they feel something is wrong.
Inspiration and motivation are the key elements in healing.
Gurvinder Kaur is a stage IV Colorectal cancer survivor. She is a social activist, celebrity chef, Director of a UK-based NGO Jaikara, and founder of a women's leisurewear brand named NEKKI Officials.