After more than 4000 fans lined up to enjoy the Season #2 of Green Wheels Bike Festival (GWBF) in Jan'17, it is time to gear up for GWBF's Season# 3 with a promise of more excitement and action at Ambience Island Circuit on 4th Feb 2018. Season# 3 of festival is Presented by Candor Tech Space, one of the leading corporate hubs in the city and powered by Decathlon.
GWBF, renowned for its commitment to exciting experiences is definitely not to be missed whether you are rider or not. Number of Elite riders in road & MTB category from across north India come to compete on the CYCLO CIRCUIT . Amongst the biggest fans are the teams and riders who comes from various prestigious corporate houses to storm the circuit in CORPORATE TEAM RELAY category, where they ride lap by lap passing their bike to the other team member. The action becomes even bigger with enthusiasm of hundreds of Kids at the JUNIOR DUATHLON participating in variety of competitive and fun format along with with their parents. Apart from Delhi/ Ncr school students, it was great to see kids coming all the way from Shimla in Season #2 and also winning the Duathlon at the festival.
Keeping its promise for more and more excitement Season# 3 comes up with a new category & experiences:
WHAT'S NEW AT SEASON #3 :
1)   LEADERSHIP RIDE: Imagine the enthusiasm and energies on the circuit when the CEOs and Senior Leaders of MNC's take the charge to set an example for their teams by riding on the circuit
2)   OFF ROADING : To add on delight for MTB category, an Off-roading patch in the circuit has been added which will definitely fuel up the bellies to retain their position and time.
3)   SPEED CIRCUIT RUN : Big piece of news for running enthusiasts as the festival announced one of its kind Green Wheels CIRCUIT RUN (7km) with a road & off road experience.
4)   HER RIDE: A category inviting all women to come forward and join the wagon for this amazing joyride around the circuit.
5)   CALLING ALL RIDERS: "This is an open invite for all riding groups and riders to ride to the festival on 4th Feb and join this big party in their own jerseys and show the strength of the community which is ready to make a difference in the our smart cities" from the ambassadors of the festival. To name a few Gautam Verma, Nitin Yadav, Amit Updhayay and more.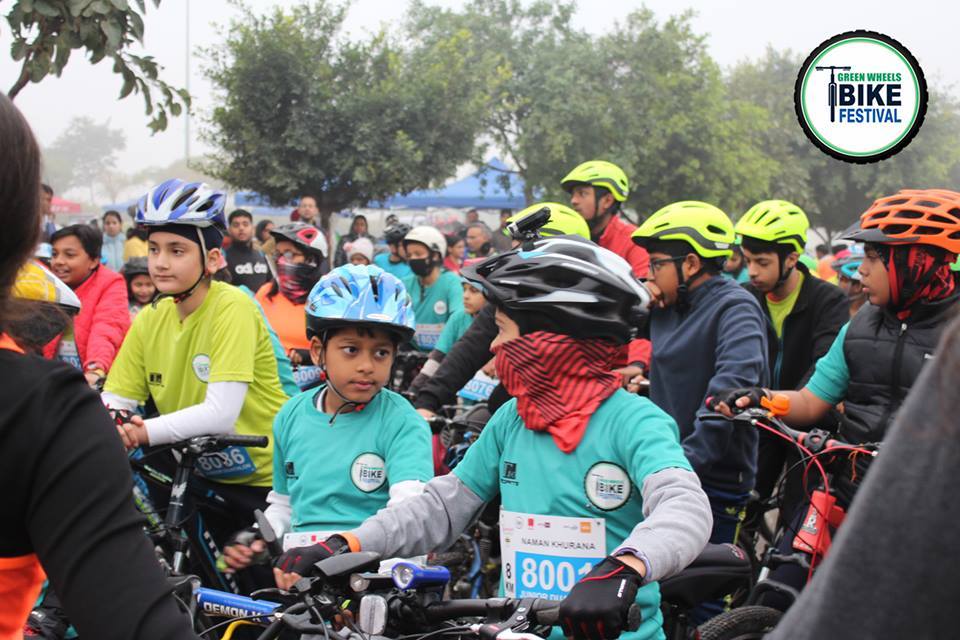 Doesn't matter you own a bike or not, the festival has is for you. You can book the bike on rental from festival website or from the rental station at the venue to enjoy the greenest circuit of NCR without any stress for traffic.
For the ones who are not riding and come to cheer their loved ones or to explore biking the festival arena promises a great entertainment to visitors of all ages; from the Family Zone, Food Street, Bike Expo, Music, Active workouts, Photo Ops and more to engage in.
"Long live the smiles the festival gives to the city. We aim to make people experience the joy which cycling can bring to our cities and lives. With great support from our partners we plan to take the festival to the other cities to Re-bin this Revolution" said Alok Nagpal, Festival Director.
This is an initiative of Rock Castle Entertainment Pvt Ltd. and is supported by Municipal Corporation of Gurgaon, Haryana Police, Ambience Group, Medanta and more.
To register log on to www.greenwheelsfestival.in or walk in to nearest Decathlon stores. Join festival on Facebook to catch up all the action at www.facebook.com/greenwheelsfestival
Every participant registering for rides and races will get a Festival T shirt, Personalized Bib, finisher Medal, Refreshments, Hydration and a certificate
#GreenWheels #RebeginTheRevolution#MomSureCan Cycle away!!