After the immensely overwhelming response to my previous article I took this Salad thing head on. I have been furiously innovating, inventing and documenting these babies. As always, my most fancy ingredients are easily available and inexpensive. I truly believe in using fresh, seasonal produce. Hope you enjoy them as much as I did.Here are some seriously simple salads for this winter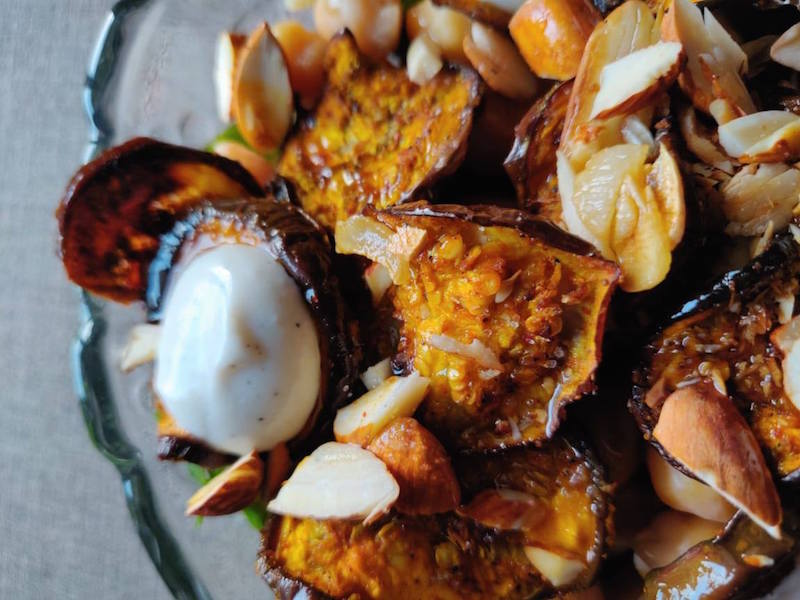 Amazing Aubergine ( Baigan ) : So when I got great feedback on using karela ( bitter gourd ) in a salad I figured I must find a way to use Brinjal in a salad. Googled and then came up with this. On a bed of washed and diced raw spinach , scatter some boiled chickpeas . Slice small brinjals and roast in a pan with little olive oil. You can add salt , pepper, turmeric and red chilly powder. Lay these on top. In olive oil I roasted some finely chopped garlic and drizzled it on top. The dressing is hung curd with lime juice, garlic paste , salt and pepper . Additionally roasted almonds for some crunch.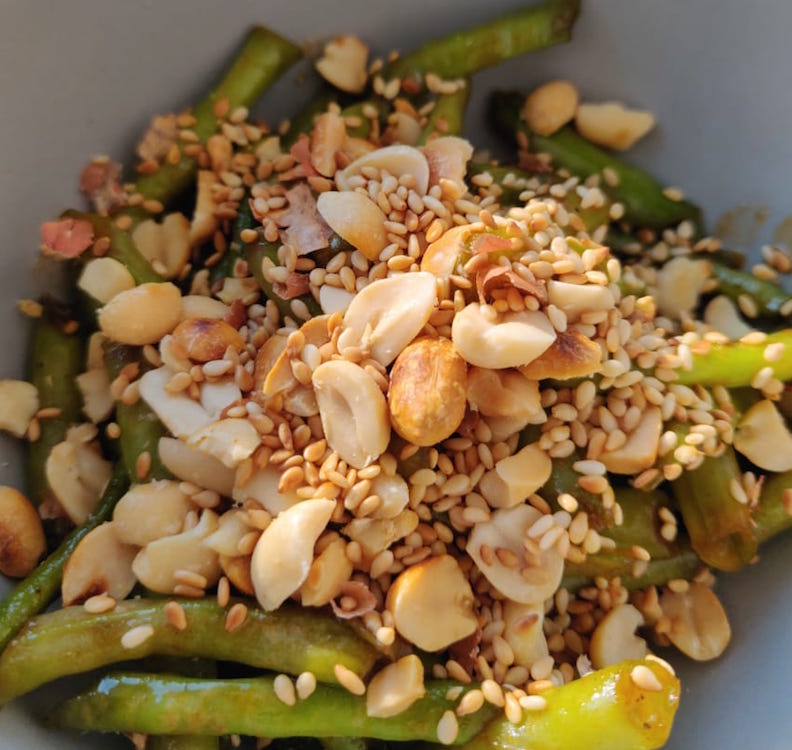 Beans are boring ? : No they are not! We have an abundance of fresh, crisp beans of various varieties available no. Blanch them in boiling water. Toss with olive oil, ginger paste, a dash of soy sauce. And peanuts. Garnish with toasted sesame seeds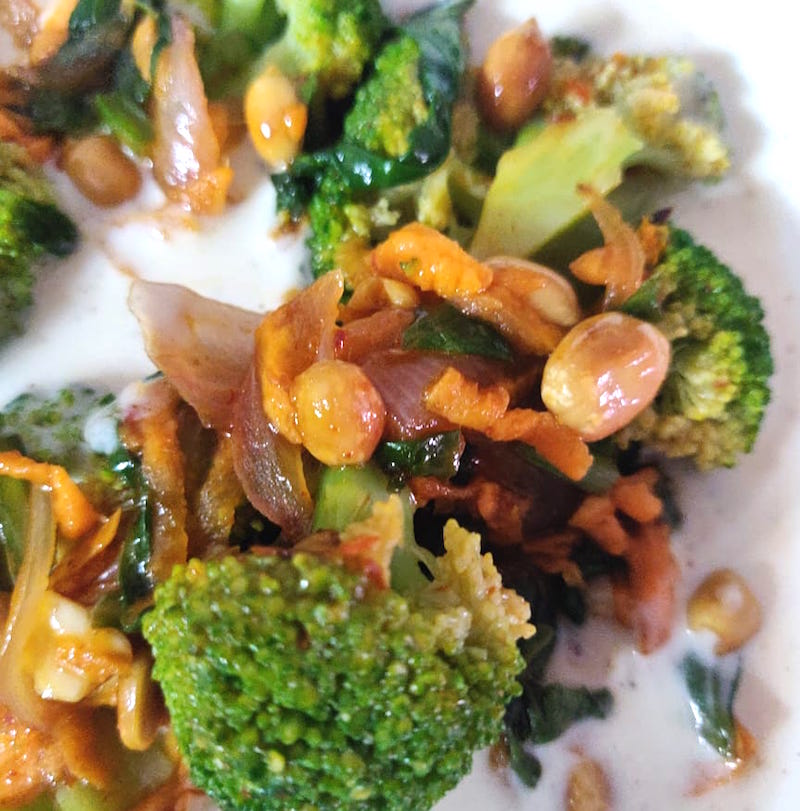 Broccoli Blast : I knew cheese went well with broccoli. Yet I wanted a salad and not a main course. So par boiled the broccoli. Boiled milk… added some cheese to it, salt and pepper. Then thickened it was a tsp of whole wheat flour mixed in 3 tbsp milk. Sautéed one finely sliced onion, the broc,peanuts and grated carrot. I drenched the broccoli with this milk mixture to which I added some peri peri sauce . This was comforting and super healthy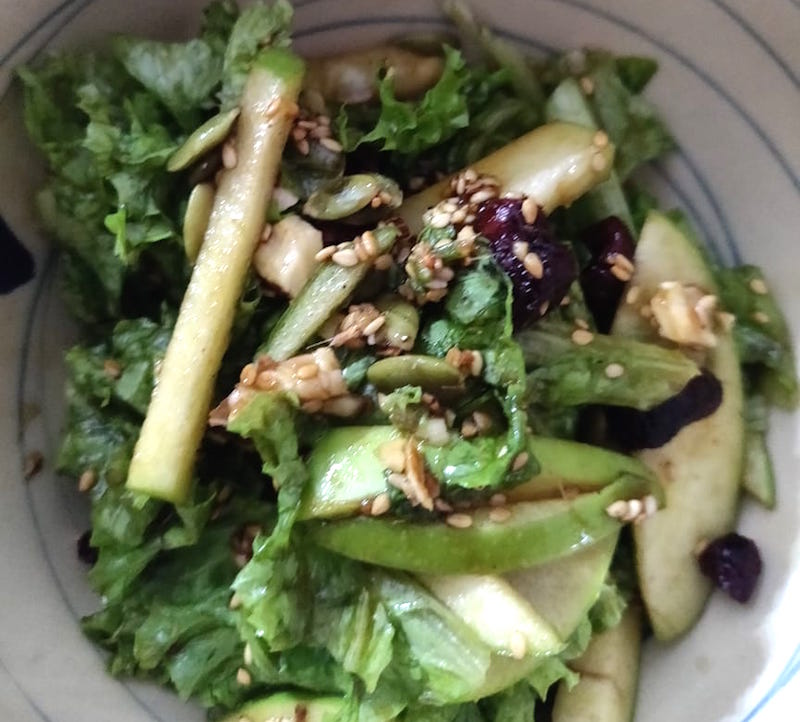 Cran' it up : Cranberries are a super food. This salad is iceberg lettuce, sliced green apples, cranberries, toasted almonds and sesame. The dressing is lime, honey , soy and ginger Salt and pepper as well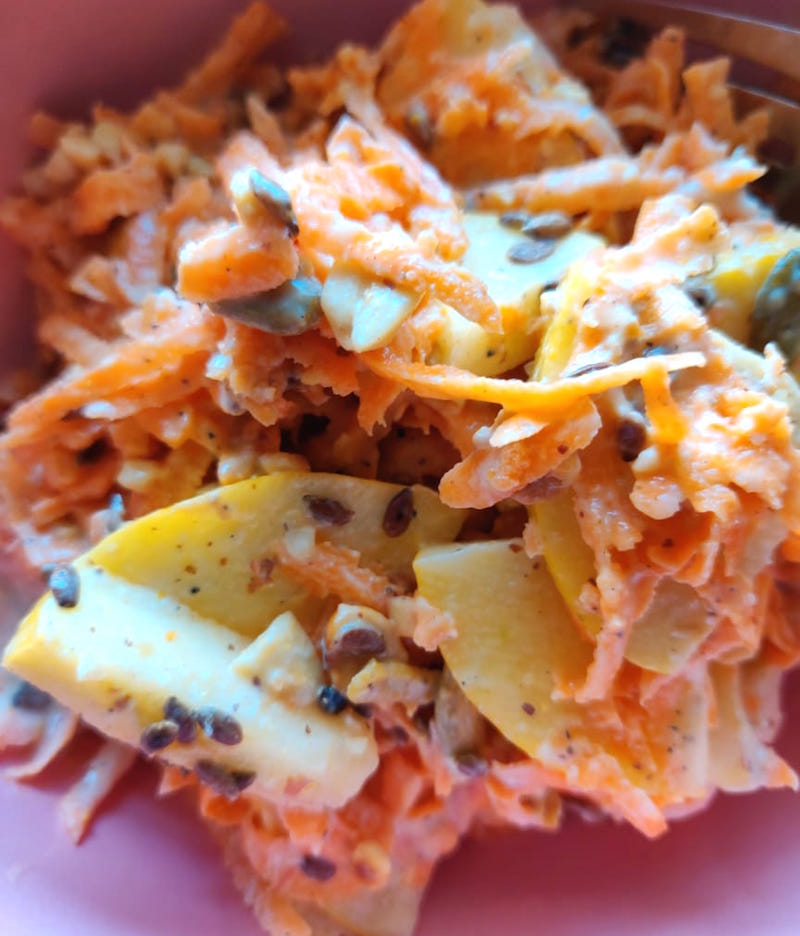 Crunchiness: Who doesn't love a good crunch in food. Especially salad. This one has golden apples dices, grated carrots and flax seeds. The dressing is hung curd, mustard sauce, salt and pepper. As the apples were sweet I did not add honey .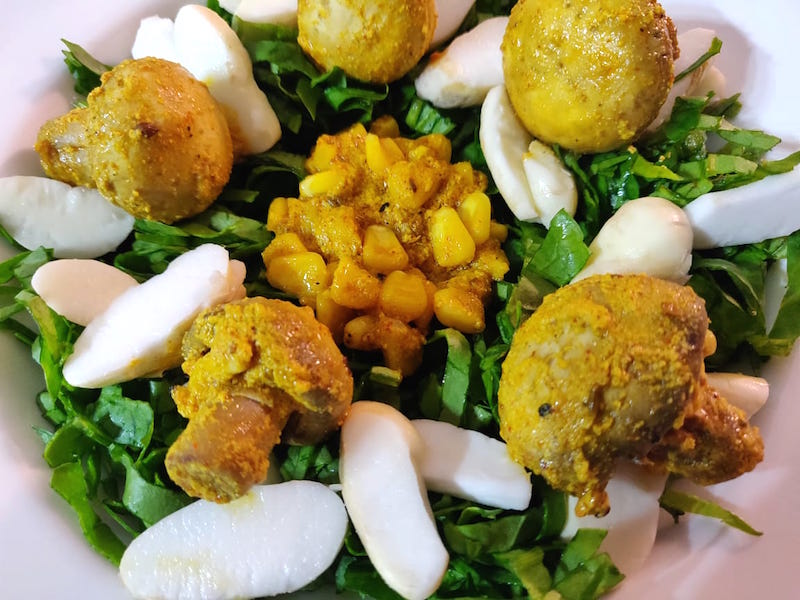 Mast Mushroom : I made achari ( pickled ) mushrooms as a starter one evening and then decided to convert it into salad. Marinate partially boiled mushrooms and corn kernels in a hung curd, ginger garlic paste, a teaspoon of mango pickle , slat, turmeric powder and if you want it super-hot – red chilly powder. Once done- pan cook with some mustard oil and lime if you want the extra tanginess. Do not dry this out. It will be the liquid that's the dressing. Served atop fresh spinach leaves shredded alongside slivers of water chestnuts . Deadly indeed .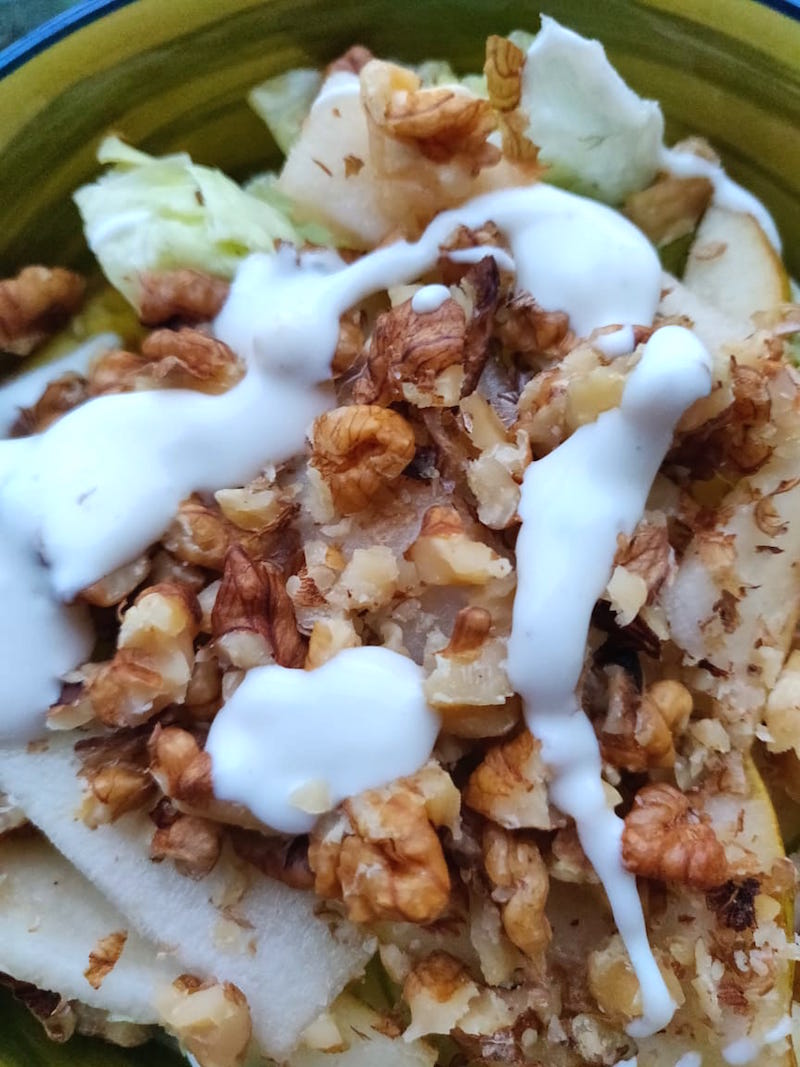 Peared it well : Pears, Walnuts and blue cheese are a match made in heaven. I cannot explain the myriad flavours- you have to try it to believe it ! The dressing here is store bought blue cheese dressing – however it will go well with hung curd and fresh blue cheese . I served it atop shredded cabbage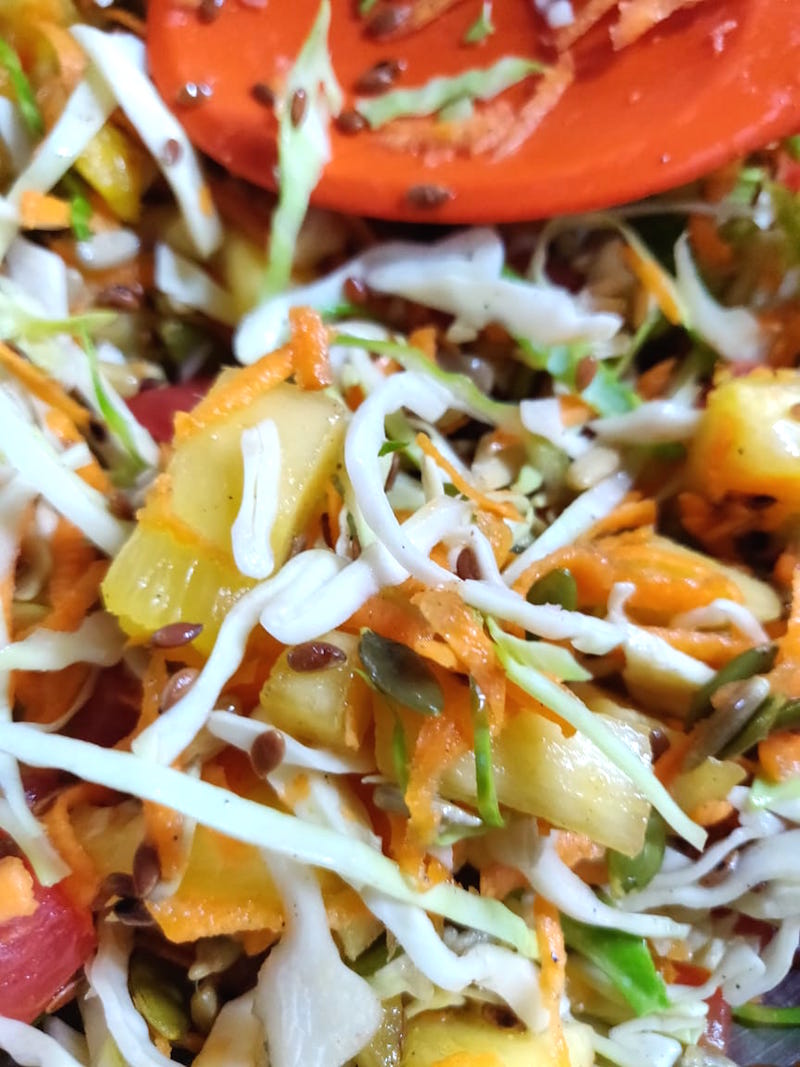 Sri Lankan Airways Salad: Long back I ate a similar salad on Sri Lankan airways. This had diced pineapple, grated carrots, Chopped tomatoes and finely shredded cabbage . The dressing is lemon juice ,salt and pepper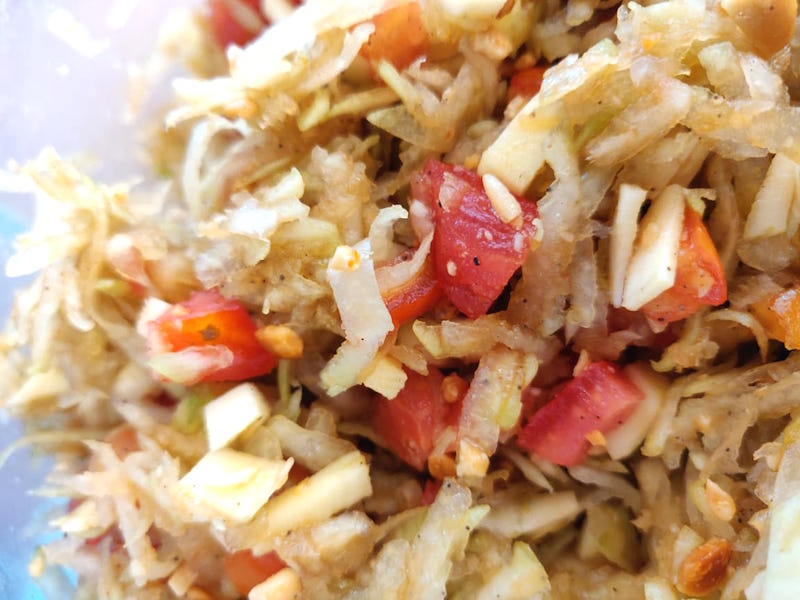 Twisted Thai : I love the Thai raw papaya salad. Here is my version. Grated raw papaya, grated raw mango, diced tomatoes, peanuts. The dressing I use is lemon juice. Soy sauce. And hone. Salt and pepper.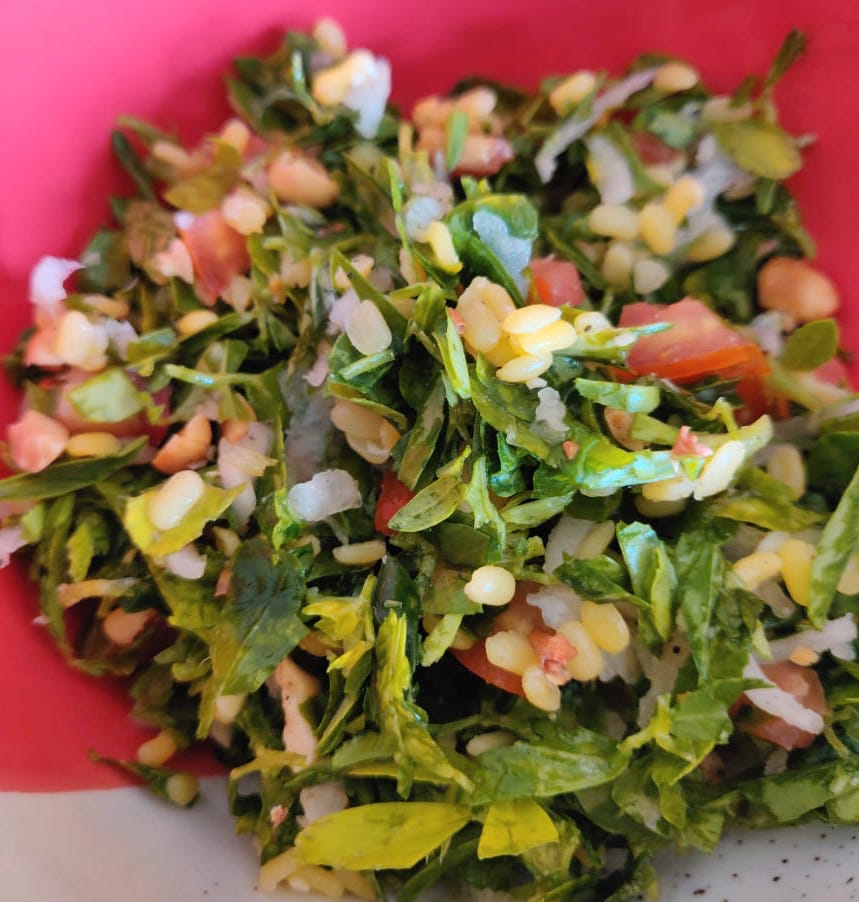 Winter wonder: This is fresh methi ( fenugreek leaves) I have added blanched moong dal ( yellow lentils ) , grated mooli ( radish ) , tomato for colour. Again simple dressing of lime, salt and pepper