I love salad and what I love more is creating and innovating stuff that is simple and easy to make. None of my ingredients are fancy –shmancy and they are all probably already at home. I also do not believe that salad has to have foreign / imported ingredients and I use veggies that are from your local mandi. Yes I do add a few " exotic" things like olives and feta cheese but again total cost effectiveness is the key here .
These are especially handy when the sun is beaming at us and all you want for your palate is something cooling.
I have an arsenal of recipes and decided to gather them here – hoping it will be a ready reckoner for some ! And hoping to inspire more people to eat more nutritious food and adopt a healthier lifestyle.
Crunchy Carrot Salad 
Grated carrots, diced tomatoes, capsicum, onions and chopped cabbage.A handful of roasted crushed peanuts. Dressing lemon juice,sugar, salt and pepper.Remove the innards of the tomatoes else the salad will be soggy.
Slightly South Asian Salad
Parboiled Mushrooms, blanched beans ,sliced onions.
Dressing : Soy, salt and pepper np,Honey,grated ginger , toasted sesame seeds
Topped with roasted puffed rice for crunch .
Rajma Riot 
Mix boiled kidney beans ( Rajma) . These must be soaked overnight . Boil corn kernels. Shell Pomegranate. Mix all these three together with a handful of chopped coriander. Dressing is lemon juice, snp.(salt n pepper)
Bok Choy Bonanza
Stir fried bok choy , spring onions and mushrooms.Dash of soy,sweet chili sauce garlic paste and snp .
Marvelous Methi
The last of the Methi ( Fenugreek leaves)
Chop roughly thoroughly washed Methi leaves. Add sliced tomatoes ( with the innards removed) . Blanch yellow moong dal . Crush some roasted peanuts. Mix all together and dress with lemon juice, snp and honey .
Beetroot is best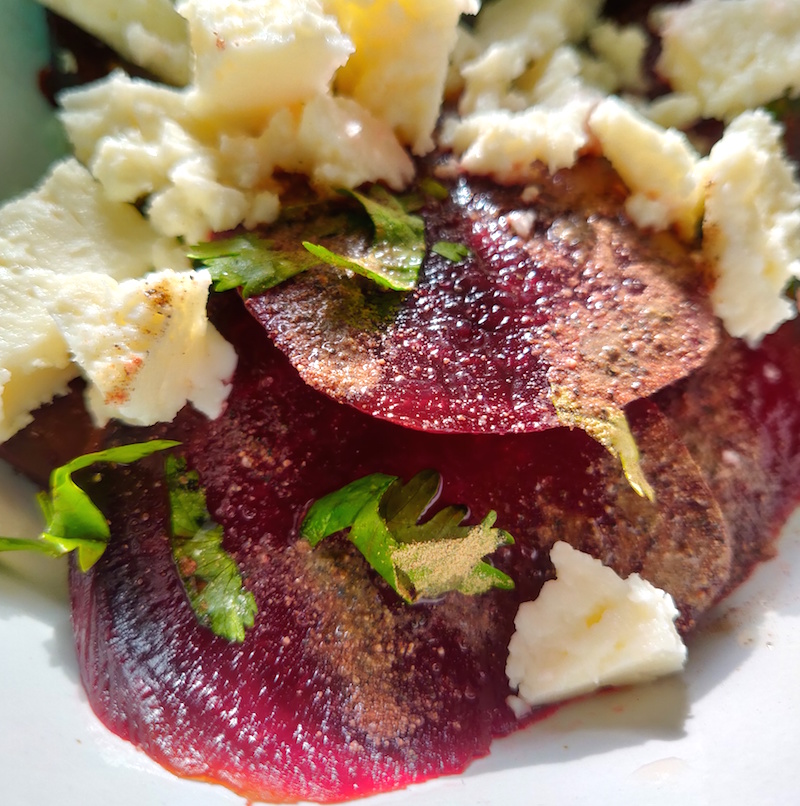 Sliced and boiled beetroot, drenched in lemon juice and salt & pepper . Scattered some feta cheese and chopped coriander.
Mango Mamma Mia
This one has mango , raw mango , cabbage, green capsicum,grated carrot , peanuts, flax seeds.. phew And spring onions . Dressed with my daughters combo of soy , hot garlic sauce , lemon , snp and honey.
Cooling Kosambari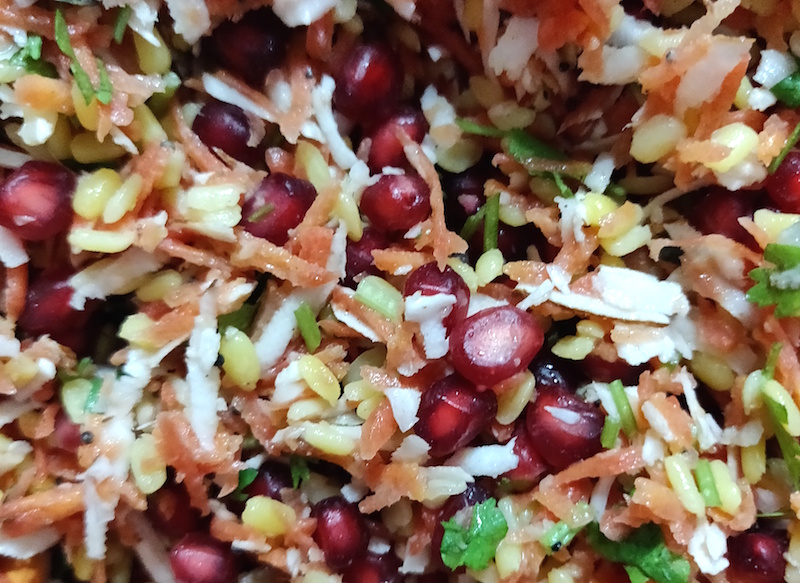 Kosambari is a South Indian salad and has many avatars .This one is my version of it . Grated carrot, pomegranate, coriander, grated coconut, blanched yellow dal (lentils) .. a tadka ( tempering) of mustard seeds and curry leaves, dressing is snp and lime juice.
Vani's Spinach Salad
Fresh spinach , diced mango , olives , lemon juice, honey , snp .
Spinach only needs to be washed very thoroughly. If you can sift through and use fresher leaves.
Upasana's Ultimate Salad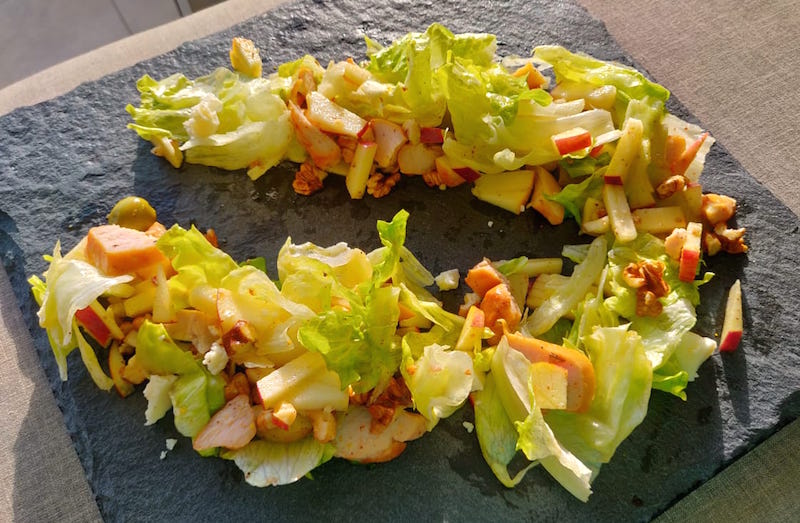 This was an amalgamation of stuff we had in the fridge and my whole family contributed with inputs. Iceberg lettuce, olives, sliced roasted chicken ( I used store bought) , Finely julienned apples , walnuts slightly pounded. Dressing: Mustard (I used kasundi) , honey,lemon juice, snp. Crumble feta on the top before serving.
Can't believe it's Karela ( bitter grourd)
Roast finely sliced karela in little oil till as crispy as possible. I then tossed shredded cabbage, grated carrot, finely chopped spring onions and dressed it with lemon juice, salt ,pepper and a dash of jeera powder.. add karela at the end.. it was tangy , crunchy and awesome.. please do salt the karela before washing to remove the bitterness
Super Sprouts Salad
I have won friendships over this one !! I soak and sprout together green moong dal , brown moth dal ( matki) , and black channa ( chickpeas) I then blanch these in boiling water( use this water for soups or gravies) . Cool the sprouts . Boil one very finely chopped potato .Chop onions fine. You can also add finely chopped tomatoes and cucumber. Mix all these ingredients together with fresh chopped coriander. Dressing is Tamarind chutney ( I make it at home with tamarind pulp,dates and jaggery ) . Chaat masala , snp , lemon juice.Balance your dressing for it to be tangy,savoury and sweet. Mix well. Top with roasted puffed rice before serving for that ever too needed crunch .
Sprouts salad version 2 : Mix sprouts , chopped onions, deseeded pomegranate and dress with lemon juice snp.