Thank you all for your love at my earlier two salad articles. I have gotten onto the salad bandwagon again now that finally, we have shirked off the lockdown languishing.
So here I am with a whole bunch of new, tried, and tested recipes. As always, my recipes have no fancy shmancy ingredients and are all so good for you.
Do share and click here  to see the earlier articles on salads 
Some short forms I use
SnP: Salt and pepper
EVOO: Extra Virgin olive oil
Amazing Apple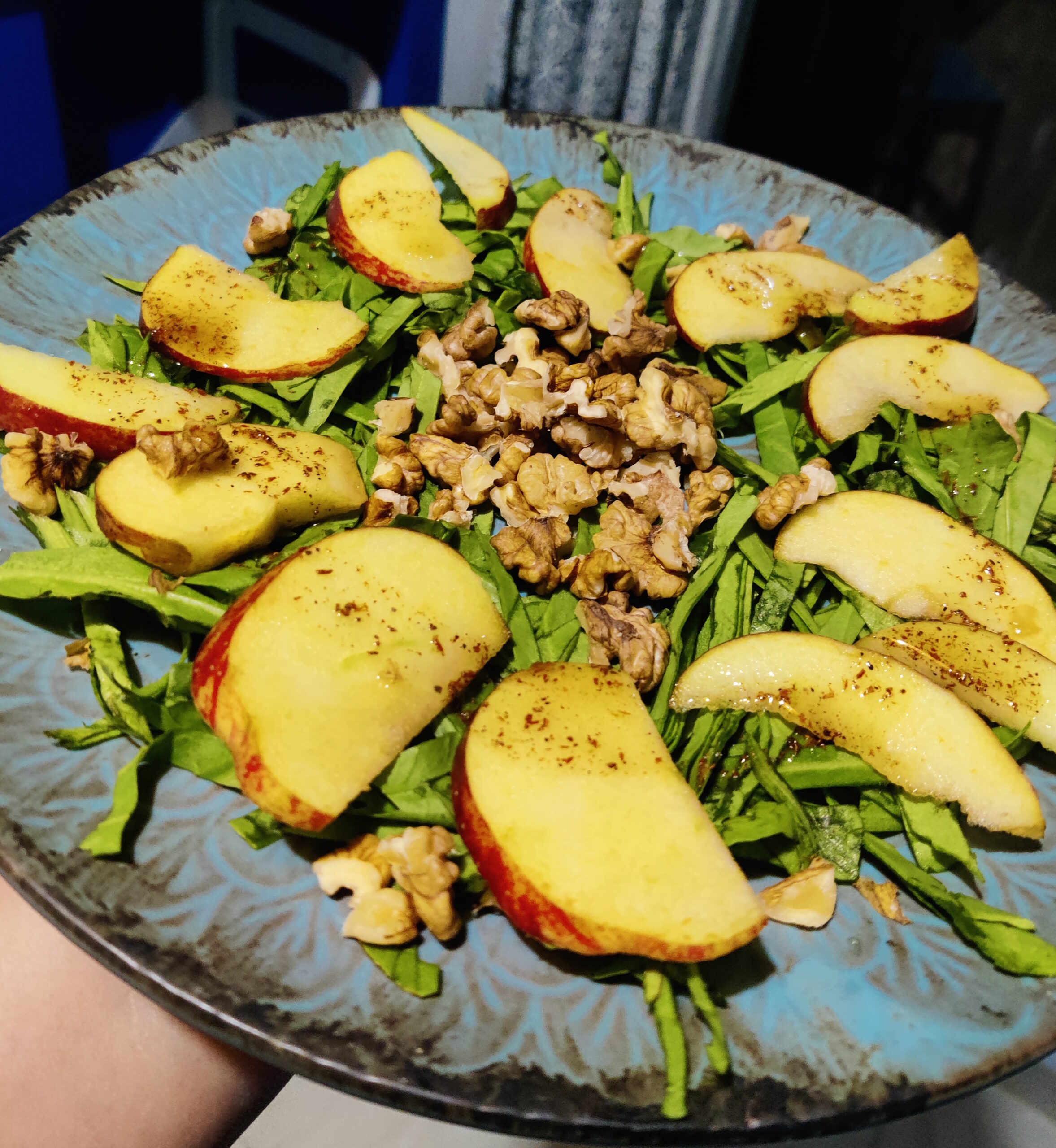 Who doesn't love Apple crumble/pie? Now, what if I told you you could experience the same flavours in a salad? Here goes.
Clean your spinach (palak) you can also use lettuce. Cut spinach into long strips. Cut apples into slices as shown. Toast some broken walnuts. The dressing is lemon juice, honey, salt, and cinnamon powder. If you are cutting your apples earlier place them in lightly salted water, else they will brown. Then drain them and add to the salad.
Changa hai Chestnut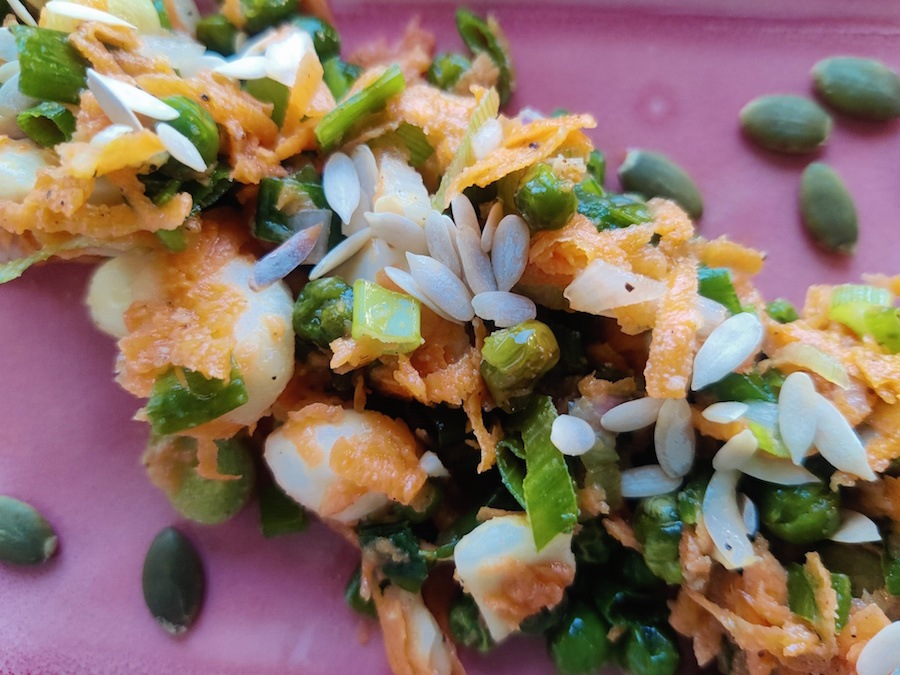 We are so blessed to get water chestnuts during the winter ( Singhada). And I love using them in Salad or stir-fries.
This salad involves fresh green peas. Peel the peas and wash them. In a pan drench the peas with Olive oil, garlic paste, salt and pepper. Heat in a hot oven (160 degrees) for about 5-7 minutes. Ovens vary so do watch them. Cool the peas. In a bowl add the sliced chestnuts, grated carrots, seeds, and peas. In the same pan that you roasted the peas add lemon juice and get all that garlicky goodness. Add snp &a splash of Evoo to taste. You can also add finely chopped cucumber, tomatoes without the fleshy part, sliced mushrooms.
Dalia Dhamaka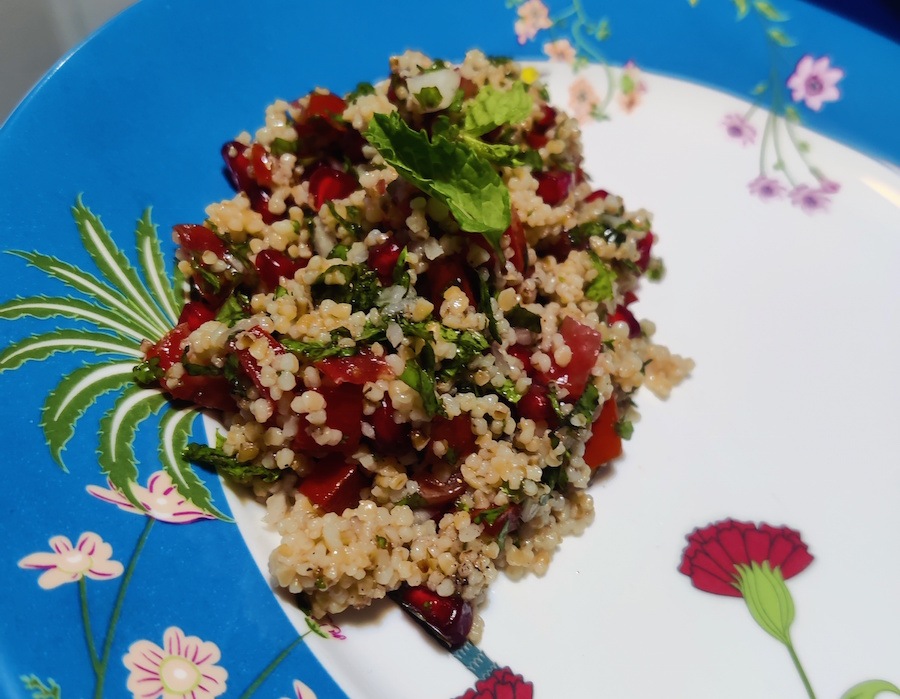 My friend Surabhi Bhandari makes the most delicious-looking food. I love how she presents them on 365 Kitchen tales. This is my take on her Desi Tabbouleh.
Roast the dalia (broken wheat) in a pressure cooker in olive oil. Add just enough water to cover it and cook for 1 ½ to 2 whistles. Fluff it up with a fork. Let cool. To the dalia add chopped fresh mint, pomegranate seeds, and chopped tomato( ensure you remove the fleshy parts and seeds) .The dressing is just evoo,lemon juice ,snp. You can also add olives to this one.
Gado Gado (an Indonesian Delight)
Sindhis for some reason love this salad. The combinations of the veggies are different varying upon the season. It is also eaten topped with fried prawn crackers.
I have used boiled potato, beans, carrots. Finely shredded cabbage. You can also add parboiled chopped spinach, peas and lobia beans taste really good here. Boiled egg and grilled chicken are amazing too.
The dressing is a peanut sauce made by sauteing one onion, peanuts, green chilies and garlic. Blitz this in your mixie and you can thin it down with a little water. The salad is eaten coated with the sauce and with lemon juice on top.
Moong Masti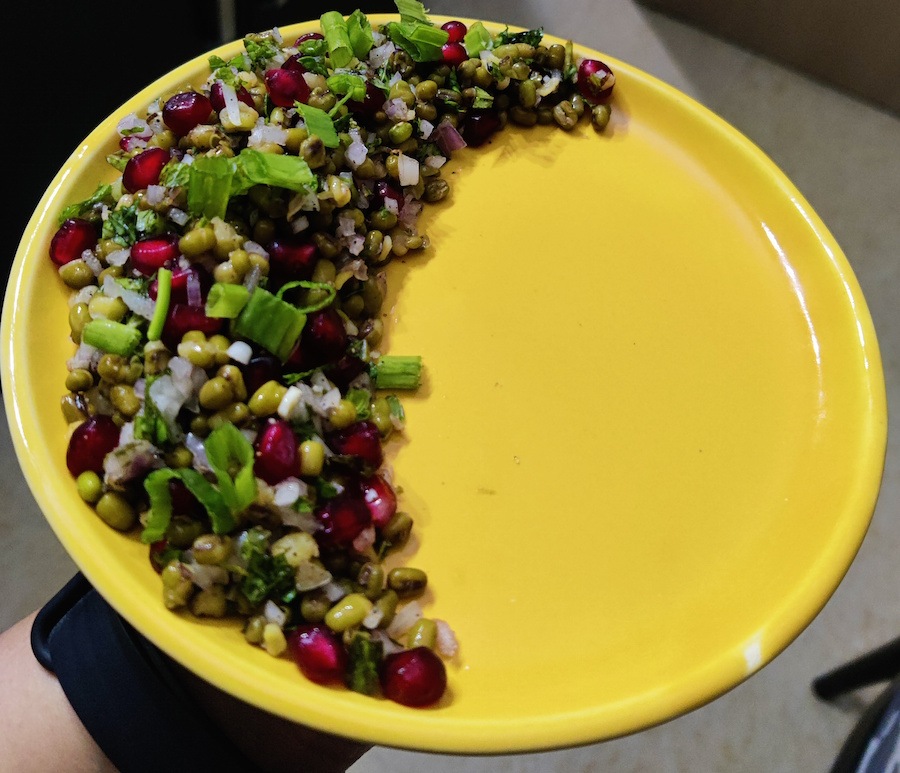 The humble sabut moong dal becomes a nutritious feast here.
Soak a cup of green moong dal for about an hour. Pressure cook for just one whistle. Drain. Add pomegranate,finely chopped onions and if you wish chopped green chillies. The dressing is a simple snp and lemon juice. If you have mint add some it goes so well. You can add chopped boiled potato or cucumber to make it more filling.
Sundalo Sundal with Soy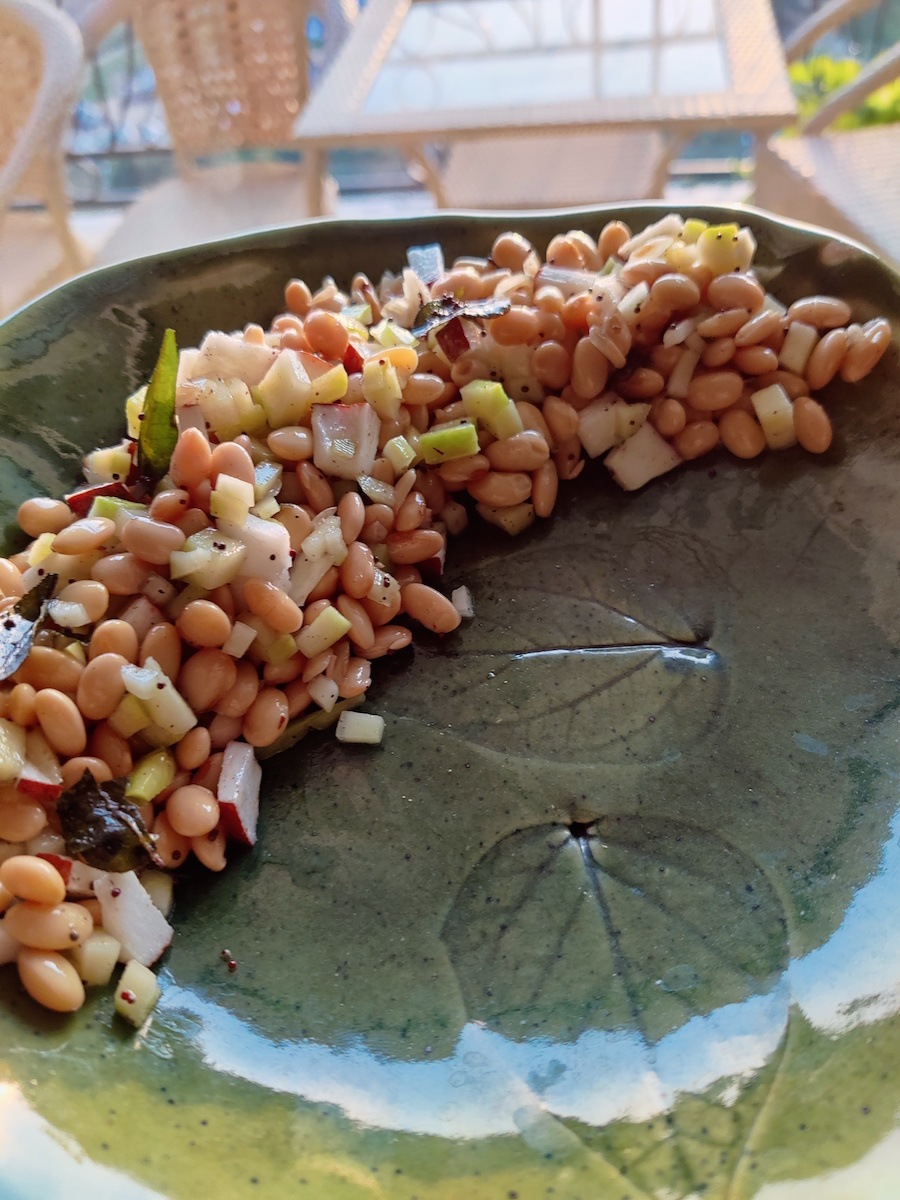 Sundal is a South Indian snack especially popular during Navratri( Golu) pooja. I especially love this version. The same salad can be made with white Kabuli channa.
Soak Soya dal overnight. Wash well and pressure cook for 1-2 whistles. Drain. Add chopped raw mango, chopped coconut. Temper with mustard seeds and curry leaves (I used gingelly oil).Add lemon juice,snp.
The Gurgaon Greek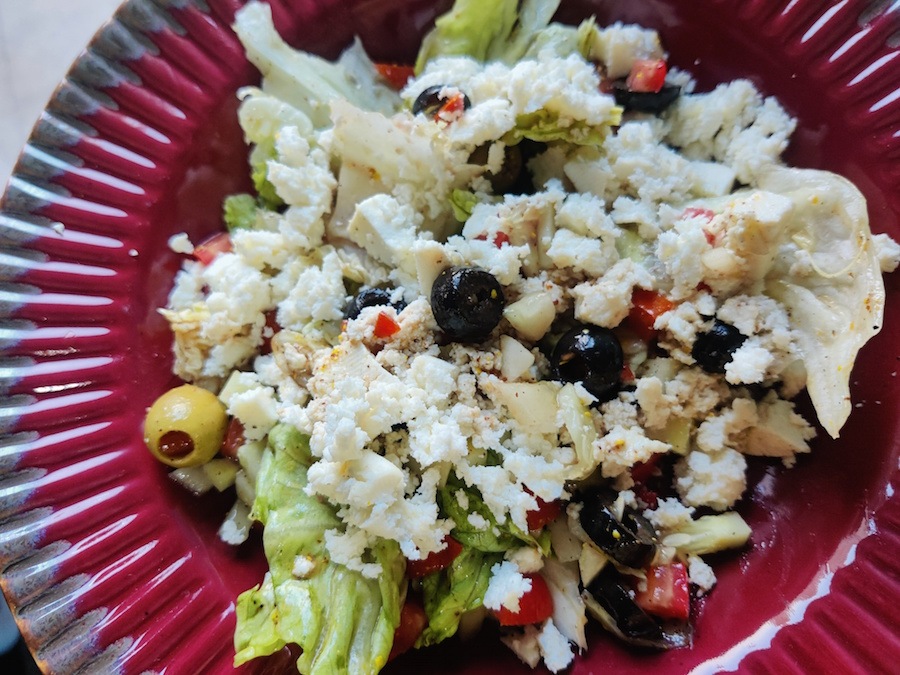 I have always refrained from making this salad as I ponder over having the right ingredients handy ( like feta cheese!) This time I decided to go the Gurgaon way and use what I have available. The result was downright delicious. I used iceberg lettuce because it was available- it can easily do without.
Wash and clean lettuce-tear into the desired size. In a bowl toss together onions, tomatoes( with the innards removed) , chopped cucumber, black olives and green olives. The dressing is evoo, lemon juice,snp, red wine vinegar and mustard (optional- I use kasundi mustard sauce) . Place the dressed veggies on top of the lettuce. In a separate bowl crumble paneer- add snp and the juice of one lemon. Scatter the paneer on top of the salad. You can also use feta minus the dressing instead of paneer
Tip Top Tandoori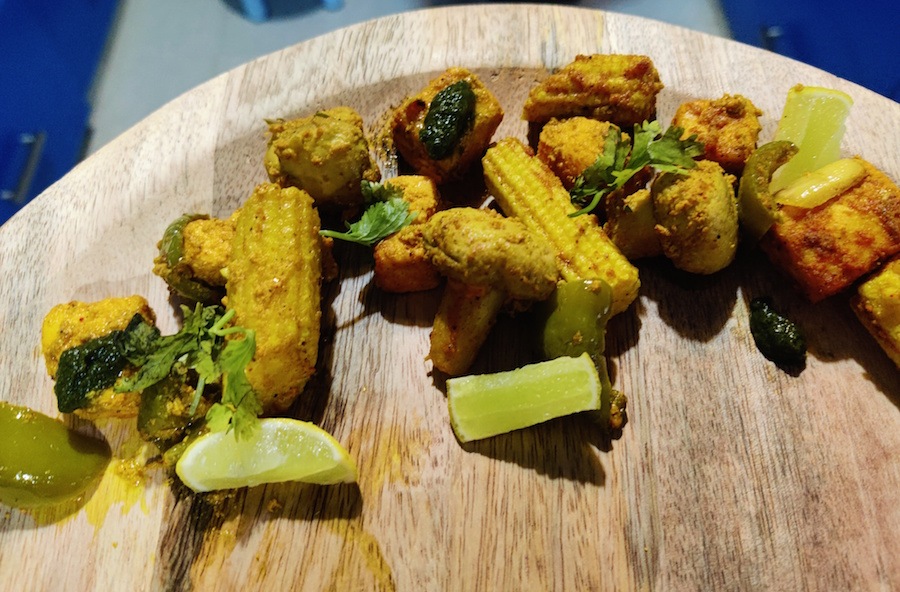 Living in the NCR we have the most amazing Tandoori food. I wanted to convert these flavours into a salad which can also become the main course. I used Paneer, mushroom, baby corn, capsicum , onions for this. You can also add broccoli and coloured capsicum. I once added pineapple chunks too.
Take a bowl of curd and hang it in a cheesecloth. Once drained ( ideally after at least 2 hours) whip it well. The shortcut to this is to add Tandoori chicken masala and dunk the veggies in. You can air fry, bake or even cook them after a few hours of marination on a stovetop. 
Traditional dressing: To the hung card add ginger garlic paste, crushed green chillies. Freshly pound garam masala( clove, cinnamon, cardamom, mace, black pepper), Haldi powder, red chilli powder, food colour ( a few drops of orange for the look) and lemon juice. Add salt and mix well. Refrigerate and re-mix after an hour. 
Then you can cook them and enjoy the same with fresh lemon juice, chaat masala and green chutney. 
I do hope you will experiment and try these salads and enjoy them as much as I did in creating them. Do share the article and drop a comment if you enjoyed any of the salads.