"If you can dream it, you can do it."— Walt Disney
Neha Srivastava has a blend of 22 years of experience in creative writing. Her stint with advertising and education taught her to communicate with people, understand their psychology. At present, she is juggling roles of a creative writer, full-time Mom, and teacher of underprivileged children.
She has won the platinum award for best script at the Independent shorts awards, July 2021 for her story 'Fairy Dress'. She recently won the finalist diploma certificate from the prestigious Spanish Museo de Palabra award for her micro-fiction story – 'The Game'. Her story, 'Two Toys' has been published in the Anthology – 100 Voices – volume 2'. Recently her microfiction, 'Fairy dress' appeared in Centifictionist, US, Also published is her poignant poem, 'Moksha', in Spain.
Another story 'Sabina', in the Smartest Kid on the Bronx-Anthology. She has written for over 20 brands, like Paras, Vimal, British gas, Harvest Gold bread, Daewoo Motors, IIS Infotech, Inox theater, and over 10 websites.
She has done English Honours from Rajasthan University in 1994, along with German, done her MBA from IIRM, Jaipur. Studied Screenwriting from Carl Schoenfeld, in Oxford.
Neha shares her joy and says 
15 years ago when I chose to give up my full-time job to look after our kid, I didn't think twice. This was a better job and designation than I had ever got. All the other designations I had like, 'Regional Head', 'Creative consultant', Copywriter etc. felt small in front of the designation – 'Mom'.

Yet at times I missed all the action that happens in an office, missed my writing, so I kept doing freelance writing. Trying to get the best of both worlds. Then at times I self doubted my capabilities for not earning enough or as much as before…but after 15 years I have to thank my son for coming into my life and making me leave the normal job and starting my freelance writing. This year I got 9 international awards for my scripts. 6 for 'Fairy Dress' and 3 for 'Daayen. The hunted. Now I only thank god for making me take the right decision, at that time.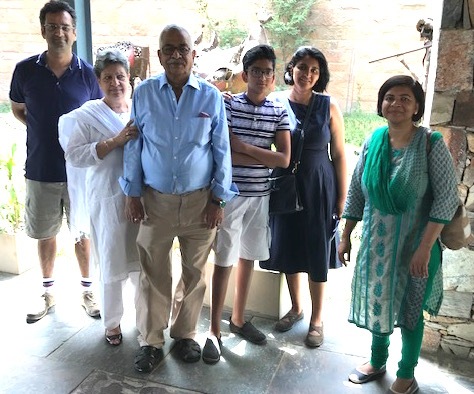 GurgaonMoms' congratulates Neha for her achievements and a truly inspirational journey. Here's to many more awards and accolades.