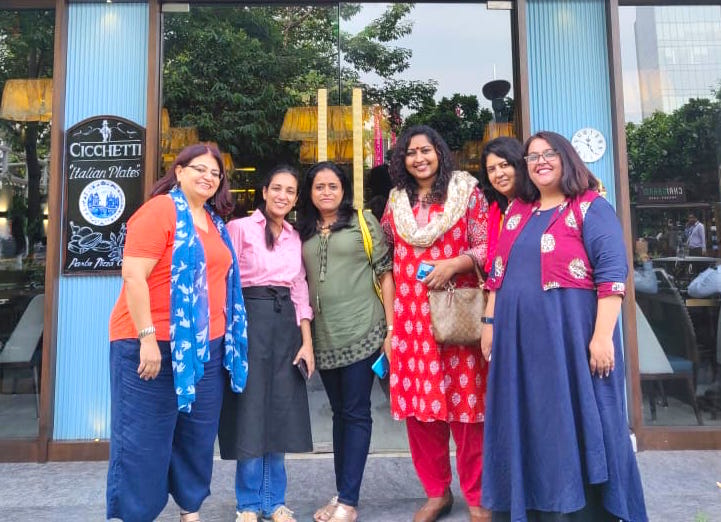 Cicchetti by Mr. Beans,has  a fun and modern take on the classical Italian bistro, aiming to bring 'Bacari' culture to India; offering a place where friends and family enjoy a hearty meal over fun conversations in a chic setting.
Taking inspiration from a tradition that dates back to the 13th Century Wine Bars of Venice when they added nibbles to the menu to keep the conversation going and hold the crowd longer at the bar. The idea was gradually lost in time but with the evolution of Tapas in Spain, the small courses of Cicchetti sections consisting of cheese boards/breads/jams over house wines and cocktails came back to life again.
Situated in the bustling DLF Cyber Hub at Gurgaon, Cicchetti by Mr Beans is an amalgamation of old-world charm and modern contemporary finesse.
A warm, informal space and a fresco setup the restaurant is adorned with worn down mirrors, creating mirages.
The multi-layered European menu has been curated by Chef Neha Singh, trained from Glion Hotel School, Switzerland. Her style is very interactive owing to authentic techniques, masterful styling and an array of cooking skills that are truly international. The dishes on the menu are handpicked while keeping the significance of fresh produce and locally sourced ingredients in mind.
Chef Neha believes in spending hours to create a dish which is utterly extraordinary in every regard, rather than rushing into something that is merely excellent. She has always had the vision to create a good plate which she believes starts from the ingredients and Cicchetti is a beautiful outcome of those many years of hard work and aspiration. This is but evident in the presentation
We visited Cicchetti for a team lunch and were wowed by both the presentation and taste of the food.
Chef Neha met us and she is such a cheerful person – she described a mocktail and we instantly decided to convert it into a cocktail for a few of us. The matcha, kefir lime elixir was fragrant and had new flavours.
We were then presented with a glass dome filled with smoke. This was unveiled to reveal an array of cream cheese. This is their signature cheese board . There was sweet, tangy and slightly spicy . So delicious
The next course had a tabbouleh salad with pearl cous cous encased with a cucumber ribbon and accompanied by roasted stuffed bell peppers.
We were also served  a buratta flat bread which was dotted with sun dried tomatoes and olives
Taking inspiration from a Mumbai taxi was this visual showstopper. Linguini coloured by activated charcoal accompanied with a bright saffron sauce. When they say you eat with your eyes- this dish was devoured !
The non-vegetarians were treated to a divine Poached quenelle of chicken in a smooth saffron sauce. The chicken was done to perfection and each bite was liquid gold.
We had grilled prawns with yuzu spheres and avocado mousse. Amazingly well done . The salmon was accompanied by 3 different sauces and this fish was cooked perfectly . The asparagus it laid upon was also grilled well.
Any great meal must end well. We were served two desserts one was an Ice cream sandwich with homemade ice-cream in between a brioche bun. The flavours were salted caramel, peanut butter ( most votes for this) and chocolate-almond.The Coconut panna cotta was paired beautifully with a berry sorbet and was light and tangy.
Chef Neha is super attentive and over saw service of each course personally.Each bit was memorable. Do head on over for their weekday meal. Here are some offers by them
Weekend Brunch

 @

Cicchetti

 By Mr Beans
What is more delightful than to start your 

Sunday

 morning with lavish 

brunch

 to end the weekend on a happy note and gear up for the roller coaster Monday!
With the choices of delicacies, Cichetti by Mr Beans offers palatable meals to enjoy with your near and dear ones over a luscious Weekend 

Brunch

. 
Extensive menu, lip-smacking food, vibrant atmosphere, and colorful vibes, the restaurant has an abundance of ways to make your weekend memorable. 
The 

brunch

 offers Heirloom tomatoes & burrata bruschetta,  Freshly baked Guacamole Crostini, Cheddar & Cheese Scones, Cheddar & Cheese Scones, Fungi risotto! And this is just the beginning to satiate your hunger but if you are looking for something heavier then you have to try Gruyere Mac n cheese gratin, Gruyere Mac n cheese gratin, Gruyere Mac n cheese gratin, Potato & chorizo croquettes.
The tempting desserts available for the 

brunch

 are definitely to die for! New York cheesecake Served with fresh fruits, Pizookie, Classic Affagato, are enough to ditch your diet plans.
To indulge yourself into this throw away from 12 PM to 4 PM with the starting price INR 1650 plus taxes for your hectic weekend.
Cicchetti Venetian lunch – On Weekdays 
One appetizer
One main course
One drink
Cicchetti special – 30% discount on total bill
Address:Cicchetti by Mr Beans, DLF Cyber City, Gurgaon
Time– 11:00 AM to 11:30 PM
Cost for two– INR 2000++ 
For reservations– 0124 4067318