"He appears to be Autistic!" was the diagnosis (that I later learnt was akin to a death warrant) which was communicated to me very matter of factly on that fateful day which I can never ever forget, by a panel of experts who had conducted an assessment on our son Sachin who was by then almost 3 years old. I remember referring to a dictionary to understand the meaning of the term 'autism' as there were almost zero awareness on this subject at the time (24 years ago).
If I do a quick flashback our journey has indeed been a rollercoaster ride. But we have braved the storm and come out of the tunnel of darkness and struggle, much stronger and wiser. Its true that every lesson and each new skill for managing even the most basic daily activities like eating, toileting, dressing etc had to be repeatedly and painstakingly taught to Sachin with infinite patience. Indeed parents of special kids have to call upon superhuman reserves of courage which we are not even aware that we are capable of possessing. But after being tossed about like clothes in a washing machine, soaked in the burden of challenges, then wrung and left out to dry, you realise that once you smoothen away the creases you have emerged as a better and purer version of yourself.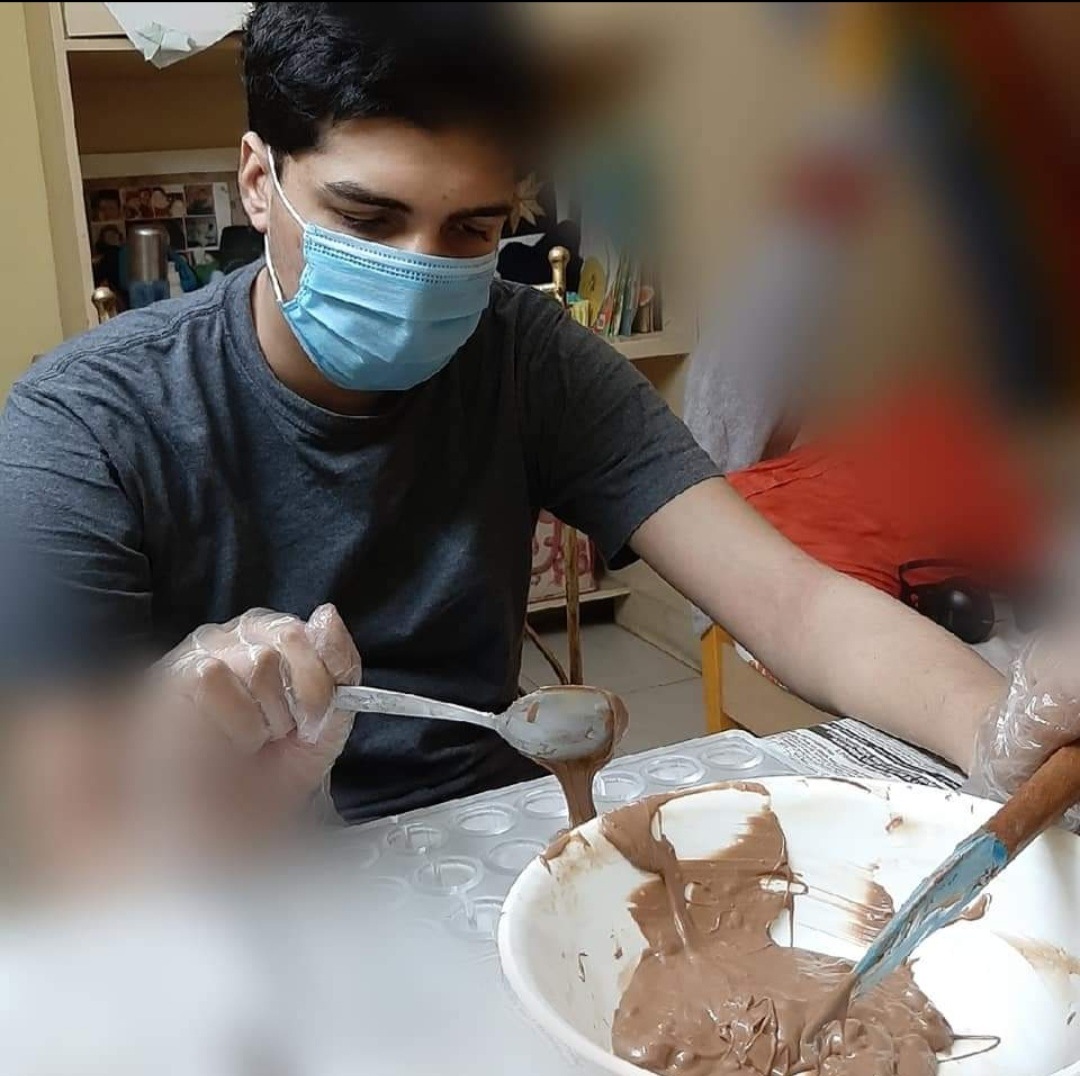 I have often been asked by people I know how they should react to persons with Special Needs. Well, its pretty simple really. Don't make them feel 'special'. Please DO NOT stare or comment no matter how bizarre the behavior appears to you. Our kids easily pick up these cues and although they may not be able to communicate it to you, it does impact them negatively. A simple 'hello'and a smile would be just great. DO NOT JUDGE the parents. Believe me they are doing the best that they possibly can.
Sach Di'lites: my homemade chocolate venture
The biggest hurdle is finding a vocation for our Special Youngsters which can provide them with a life of dignity and pur
pose. Keeping this in mind, I started a homemade chocolate venture called Sach Di'lites around four years back. Sach Di'lites is named after my son Sachin and daughter Diya. We believe in using only the purest and best quality ingredients and all production is done under stringently hygienic conditions. Our chocolates have a cocoa content of at least 55% and no compounds are used in the chocolate making process. A good and safe delivery system is also in place Pan India. During the last four years our Team has successfully delivered many corporate orders as well. Sach Di'lites is happy to include in its hampers, truly mouthwatering cakes and cookies made by children with Special Needs. On festivals and special occasions such as Raksha Bandhan and Diwali, products made by differently abled persons and those from the underprivileged group are also featured under this venture.
The Leap of Faith: My paragliding experience
I consider Sachin to be my true Guru from whom I have learnt lessons of acceptance, patience, unconditional love and the ability to appreciate the simple joys of life. On a recent trip to Shimla I amazed everyone (including myself) when I went paragliding for the very first time in my life(and at this age!) My inspiration was obviously Sachin. As a Special Mom I marvel how he negotiates what is a confusing and challenging world for him each day. It iscertainly not easy to grapple with the hurdles he faces being on the Autism Spectrum. Having communication, social and sensory deficits he yet manages to undertake adventure activities so successfully. Surely, I being a neurotypical have it in me to push my boundaries.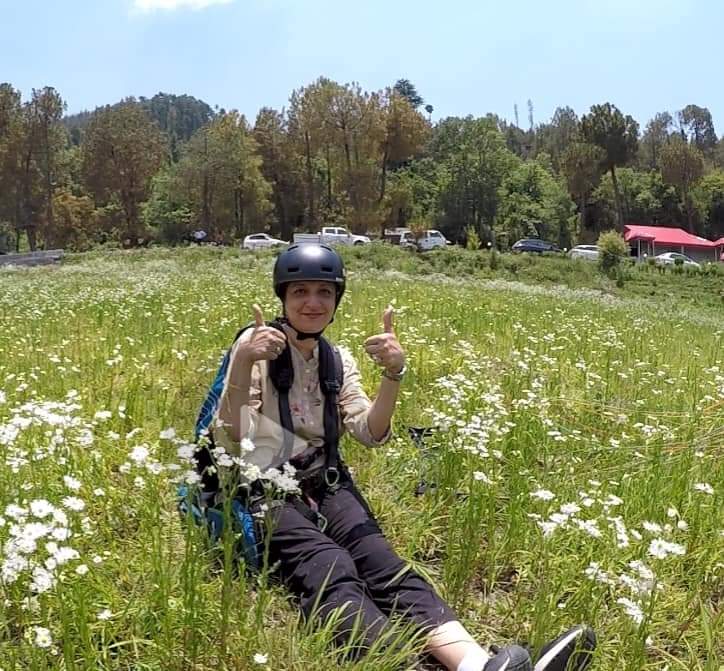 Our exhilarating paragliding experience was definitely the highlight of our recent trip to Himachal. YES daughter Diya and I had the experience of a lifetime paragliding!!! It took a bit of mental preparation as I wasn't very sure of what it entailed. We were told that paragliding can only be undertaken by those with a body weight between 40kg and 95kg (Fortunately Diya just made it!). Also those with heart, back and BP issues should avoid it. This adventure camp called The Glide Inn is in Junga in the Shimla district of HP. The entire exercise was conducted quite professionally. It was indeed a little scary signing the indemnity papers. We were divided into batches of six and loaded into what looked dangerously like army trucks which took us to a hilltop which was around 8000 feet. I seriously felt like an army jawan going on the battlefront! I also suddenly experienced doubts as to why I was doing this at my age(!) in the first place since my cotravellers on the said army truck were clearly all in their twenties. Anyways the adrenaline rush had already majorly set in so I definitely wasn't backing out now. Also I could never dare to back out of tough situations in my life since "Bahadur" is my title!!
As we stood in the open ground on the hilltop our six instructors disembarked from the truck with the huge paragliding paraphernalia. I was the lucky one(!) chosen to lead the party in undertaking this challenging exercise. I was buckled up nicely, helmet fixed tightly on my head and i again felt like a soldier gearing up for a mission. I was determined not to have any "senior moments" and carefully listened to all the lifesaving instructions which were being explained. I remembered that at the reception counter I had been advised to check with the Instructor about having spare individual parachutes and his pilot license. After confirming the same I prepared myself for the big moment. I was in the front and the instructor was behind me. There was no sign of the parachute anywhere yet. Another Instructor on the side told me to start walking briskly/jogging towards the edge of the cliff. He was holding onto my arm. I guess many gliders might decide to bolt from the scene at the last moment or simply collapse due to anxiety. I steeled myself, said a short quick prayer to the Almighty and took the "leap of faith"(literally!)
As I jumped into nothingness a cushioned seat miraculously appeared under me, the parachute opened and I was FLYING!!! And how did it feel?? Difficult to describe but I guess feeling like a newly born infant experiencing all her senses for the very first time would come pretty close. These lyrics came to mind as I soared high above, free as a bird with the wind carrying me along:"I'm at the top of the world looking down on creation…" The Instructor and I chatted once my initial euphoria was brought a little under
 control. I came to learn that I was the same age as his mother! He told me what I was doing was truly inspirational. He handed me a selfie stick to record this memorable journey. The ride lasted for around 10minutes before we began the descent.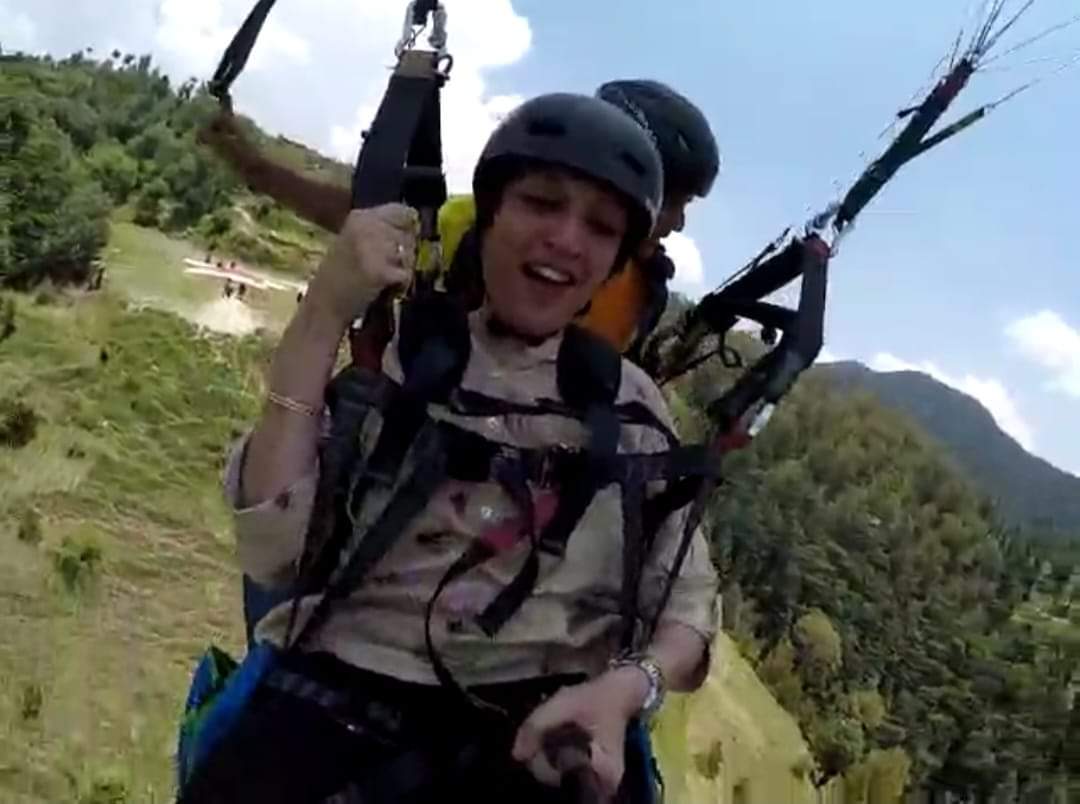 I was quite surprised at myself that I was actually enjoying this experience wholeheartedly without any pangs of fear. Only once when we encountered strong gusts of wind and the parachute began swaying precariously was I a bit alarmed. The Instructor was very good and continuously reassured me that the controls were in his hands. The landing felt exactly like an aeroplane touchdown on the runway. I was told to keep my legs raised upwards while landing otherwise I might lose them! I landed in a beautiful open grassland amidst lovely white daisies, very happy, thrilled and satisfied with this journey of a lifetime. I was unbuckled, took off my helmet and gingerly raised myself off the ground. I ended my trip by thanking my instructor from the bottom of my heart, took one last look at the deflated parachute sprawled across the green expanse and joyfully ran back to base. I did feel a sense of pride and gratitude. This was one more tick on my bucket list.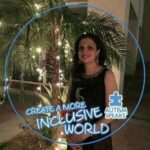 This article has been authored by Charu Sharan 
Charu Sharan is a trained Montessorian, a Special Educator, entrepreneur, avid reader and traveler and a mother to two young adults.