In India, wedding rituals and clothes are as important as the bride and groom at the wedding. Not only the couple but the guests attending the wedding wants to look at their best in their chosen attire. Indian marriages are the amalgamation of clothes, jewellery, mehndi, sangeet, dance, savouries, flowers and colours.
A traditional Indian wedding lasts an average of three days…..Every wedding guest is usually invited, and it involves an introduction of the couple's families, mingling, a meal and dances or other performances. On the third day, the main ceremony, cocktail hour and reception take place. Gifting clothes/ dresses is the most common and practical tradition being followed for a number of years. The guests coming to the wedding are also offered clothes as gifts from the bride/ groom family. Many people have the tradition of showing clothes coming in the trousseau collection from the bride family.
Please click on the arrow to view the collection
The collection from any designer is a reflection of thoughts. The collection depicts the inner self voice of the designer's thoughts. The designer brand "Doree" was launched in the year 2013 after careful thought and getting the experience since we dived into designing in 2006 and initiated the designing work from home itself. This brand is mainly into trousseau making and getting a coordinated outfit for the family attending the wedding.
"Doree" as a clothing brand makes sure to cater to all the clothing needs of the guests and relatives who come to attend the marriage. We are the personal stylist of all our customers, who want to take advice on what to wear. Our team of designers works very hard to design and deliver a unique dress according to the taste & requirement of every individual attending the wedding. People treat our dresses/ clothing as a possession as a lot of effort and care is invested in the making of the same.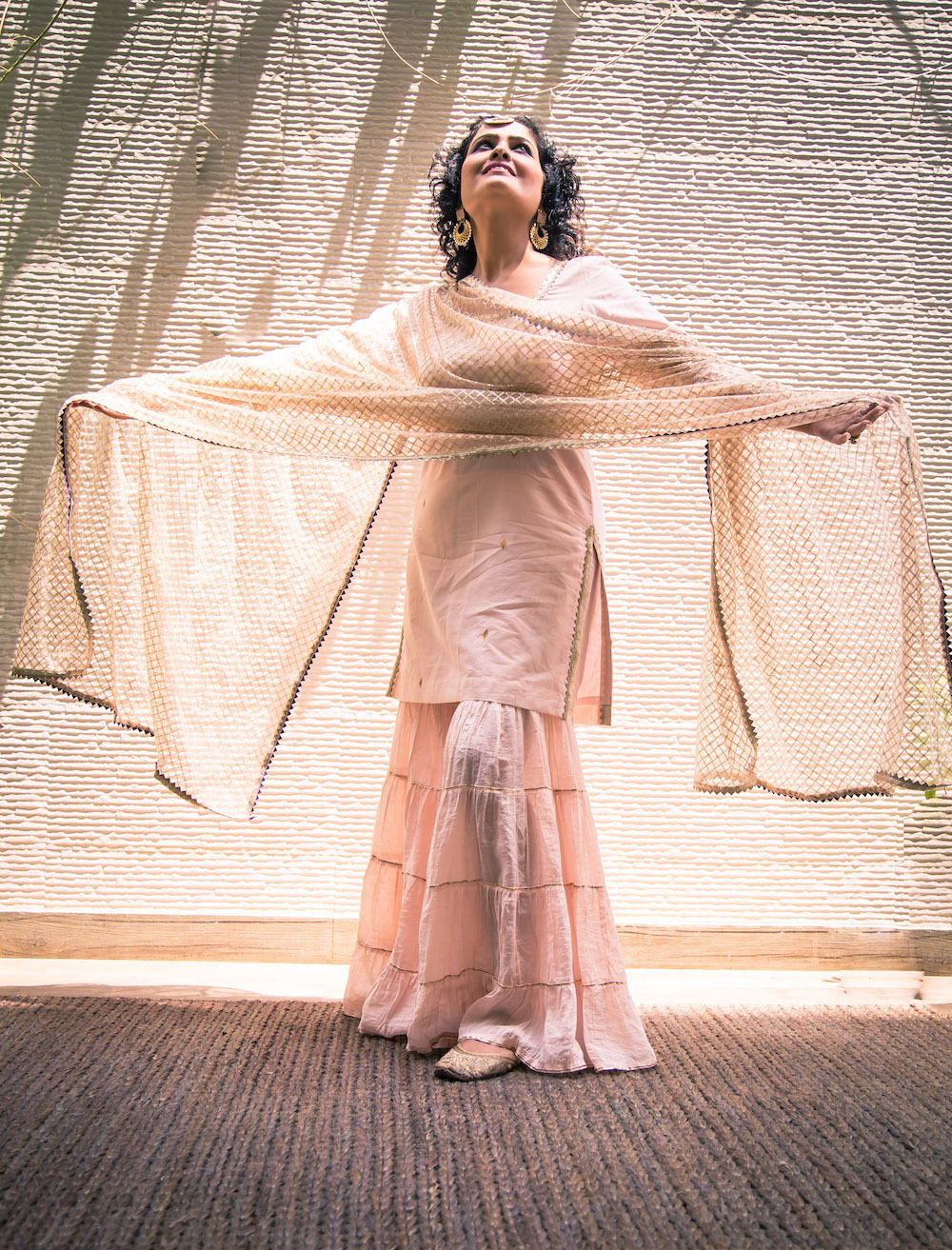 Every community follows different rituals. According to the rituals followed, we design the ensemble clothing of the bride, & their family members. For example, south Indian marriages still adhere to traditional costumes like Saree whereas in Northern parts most brides prefer lehenga, ghagra choli and odni as bridal dresses.
Our motto is to make every woman happy with their clothing desires. We very strongly believe in building relationships and treat our customers as part of an extended family. Our most important aspect is commitment and every client is special to us irrespective of the size/ business.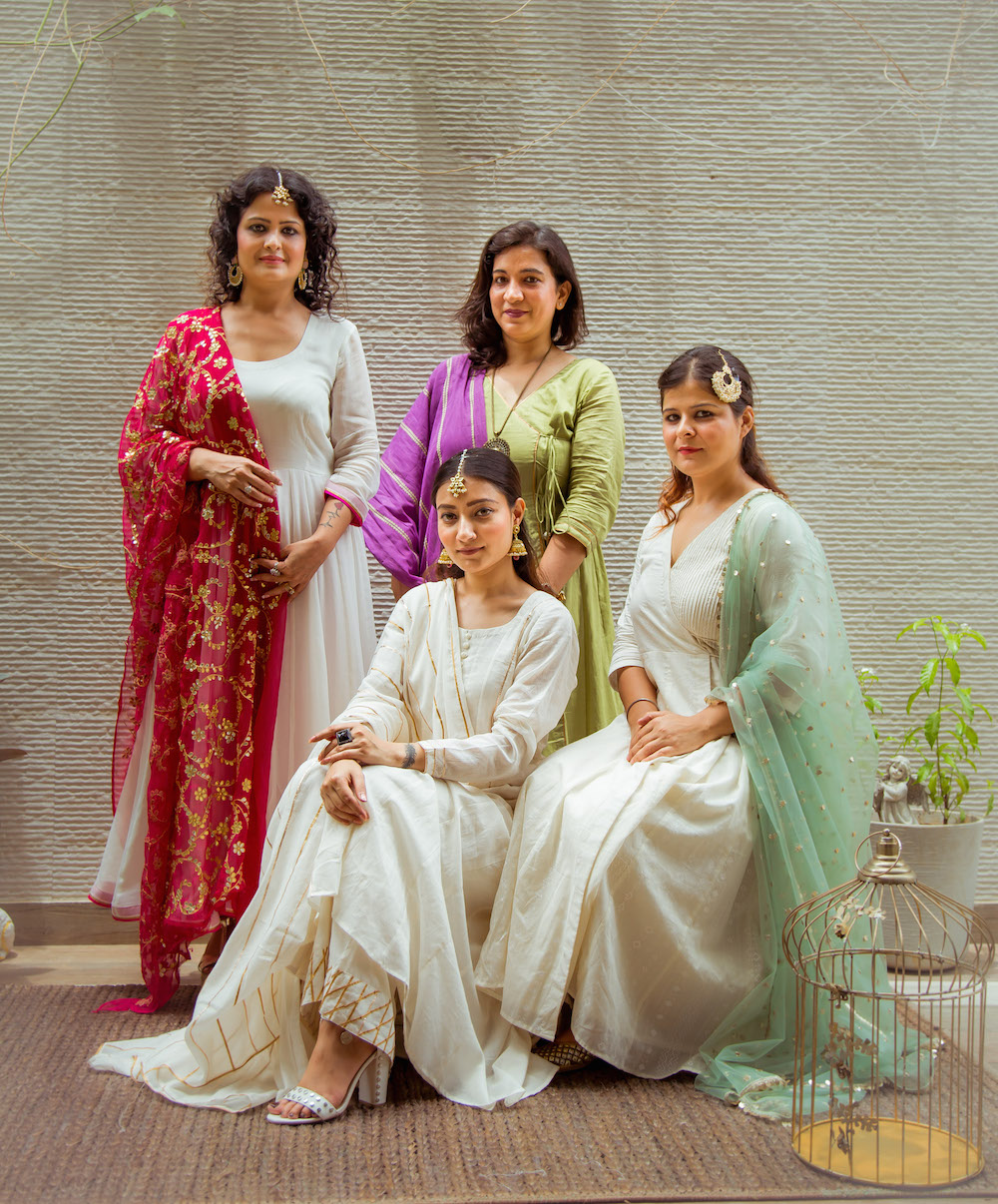 Our brand covers all your clothing requirements starting from simple suits, kurtis, indo-western dresses, lehenga cholis, to heavy anarkalis. You can connect with us for your upcoming family wedding and we can design coordinated outfits for the family members too. At Doree, we are constantly working on new designs and put efforts into ensuring that we remain relevant in today's rapidly changing fashion. Clean lines, delicate details, and a hint of drama are Doree's signature which has made us stand out in this crowd.
We have our own workshop and embroiders, tailors, masters working day and night to make every client walk happy from our store. We take customized orders for bridal wear and design the bridal dress according to the bride. Our collection can also be soon seen in a multi-designer store 'Lubov' in Ghaziabad.
Please click on the arrow to view the collection
About the Designer –Rinky Kukreja
Gurgaon based designer Rinky Kukreja is a fashion designing graduate. Starting her women's wear in 2006 from home, she has swiftly taken her label Doree in 2013. Her label brings the freshness of simple lines, intricate embroidery, and elegant silhouettes are the definitions to her collection.
The apparel industry is super competitive and only hard work and dedication are two important factors in the growth of our brand. One must be innovative with designs and ideas and move forward to face the challenges of this industry.
Growing up, I was always surrounded by fashion since my parents own a fashion label store. I was always inspired by the talent and hard work that goes into making a garment. Hence after graduating, I decided to delve into the fashion world because of my knowledge and passion for the fashion business.
Doree is a leading ladies fashion brand that initiated its mark in the fashion industry in 2013. Doree is the epitome of style and sophistication, offering an extensive collection of suits, kurtis, lehengas, anarkalis, dresses, tulip pants, palazzos and many more.
The vision of our brand is "Growing Indian Fashion Globally". Our emphasis is on fine tailoring and sophisticated cuts incorporating traditional Indian embroidery embellished in a refined modern approach.
Contact:
Contact: +91-9818555343
Store location: "Doree", A-127, 1st Floor, Nirvana Courtyard, Gurgaon – Sector 50.
Collection: www.doreeonline.com
Follow us:
Facebook: www.facebook.com/doreebyrinky
Instagram: www.instagram.com/doreeonline