Mother's Day is celebrated across the globe on various days but primarily on the 2nd Sunday of May every year to honor motherhood. GurgaonMoms being a community for moms truly respects and salutes the spirit of motherhood.We recently conducted a poll in our community about 'What do moms really want for Mother's Day? We were amazed to see the response and the results of the poll. The results clearly showed that a mom can never leave her family even when given an opportunity on her special day. 36% want to spend quality time with their family on Mother's Day. Yes ! Hard to believe right? We were curious to know why? So we asked a few moms who had voted for this and got some interesting reasons.
Aditti Ahliwalia wrote " Quality family time to me is where all members of the household take time off their "busy" schedules and the busier phones and eat together/ catch up on a movie, some harmless gossip, some malling or whatever else gives joy.Simple pleasures, which are mostly missing. That, to me, as a mother, would bring immense joy and a feeling of a day well spent"
Mallika Vasudev wrote "Specifically for Mother's Day, I'd like all four of us to be together, do stuff together. That's what makes me happiest. Having said that, I do take 'me time' wherever, whenever I can. Also, I've tried it. There is no day off from parenting. In my head, I just never switch off."
"These days the meaning of quality family time is going for a mall outings/movies/dining out with hubby and kids – but I wish for -cooking a family meal together from scratch and my kids serving it with oodles of love and we all relishing it together at home while chatting sitting juggled up together.i might sound too dreamy!! But that is my way of 'Quality' family time! Which is found on rare occasions !! Though we still manage to do it somehow." This what our member Kanikka Tiwari wishes for this Mother's Day.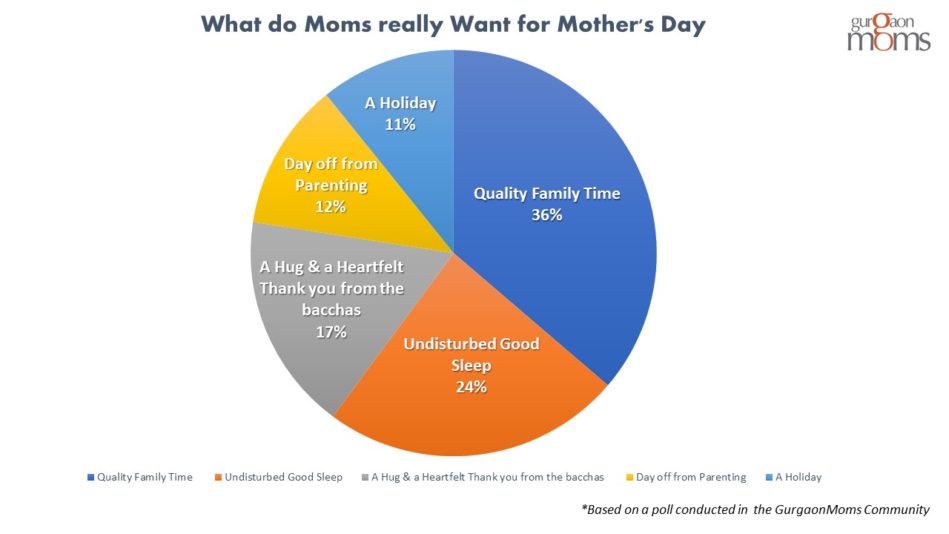 Apart from this, 24% of our mommies want undisturbed good sleep on Mother's Day. We all would agree that mothers are actually sleep deprived. So why not give them a day off, totally free so that they can catch up on their long lost sleep."
A hug and a heartfelt thank you from their kids is what 17 %want.It always feels so nice to get a warm hug from your loved ones and also be appreciated for your efforts. So kids, just go all out and give a big big hug to your mom.
Some moms also wish for some free and 'me' time. 12% want a day off from parenting. We are sure they do deserve one day away from being a parent in the entire year. Time to take charge dear daddy or grandpa and grandma. 11 % of our moms wish to go on holiday, to a destination of their choice.
We also received some very interesting and heart touching responses like " a day without agenda, Me time -an empty house, Literotica and wine, a day away from the kitchen, gifts, flowers, pamper my mom.
Supriya Deverkonda wrote " I want appreciation of the mothers or women who work in the background quietly. I want that women are not forced to give up their kids in name of family stigma or taboo or gender bias or in some cases snatched. The day mothers rights and love are appreciated that day is mothers day for me."
Twinkle Bhayana wants to "Pamper myself and I wish to spend some time with my mom too. I know she never demands but I know she will be happy if I can surprise her" Shruti Agarwal wrote "I would like ..I get new dress My kids make card and brunch for me with the help of hubby We spent few hours together Then I go to my parents place eat food made by my mom and go to sleep on her lap.
"I want some family time where we can all go crazy. Also, sometime where me, my mum and mum-in-law can be like " this day is all about me" sans guilt." that's what Neha Singh Kamboj is looking forward to.
We really hope that all your wishes do come true this Mother's Day. Kids and husbands can also take some help from these responses on what to do to make this day special for the most special person. Let's not just celebrate just one day but celebrate the spirit of motherhood every single day.
Thanks to all the moms who took part in the poll contributed to this article.
Happy Mother's Day to all the lovely Moms!